Sports
Winter Hill Stakes: Declan Rix previews everyone running in Saturday's Windsor Group Three feature | Racing news
At The Races, expert Declan Rix returns with his analysis of every runner and big race verdict for the Winter Hill Bet at Windsor on Saturday, live on Sky Sports Racing.
1. Grocer Jack
Coach: William Haggas Jockey: Tom Marquand
The former German runner-up joined Haggas Stadium this season. Career best effort came 5 weeks ago when it added nine lengths in Newbury-listed Steventon Shares (10f) looking forward to a quick home-field run powerful, even partial.
Not as good as last time in the Rose Of Lancaster Stakes Three, but the slower pitch and more consistent pace are likely to work against him.
Rain has been looking negative lately, but there are a lot of forms that make him a true favorite.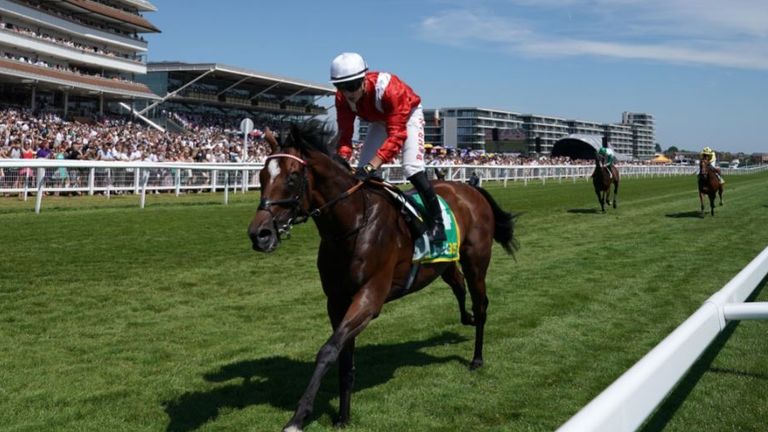 2. Majestic dawn
T: Paul and Oliver Cole J: Neil Callan
Pretty steady on late, especially when he's stepping on rain-affected ground.
The recent wet magic around Windsor looks to be a big plus, as does his running style in a race, Grocer Jack maybe aside, lack of pace.
Could have done with a stronger gallop in his recent France run, but this at least looks to be an easier one.
3. Reality Regal
T: Sir Michael Stoute J: Richard Kingscote
Bordered by the top class at the height of his power, but has gradually regressed towards the end and is not an outspoken individual.
The pitch is at least in good form, but a quicker ground will likely be a bigger help.
4. Royal Champion
T: Roger Varian J: Jack Mitchell
A talking horse is about to enter the season three years old last year, its work at home was supposed to be very interesting. However, it was too bad that it was not possible to make three attempts on the track.
A gel surgery may have helped as his form this year has been so much better. Was impressed with how he hit the line at Epsom when he won with a 97 handicap on Oaks day, but couldn't build on that the next time around at Haydock.
There's a two-quarter length to finding Grocer Jack on that run. Perhaps there is still a better chance not to drop the price.
5. Achelois
T: Andrew Balding J: David Probert
The four-year-old has done nothing but progress in her three-season race, also arriving here after a career best, winning with impressive style the Listed Lyric Fillies' Stakes (10f) in York.
That form makes her mixed, especially as a four-year-old that records show can be so much more.
6. Via Sistina
T: Joseph Tuite J: Dane O'Neill
Haven't run for 294 days, but missed two games earlier this season due to the fast court surface so fitness might not be a big concern.
In this case, it's easily the warmest race she's encountered in her short career and will likely bite a bit more than she can chew.
7. Ching Shih
T: David Simcock J: Dougie Costello
Started her season on the Oaks Trail, finishing third behind Emily Upjohn in the Musidora Stakes (10f) in York. Didn't build that up the next time at Newbury when a heavy downpour came and hadn't been seen for 79 days.
Her dam is Mrs. Chiang has been at home a lot when the mud flies, but nothing in her form suggests she can claim this victory based on what we know so far.
Declan's Judgment
Seven athletes will post about what will be affected by rain at Windsor, following a 26.6mm downpour on Thursday morning. That could make Grocer Jack favorite vulnerable given how well he looked at Newbury two games ago on fast ground.
His caring lines also mean I'm happy to see prices elsewhere even though he's a stallion. The two most interesting works are Majestic Dawn and Achelois.
With MAJESTIC DAWN could easily take the lead and he'd love to stay at home on the pitch, he just got the nod to the three-year-old.
There's a possibility that picks and lovers are locked into an early battle for the lead, but I hope that doesn't happen.