Horse Racing
War bombers take away Seagram, Sister City Seagull Bison
By Bruno Schickedanz War Bombers hit the field at 18-1, led every step to win the CA$159,000 Seagram Cup (G3) on August 14 at Woodbine.
The War Bomber, under the direction of Sahin Civaci, was in charge from the very beginning of the 1/16-mile main track event for kids ages 3 and up, rushing to the top like Clayton followed in second place, with trainees Mark Casse Click it to win (last year's Seagram winner), and Frosted Over third and fourth, respectively.
Reaching the opening quarter on: 23.92, Norm McKnight-trained War Bombers held a more than half advantage over Clayton, as Tap It to Win and Frosted Over maintained third and second place respectively. Wednesday.
When playing in the first leg, Clayton soon joined the War Bomber. The first fight continues until the end, when the latter drags along the inside to score three quarters in a time of 1:43.26. Quick close Artie's Storm rallied to take second place, some time ahead of Clayton.
"Bruno and the coach planned to take the lead," Civaci said. "I predicted (the jogger) Emma (Jayne Wilson) and the carriage horse (Carrothers ) can take the lead or one of Casse's horses, so I'll play at halftime, and no one sends, so I sent and got an easy pace ahead. "
Bred by Coolmore, War Bomber is 5-0-1 from 11 starts. The Seagram Cup was his second stake win and ranked first. Last September, the flying gelding team won the Toronto Cup Stakes championship.
"This is one of the best bred horses in Canada," said Schickedanz. "So he has a natural right to be in his position. He's got a few more gears and hopefully, we can feed those gears and get more out of him."
Sister Seagull beat Bison City Score
It appeared Sister Seagull ran off the runway, but 's 3-year-old daughter Spin hard found a way to get into the winner's circle at the end of CA $250,000 at Bison City Stakes.
Bred by Sean Fitzhenry, who co-owns with his wife, Dorothy, Sister Seagull came in second behind Queen's Plate main contender Moira in Woodbine Oaks presented by Budweiser on July 24.
This time, in the second leg of the Canadian Triple Tiara Series, trainee Catherine Day Phillips excelled.
But it's not easy.
Strega under Rafael Hernandez, took the lead in the 1/16-mile Tapeta race, with Lady Brew , Pioneer's Edge Sister Seagull, and Flashy soup followed by a quarter mile opening is: 23.85.
The order of the five-horse school remained unchanged for one inning: 48.00, when Strega held the lead over Lady Brew at two lengths.
Sister Seagull, with Antonio Gallardo in the iron, continued to save land along the inside but had more work to do to cheer the lead, who was still running comfortably ahead, a length overhead as the call pulled long.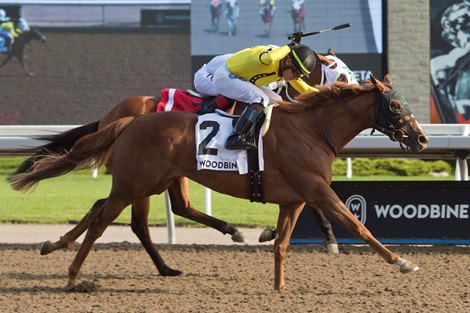 Sister Seagull wins Bison City Stakes
Gallardo and his chubby 3-year-old started to take the lead in the deep, taking the lead in the final strides to score a neck-and-neck victory over Strega in a very good game. Pioneer's Edge, fifth in Woodbine Oaks, came in third.
The last time was 1:44.48.
"She started off better," Gallardo said. "After wearing the flash, she was more focused. She improved every race. Last time (in Woodbine Oaks), the pace was more intense and I had a bit of a traffic jam that day, but I think the winner is the winner. (Moira) was the best. We came in second and I'm pretty happy about that. I'm very confident today. She's honest and I like that."
Sister Seagull is 2-1-1 after seven starts. She broke her maiden run by two front starts in a special maiden weight race on June 5.
The final race of Canada's Triple Tiara Series, the $250,000 Wonder Where Stakes at 1 1/4 mile on the EP Taylor Turf Course, will take place on September 11.
Sister Seagull paid $5.40 to win.
Video:

Seagram Cup S. (G3)
Video:

Bison City S. (BT)

This press release has been edited for content and style by the BloodHorse Staff.