World
US regulator says phenylephrine is ineffective as a decongestant | Business
On 14 September, the US Food and Drug Administration's (FDA) non-prescription drug advisory committee (NDAC) unanimously agreed that orally administered phenylephrine does not work as a nasal decongestant. The decision kicks off a long process of consultation on the drug's continued use.
Phenylephrine is included in hundreds of over-the-counter (OTC) cold and flu remedies worldwide, but doubts around its effectiveness – specifically when taken orally – have been circulating for almost three decades. 'The evidence has been there for a while,' says Ron Eccles, an expert in the common cold and allergy based at Cardiff University, UK.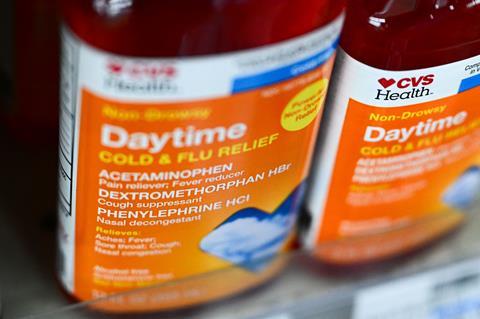 The FDA must now decide whether to withdraw OTC use of widely used cold and flu decongestants in the US. The move would mean pharmacies clearing their shelves, and manufacturers reformulating many of their cold and flu products. It will also have a significant impact on consumers; who would see familiar products that they have possibly used for many years disappearing.
Growing doubts
Phenylephrine is a specific alpha-1 adrenergic receptor agonist, with minimal to no beta-adrenergic activity, which works by temporarily constricting blood vessels in the nose to shrink swollen tissues and ease congestion.
The FDA was first petitioned to add phenylephrine to its list of ingredients allowed in OTC nasal decongestants in 1985, following several studies supporting its efficacy. In the Agency's eventual ruling on the whole class of congestants, published in 1994, phenylephrine was classed as a 'Generally Recognised as Safe and Effective' (Grase) decongestant.
If it reaches a nose, it's very effective. The problem is when you give it orally, it is very rapidly metabolised to inactive metabolites
However, in retrospect, says Eccles, those studies were not optimal. 'Six positive studies were all done at the same research centres,' he explains. 'There were later some doubts thrown about the validity of those studies. [Also] at that time, there was no standardised way of measuring nasal airway resistance.'
Questions around the efficacy of oral phenylephrine have been circulating since at least 1993, when Leslie Hendeles, a clinician based at the University of Florida in the US, highlighted that phenylephrine was subject to extensive 'first-pass metabolism' by the liver, and was therefore not bioavailable at the recommended doses.
'If it reaches a nose, it's very effective,' explains Eccles. 'The problem is when you give it orally, it is absorbed through the intestine and enters the veins that drain to the liver. In the liver, it is very rapidly metabolised to inactive metabolites; very little reaches the circulation to get to the nose.'
However, the FDA only started reviewing the data in 2007, prompted by further data and a Citizens Petition submitted by University of Florida pharmacists including Hendeles and Randy Hatton. 'The FDA is very slow to do anything unless there is a safety issue,' says Eccles. 'And there was no safety issue in this case.'
The NDAC noted the inconsistency of results across studies, but concluded that available evidence was 'suggestive of efficacy' and recommended that additional clinical data would be necessary.
Since 2007, three large clinical trials have been conducted, two of which were cited in a second Citizens Petition submitted by Hendeles and Hatton in 2015, requesting that oral phenylephrine be reclassified as 'not Grase' due to its lack of efficacy and removed as an oral decongestant.
The current picture
Eight years later, the FDA committee has reviewed the data and concluded that phenylephrine performs no better than placebo in relieving congestion when given orally, although nasal sprays that contain phenylephrine are still effective decongestants.
Their opinion will now go forward to the FDA. If it agrees with the committee's conclusions, the first course of action will be a proposal to remove the drug from use, with an invitation for public consultation.
If, following the consultation, the FDA concludes phenylephrine is not effective, it will issue a final order removing it from use. The FDA would then have to work closely with manufacturers to reformulate products as needed to help ensure availability of safe and effective products to treat symptoms of colds or allergies.
What are the alternatives?
In terms of other oral decongestants, the choice is limited; the only other permitted oral decongestant is pseudoephedrine, which is both less selective in activating adrenergic receptors, and more able to cross the blood-brain barrier, potentially causing more side effects.
Pseudoephedrine can also be used to make the illicit drug methamphetamine. It was moved behind-the-counter in 2006, with restrictions on the amounts people could buy. In response, most OTC products were reformulated to include phenylephrine instead.
The European Medicines Agency (EMA) is also reviewing pseudoephedrine's safety because of concerns about the risk of conditions affecting blood vessels in the brain; albeit in a very small number of people.
Eccles says that topical decongestants (such as nasal sprays) can be more effective than oral pseudoephedrine – provided they reach the sinuses – as they work within minutes and last for hours. 'The drawback is they have a bit of a stinging or burning sensation; some people don't like that, and there are adverse events similar to those with pseudoephedrine, so you can't use them with high blood pressure or stroke etc.'
In light of the lack of alternatives, the FDA committee acknowledged that should phenylephrine products be removed from pharmacy shelves, consumers would 'require education to make the appropriate choices for alternative treatments'. In a statement released before the FDA panel's meeting, the Consumer Healthcare Products Association (CHPA), which represents drug manufacturers, argued that oral phenylephrine had been 'relied upon as a beneficial nasal decongestant by American families for decades' and urged the panel to be 'mindful' of the 'significantly negative unintended consequences' associated with removing it from OTC products.
Eccles thinks the CHPA will ask for a delay in removing phenylephrine. 'There are 160 products containing phenylephrine in the US; it's worth nearly $2 billion a year to the industry in sales, so there is a big financial knock.'
On the flip side, the move could also avoid the unnecessary costs, delay in care and possible risks associated with taking a drug that has no benefit. We will have to wait for the verdict, and to see if other regulators follow suit.