World
University of California accused of not honouring contracts negotiated following massive strike | News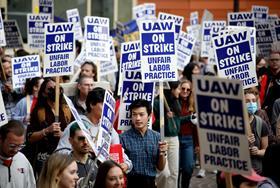 After tens of thousands of postdoctoral and graduate student researchers at the University of California (UC) system went on an unprecedented strike lasting more than a month they were ecstatic when they eventually won substantial pay increases and other benefits late last year. Their example went on to inspire other higher education workers across the US who also mobilised to seek better conditions. But their hopes have been tempered by the failure of some of these benefits to materialise at many UC institutions.
In December 2022, academic and postdoctoral researchers at UC's 10 campuses and the Lawrence Berkeley National Laboratory won new five-year contracts that gave them a 20–23% raise, and graduate student researchers secured a 10% pay increase in the first year of their contract and 6.4% increases in each subsequent year. UC employees negotiated with their university through United Auto Workers (UAW).The first of the new raises for postdocs was to be implemented on 1 April and the new pay rate was supposed to go into effect on 1 May.
'Every month we get salary data from the university, and when we reviewed that we found hundreds of postdocs didn't get the correct salary increase,' Neal Sweeney, president of the UAW union that represents UC postdocs and academic researchers, tells Chemistry World.
'It's now five months after the salary increase was supposed to be implemented, and the university is still paying postdocs late and incorrectly,' Sweeney continues. While the amount that postdocs have been underpaid varies, he confirms that in some cases that figure may be as much as $4000 (£3229) since April. 'But each month, they're getting underpaid by an increased amount,' Sweeney states. 'We've had to file grievances at every campus – some of those have been corrected, but many remain uncorrected.'
The UAW has now filed more than 100 grievances, and dozens of these have moved on to the arbitration stage. The goal of the grievance process is to settle such cases, but they go on to arbitration if that fails.
Sweeney also says UC is not paying many graduate student researchers or academics their correct new salaries.
Problematic postdoc appointment lengths
Beyond concerns about salary underpayment, UAW is sounding the alarm about the fact that postdocs appointed after the new contract was ratified in December 2022 were also supposed to receive two-year initial appointments, but many have not. He says hundreds of postdocs are still getting one-year initial appointments.
About two-thirds of these postdocs are international scholars who are in the US on visas. Those who received contracts lasting only a year will have to leave the US and apply for another visa with associated fees, and then wait days, weeks or months for a new visa before they can return to work, Sweeney notes.
He emphasises that workers have made it clear to UC, through protests and other actions, that they expect contracts to be honoured. But in response, Sweeney says, the university has retaliated. He referred, for example, to the felony charges brought this summer against academic workers at UC San Diego (UCSD). These charges even led to some arrests, and in August California's state labour agency issued an official complaint against the UC system.
UC says pending grievance disputes prevent it from commenting on specific cases, but the administration does note that filing a grievance is a method for the union to raise concerns and does not represent a finding of wrongdoing.
'When the union filed grievances related to individual postdocs who they believe have not received initial two-year appointments, the university has been appropriately processing the grievances and reviewing the individual cases to determine if appropriate appointments have been made,' UC states, noting that it has been working closely with UAW on this issue since the beginning of the year and has corrected errors as they are discovered. 'Similarly, we take all allegations of incorrect pay seriously, and have historically worked diligently with the UAW on resolving any compensation issues as they may arise.'
But the university also points out that under the terms and conditions of the agreement, not all postdocs were required to receive a pay rise in April 2023. For example, UC says, if a postdoc was already above their contractual minimum salary level, they would not be receiving a salary increase.
Lessons learned
'We're not surprised that the university is resisting implementing the contracts – they are historic, very significant changes,' Sweeney says. 'And with that comes changing entrenched practices of the university.'
'It's kind of unprecedented for an employer to essentially not live up to the standards of the contract that they've agreed to…it was not expected for UC to delay so much on meeting the wage increases, and things of that nature, and here at [the University of Southern California (USC)] people have seen that,' says Megan Cassingham, a fourth-year chemistry PhD student at USC who is on the school's UAW negotiating team. USC is a private university and not part of the UC system.
'It's made people at USC upset for sure to see that the employer, UC, would arrest people for peacefully protesting and fail to meet the demands that they've agreed to in the contracts,' Cassingham continues. She says it has given her and colleagues at USC 'a lot of motivation' to fight for increased wages and strong protections in their contracts.