News
UN chief calls for an end to 'nuclear blackmail' and the risk of 'humanitarian Armageddon' – Global Affairs
The head of the United Nations spoke at an event to celebrate International Day for the Complete Abolition of Nuclear Weaponsheld as the annual debate in the Hall was drawing to a close.
Nuclear disarmament is not a utopian dream.

I call on all countries to defuse tensions, reduce risks and forge a new consensus around nuclear threat mitigation in a good way.

Removal of these dead devices is possible, and necessary.

– António Guterres (@antonioguterres) September 26, 2022
"Nuclear weapons are The most destructive power ever created. They provide no security – only carnage and chaos. Getting rid of them will be the greatest gift we can give future generations," he said speak.
Threat of 'Humanitarian Armageddon'
Mr. Guterres was addressing world leaders, foreign ministers, other senior government and civil society officials gathered at the Trusteeship Council at United Nations Headquarters in New York.
He recalls that the Cold War brought humanity "within minutes of being annihilated." However, decades after it ended, with the fall of the Berlin Wall, "we could once again hear the rattle of nuclear swords," he said.
"Let me be clear. The era of nuclear blackmail must end. The idea that any country can fight and win a nuclear war has become deranged. Any use of nuclear weapons would provoke a humanitarian battle of Armageddon. We need to step back."
Disappointment and determination
The Secretary-General also spoke of his disappointment after countries failed to reach a consensus at a conference last month to review the landmark Nuclear Non-Proliferation Treaty.NPT), the only binding commitment to the disarmament goal of the States that officially stockpile nuclear weapons.
After four weeks of intense negotiations at United Nations Headquarters, the delegations left without a result document because Russia objected to the text of its control over Ukraine's nuclear facilities.
The head of the United Nations pledged not to give up and called on nations to "use all avenues of dialogue, diplomacy and negotiation to defuse tensions, reduce risks, and eliminate the nuclear threat."
New vision and commitment
Mr. Guterres stressed the need for a new vision of nuclear disarmament and non-proliferation, and pointed to his New Agenda for Peace. It calls for meaningful disarmament and the development of a common understanding of the many threats facing the international community.
"We need to take into account the evolving nuclear order, including all nuclear weapons and their means of transport. And we need to address the blurred line between strategic and conventional weapons, as well as the connection to new cyber and space domains," he said.
As the General Assembly debate ended, the Secretary-General urged countries to leave New York with a renewed commitment to a peaceful future.
"Without the elimination of nuclear weapons, there can be no peace. There can be no trust. And there can be no sustainable future," he said.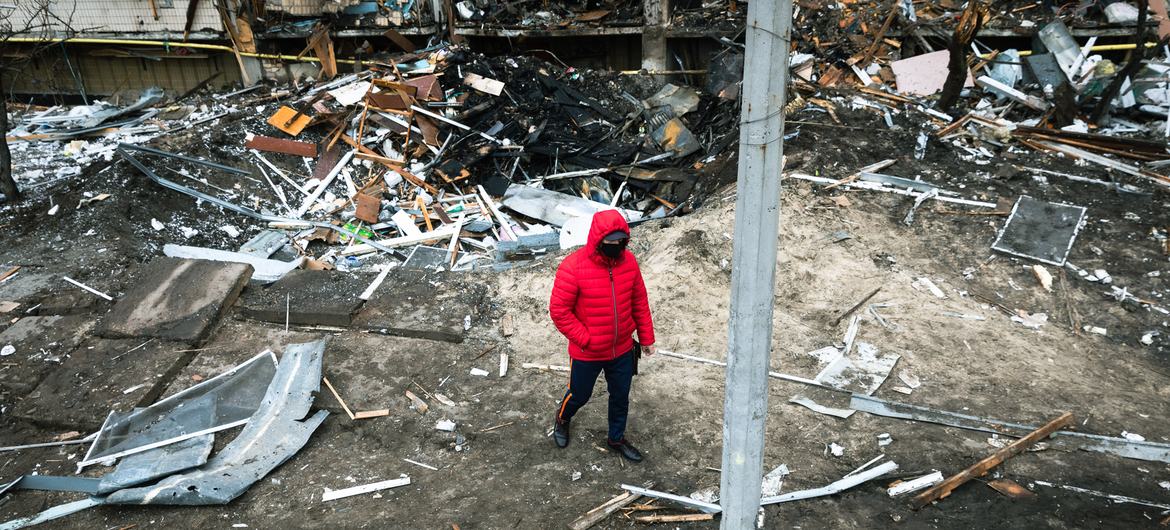 Ukraine war raises risks
The President of the United Nations General Assembly, Csaba Kőrösi, was forthright in his remarks, saying that the war in Ukraine has increased the credible risk of a global nuclear disaster.
"I am especially appalled by the frequent, thinly veiled threats of nuclear attacks. Tactical attacks, it is often added, but we all know that such a conflict would never at the tactical level"I said.
The nuclear threat on the Korean Peninsula also continues to pose an unacceptable risk to the region and the world, he added.
"Meanwhile, arsenals around the world are filled with more than 13,000 warheads. Investment in these weapons continues to grow, while too many people struggle to buy food, educate their children and stay warm."
Back to disarm
Mr. Kőrösi wonders how the world got to this state after decades of effort to promote both nuclear disarmament and raise awareness of the existential threat that nuclear weapons pose to humanity.
More importantly, he wondered how to overcome this stalemate, emphasizing that achieving a world without nuclear weapons is the top UN nuclear disarmament priority, currently more than ever.
"As a global community, we must find the courage to return to the path of disarmament, for the benefit of people and the planet. For starters, defending the Nuclear Non-Proliferation Treaty will remain an iron rule for all future negotiations on nuclear disarmament and non-proliferation," he said. .
Mr. Kőrösi called on countries to renew their commitments to fully implement the treaty, comply with Security Council and "refrain from actions and statements that destabilize international peace and security".
Ratification of the treaty banning testing
He also mentioned the status of the Comprehensive Nuclear-Test-Ban Treaty (CTBT), opened for signatures 25 years ago.
The CTBT has not yet entered into force because it must be signed and ratified by 44 countries possessing specific nuclear technology, eight of which have not yet ratified: China, Egypt, India, Iran, Israel, Republic People's Democratic Republic of Korea, Pakistan and the United States.
"I urge the remaining Annex 2 countries to ratify the Comprehensive Nuclear-Test-Ban Treaty immediately, allowing this Treaty to finally enter into force – as 174 Member States have ratified and currently eight States have ratified it. Member has not yet implemented". he say.
End suspicion and confrontation
Meanwhile, negotiations on the proposed Fusing Reduction Treaty, long overdue, must begin immediately, he added.
"In this critical moment, let us reverse the trend of suspicion and confrontation, focusing instead on sensible compromises and wise solutions," said the General Assembly President.
"Let us honor this anniversary with renewed determination and truly work towards a world free of the weapons of the Apocalypse."