News
Ukraine war: Bodies of British volunteers killed in Donetsk region returned in prisoner swap with Russia | UK News
Ukraine announced it had returned the bodies of two British volunteers after a prisoner exchange with Russia.
Chris Parry, 28, and Andrew Bagshaw, 48, was killed trying to "humane evacuation" in Ukraine.
The couple went missing last month after traveling to the besieged town of Soledarin the east of the country, volunteering with aid efforts.
'Serious accident' at the substation – Ukraine war update
Andriy Yermak, head of Ukraine's presidential office, said the bodies were handed over by the Russians in a prisoner-of-war exchange on Saturday.
He tweeted: "Another major prisoner exchange. We managed to get our 116 men back.
"Those are the defenders of Mariupol, the Kherson guerrillas, the snipers from the vicinity of Bakhmut and our other heroes.
"We have managed to bring in the bodies of the dead foreign volunteers, Christopher Matthew Perry and Andrew Tobias Matthew, as well as the body of Evgen Kulyk, a Ukrainian who served in the French Foreign Legion and volunteered to join the Ukrainian Army. force."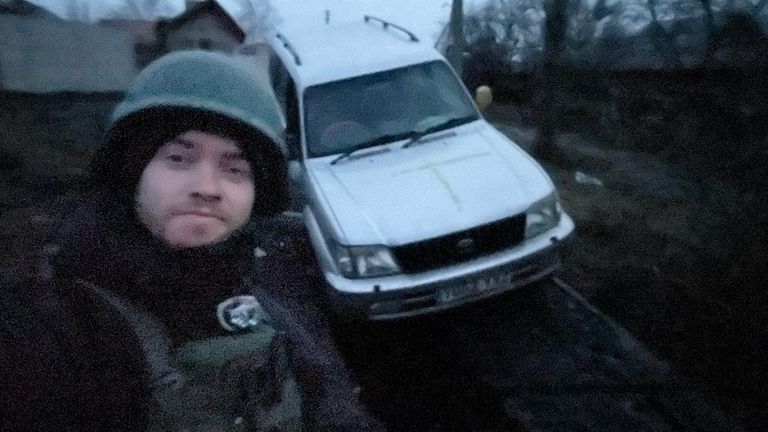 'Our son has saved many lives'
According to a statement from Mr Bagshaw's parents, the men tried to rescue an elderly woman in Soledar in the eastern Donetsk region during a violent military action when their vehicle was hit by artillery fire.
Their son, a geneticist, "has forgotten to take many personal risks and save lives".
Ms Sue and Professor Phil Bagshaw said "due to official legal processes in Ukraine, it will be some time before Andrew's remains are returned to New Zealand", where he has lived.
"Andrew selflessly took many personal risks and saved many lives; we love him and are truly proud of what he has done," their statement said.
They added: "We call on the civilized nations of the world to put an end to this immoral war and help Ukrainians to escape their homeland from an aggressor."
Andrew Bagshaw's father on son's death

'Altruistic determination'
Mr Parry's family described their son as having "selfless determination in helping the elderly, young and disadvantaged" in a statement through the State Department last month.
They said: "We never imagined we would say goodbye to Chris when he has such a full life ahead of us.
"He found himself drawn to Ukraine in March during the darkest hour at the start of the Russian invasion and helped those most in need, saving over 400 lives along with many abandoned animals. ."
Mr Parry, a Cornish running coach from Cheltenham, has previously spoken of evacuating people from the front lines.