News
Training offers a way out of poverty for young victims of Colombian conflict |
Camilo Andrey Vergara was born in 1989 in a rural area of ​​Antioquia, western Colombia. Raised among coffee and cocoa plantations, his early life with his parents and siblings was peaceful. But the armed conflict had torn his family apart, when he was still a child.
"When I was a child, armed groups blackmailed, threatened farmers and recruited children," Mr. Vergara said, recalling the dark days of the 1990s, when the drug trade was and violence is rampant, especially in rural areas of the country.
"One night, when I was nine years old, an armed group broke into our house at two o'clock in the morning. They told my father that one of his children had to leave with them or kill them all. I."
"They tried to arrest my 26-year-old brother, Jon Jairo. My father refused, so they shot my brother dead in front of us. Then they tried to arrest my other brother Carlos Mario, 19 years old. He also refused, and they killed him too."
With gunfire in the house and neighbors, Camilo and the rest of his family fled into the dark.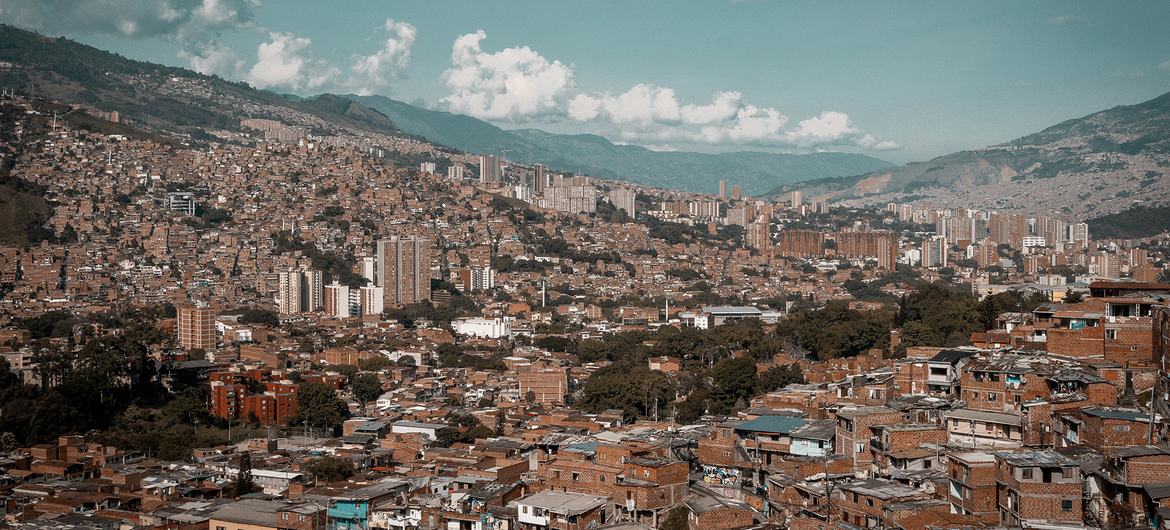 Unsplash / Bryan Bravo
Aerial view of Medellin, Colombia.
Alone, on the streets of Medellin
The next day, the boy found himself alone and lost. He decided to walk to Medellin, to find his grandmother. It took him two days. Once there, however, he realized that, without her phone number or address, it would be practically impossible to find her.
Left with no other choice, and too young to be considered for a job, he ends up living on the streets, performing stunts and juggling to get a change. Sometimes he goes days without food and, at night, he fears for his life. "I was beaten, and threatened with weapons. My biggest fear is getting caught and being sexually abused. The street is another world," he summarizes, understandably not wanting to go into too much detail.
Mr. Vergara eventually tracked down his grandmother, but the joy of finding her was short-lived: she was living with his uncles, who were selling drugs in the house.
Refusing to get caught up in their criminal activities, he decides not to live with them and instead, find another place to live, doing what he can to survive. Over time, he managed to return to school, trained as a gymnast, won a scholarship to study abroad, and when he was old enough, he was even able to join the police force, raising hope. that you can play your part in bringing justice to the country. remains surrounded by violence, and is reunited with his family, whom he hasn't heard from since his father and brothers were killed.
In neither of these goals, however, he succeeds: living as a cop in one of Medellin's most violent areas, he finds himself in the hands of gangs who want him dead and could not collect any information about his family's whereabouts. After a year and a half, he left the force, disillusioned, and moved to Betulia to teach gymnastics to young children.
'A tragedy has divided us and a tragedy has brought us together'
In 2015, a deadly landslide hit Salgar, a city 30 kilometers from Betulia. More than 80 people died, dozens of houses disappeared, and hundreds of people had to flee the area. The event shocked the country, and thousands of volunteers asked to come to Salgar, including Mr. Vergara.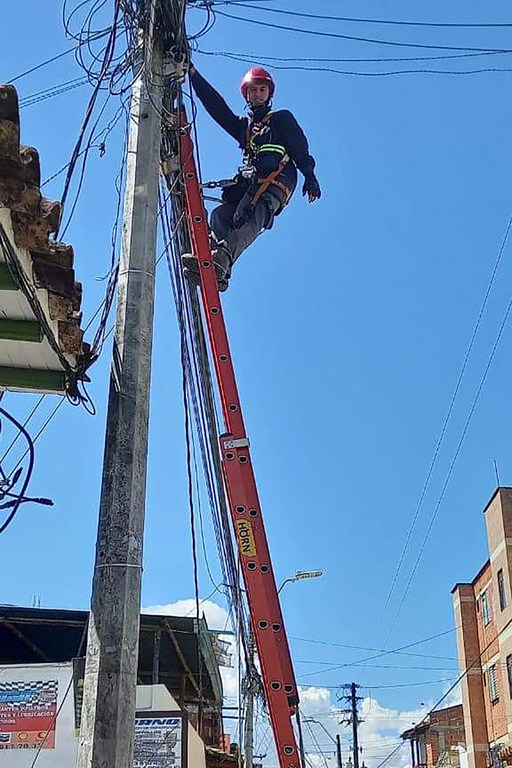 Camilo Andrey Vergara
Camilo Andrey Vergara Restrepo
Heading to hungry, scared families who have lost everything, he sees some familiar faces: his parents, and one remaining sibling, his sister. "A tragedy has divided us, and a tragedy has brought us together," he reflected.
It was the first time he had seen them in 15 years. "It's hard to hear that they weren't looking for me, because they thought I was dead the day my brothers were killed, or that the guerrillas had recruited me."
Although he is delighted to be reunited after such a long time, he has shouldered a huge responsibility: to support the entire family, who were swept away by the landslide.
With just a basic education, he took any job he could, working as a cleaner, a gardener, and at night as a security guard at a shopping mall. The stress of working multiple jobs and sleeping only 4-5 hours a night has caused him to lose 15kg, and his health has been affected.
Training for the future
Finally, in 2020, Mr. Vergara's life began to take a turn. The Colombian National Learning Service (SENA) has won the bid with the International Labor Organization (ILO) to provide a technical education program called "Training for the Future", to help victims of armed conflict gain the qualifications needed to participate in the technical work environment.
Thanks to the program, he was able to earn a diploma to work with an internet and telephone company, a job that involved some physical skills, acrobatics, which he used. used on the street as a child.
"It was the opportunity I had been waiting for years," he said, "After everything I've been through, including living on the streets, begging, it seemed like a dream. ".
In addition to providing Mr. Vergara with a vocational education, 'Training for the Future also provides him with psychosocial and other forms of support. To date, the program has benefited more than 1770 victims of the conflict, in 27 cities across the country.
Upon graduation, in October 2021, Mr. Vergara received an offer to work as a technician, where he received a salary commensurate with his qualifications, along with options for professional development.
Mr. Vergara said that he wants to continue his studies and hopes to enter the University. "I have learned that in life, material things can take away from you, but not knowledge," he said, adding that, in his view, education is the key to success. reduce the violence that still exists in Colombia.
"If we want to move forward and have a future as a country, the first thing we have to think about is education. A country without culture or education is a country without a vision, a country that will live by struggle and struggle."