Auto Express
Toyota and Yamaha are working on a hydrogen-powered V8 engine
Toyota called on Yamaha to create an internal combustion engine that runs on hydrogen fuel. And Yamaha didn't do things half-heartedly, choosing to do it Lexus RC FThe 5.0-liter V8 as a starting point for the project.
The engine block is essentially the same, but Yamaha has modified the engine's fuel injectors, cylinder heads, and intake manifold to allow it to run on compressed hydrogen. The engine is equipped with a uniquely crafted eight-in-one exhaust.
Yamaha managed to get 444bhp from its hydrogen V8, just 13bhp less than the engine produces when running on petrol. Interestingly, however, the unit develops 540Nm of torque – 20Nm more than the standard powertrain.
Because all mounting points are identical to the standard Lexus 2UR-GSE V8 engine, it could theoretically be dropped into the nose of a vehicle. Standard RC-F with minimal modifications. The only major changes required will be a new fuel system with a pressurized hydrogen tank in place of the coupe's standard fuel tank.
The project is part of a broader collaboration between Kawasaki, Subaru, Toyota, Mazda and Yamaha, were announced late last year. The aim of the project is to research and develop alternative fuel options for internal combustion engines that allow the technology to become carbon neutral.
Yamaha Motor boss Yoshihiro Hidaka said: "We are working towards being carbon neutral by 2050. At the same time 'Motor' is also our company name and we are accordingly. has a strong passion and commitment to the internal combustion engine. "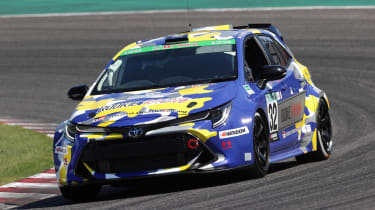 Hidaka continued: "Hydrogen has the potential to be carbon neutral while preserving our passion for the internal combustion engine. Partnering with companies of different cultures and areas of expertise and increasing the number of partners we have is how we want to lead in the future. "
Takeshi Yamada, from the automotive branch of Yamaha's Engineering Research and Development Center, said: "This is a challenge that we can overcome as engineers and that I personally would like to pursue. not only performance but also new charm for internal combustion engines. the world has yet to see. "
Mazda recently outlined its research on synthetic fuels made from carbon that has been pulled out of the atmosphere by giant filters. The resulting carbon is then combined with hydrogen in the correct amounts to create a fuel with the exact same properties as gasoline and diesel, without adding any new carbon to the air.
Mazda is also working on biodiesel fuels made from sustainable raw materials like microalgae fats and used cooking oils – and the company recently joined the eFuel alliance in an effort to promote and renewable fuel development.
Now read about Toyota's hottest hatchback model currently on sale, the Yaris GRMN…