Auto Express
This electric flying car becomes the first flying car allowed to drive on public roads
With many companies worldwide developing and testing flying cars, it should come as no surprise to see a flying car a few years from now. One of such innovative cases is the Aska A5, an aerodynamic, four-seater and flying eVTOL (Vertical Take-off and Landing) vehicle. In fact, this electric flying car has become the first flying car in the world to be licensed to drive on public roads.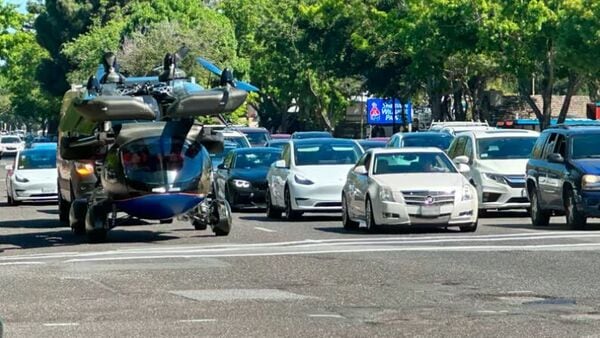 The license has been issued by the United States Department of Motor Vehicles (DMV). The company says it has successfully performed more than 480 km of road tests around Silicon Valley with DMV license plates. "Becoming the first developer of an electric flying car to successfully conduct local road driving tests in California validates our efforts in developing an eVTOL that can go on the road and focus on safety," said Maki Kaplinsky, President and CEO of the company.
Also read: This 100% electric flying car is a master on the road, a master in the sky
When running on the road in driving mode, eVTOL mimics the size of an SUV. In fact, it even offers a high driving position, similar to that of an SUV, giving the driver good visibility and a ground clearance suitable for Short Take-off and Landing (STOL) modes.
It has a range of up to 250 miles or more than 400 km. The flying car also received a Certificate of Authorization and a Special Airworthiness Certificate from the Federal Aviation Administration (FAA). While this certification does not authorize the commercial sale of this aircraft, flying the prototype for testing and development is only a green light.
The company has received more than 60 pre-orders, with a deposit of $50 million in pre-sales. According to the company's website, the A5 is "targeted for commercialization by 2026, subject to certification approval."
First published date: July 25, 2023, 18:10 pm IST