News
'The world sees you' UN chief tells Ukrainians, pledging to boost support |
"I came here to focus on how the United Nations can extend support to the people of Ukraine, save lives, relieve suffering and help find the way to peace", Secretary General António Guterres told reporters from around the world gathered in a stately room, with curtains drawn.
Shortly after the press conference, two missile strikes are said to have rocked the capital, a reminder that the war is far from over, despite Russia's withdrawal from the surrounding suburbs.
At least one person was killed and several injured – with several buried under the rubble as two high-rises caught fire – according to news reports, in the northwest of the city
'Astonished' at Ukraine's determination
"I want the Ukrainian people to know that the world sees you, hears you and admires your resilience and determination", declared the head of the United Nations.
"I also know that words of solidarity are not enough. I'm here to meet needs in the field and scale operations.
"This war must end, and peace must be established, in accordance with the Charter of the United Nations and international law. Many leaders have made good efforts to stop the fighting, although these efforts have so far been unsuccessful.
"I am here to tell you, The President and the people of Ukraine: We will not give up. "
'Crisis within a crisis': Mariupol
Mr Guterres said tens of thousands of civilians and fighters believed to be left behind in the besieged and destroyed coastal city of Mariupol were "in dire need" of a humanitarian corridor to escape the terror of the final rematch against the Russian invaders, of the Azovstal steel mill complex.
"Mariupol is a crisis within a crisis. Thousands of civilians need life-saving assistance. Many are elderly, need medical care, or have limited mobility. They need a way out of the apocalypse. "
He recalled that during a meeting with President Vladimir Putin in Moscow on Tuesday, there was an agreement "in principle" involving the United Nations and the Red Cross, to assist in the evacuation of civilians. .
"Today, President Zelenskyy and I had the opportunity to address this issue," he said, adding that "As we talked, there were intense discussions to move forward with this proposal in order to make it a realityy. "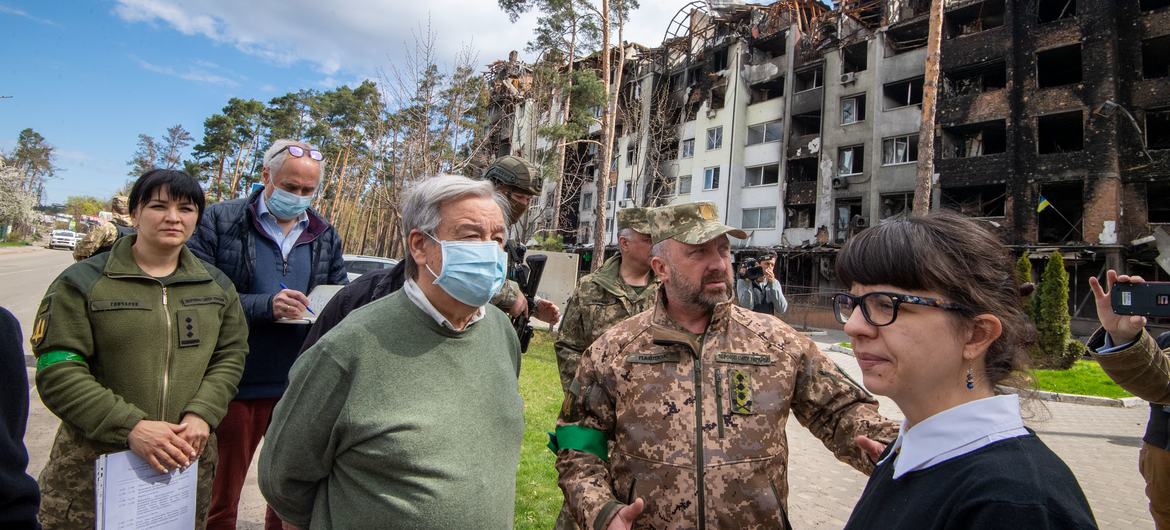 UN photo / Ekinder Debebe
United Nations Secretary-General António Guterres visits Irpin, Ukraine.
Failure in New York
Remember that Moscow's invasion of Ukraine is a clear violation of Ukraine's territorial integrity and unchartedMr. Guterres expressed his categorical view, that Security Council failed to fulfill its primary purpose of preventing or ending war.
"This is a great source of frustration, frustration and anger", I said.
"But The men and women of the United Nations are working every day for the people of Ukraine, side by side with so many brave Ukrainian organizations. I greet the more than 1,400 UN staff members – most of them Ukrainian citizens. They are on the ground in nine operations centers and 30 locations. "
The complex aid mission is "one of the fastest scaling operations we've ever done, and we're very well aware that not everything is perfect," he said. Anything we can provide suits your needs. "
He pledged more action "on a large scale – in coordination with the Ukrainian government every step of the way."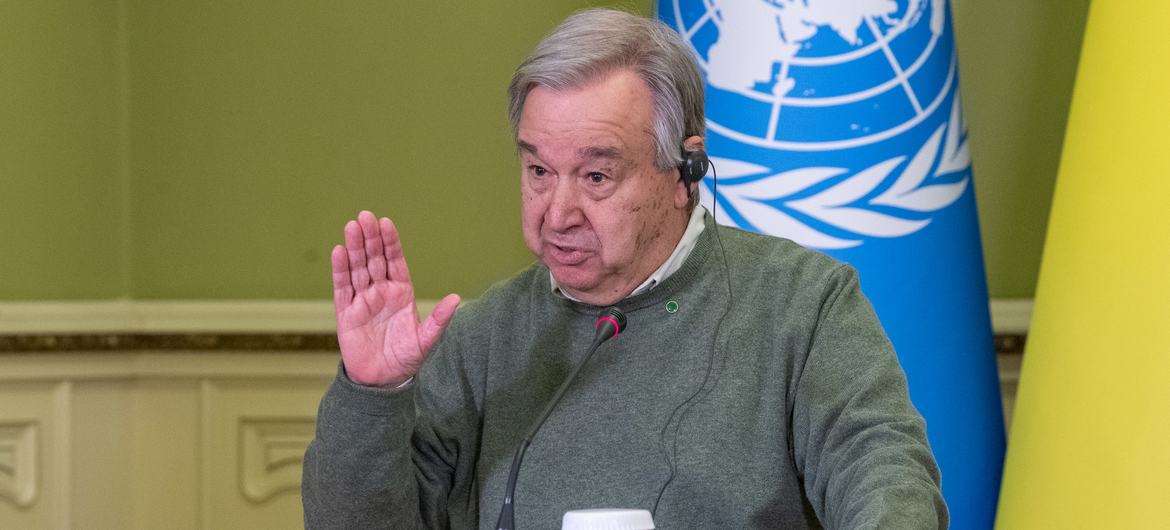 UN photo / Ekinder Debebe
UN Secretary-General António Guterres addresses the media in Kyiv, Ukraine.
Support millions
He said lifesaving humanitarian aid has reached 3.4 million people in Ukraine, adding that the United Nations is aiming to double that number to 8.7 million by the end of August. .
Mr. Guterres said cash assistance is expanding and that the United Nations is distributing $100 million a month, aiming to reach 1.3 million people by the end of May and include 2 million by August.
"This is not a typical UN humanitarian operation in a developing country, with so many governance issues and so many difficulties. Ukraine is a country with its own government and citizen support system, and so The role of the UN is not to replace that system but to support the Government to support the people of Ukraine. "
The secretary-general said food aid had reached 2.3 million people, with the goal of helping 4 million by May and 6 million by June.
He said the United Nations would increase capacity to meet the needs of the 7.7 million people displaced in Ukraine, while the World Health Organization (WHO)WHO) is providing medical supplies for trauma and emergency cases for more than seven million.
"And we are advancing work on accountability and justice by monitoring and reporting on human rights abuses wherever they are found."
Zero platform for the future
"Ultimately," he told reporters in Kyiv, "we are in many ways at zero with respect to the world we need to build – a world that respects international law, the Charter of the United Nations. and the power of multilateralism, a world that protects the common people, a world that advances human rights, a world in which leaders live up to the values ​​they have promised to uphold. "