World
Starting from zero – Gambian returning migrant counts cost of attempted Europe crossing — Global Issues
"I come from Jarra, a rural area in the Lower Gambia, in the central part of the country. I moved to the capital Banjul at the age of 15 to live with my brother and attend high school. However, I didn't graduate because we couldn't afford the tuition.
About 5 years ago, when I was about 20 years old, my friends encouraged me to leave the Gambia. This is not a rich country, and we hear that people have left and become successful in Europe, sending money back to their families.
I want to go to Italy, because I think it is the easiest European country to get to. I know that many people have died trying to get to Europe, but I thought I could do it.
The first step was to neighboring Senegal, and from there we took a bus to Mauritania. I stayed there with my sister's husband for five months, doing construction work, and whatever I could, to raise money for the next phase of the journey.
From Mauritania I went to Mali. This is a very long bus journey and takes about 12 hours to reach the capital city of Bamako. There were many other Gambians on the bus. Then we went to Agadez, in central Niger, via Burkina Faso. At each stage, we have to pay to be allowed to continue. We felt the danger, but by then it was too late to turn back.
There were about 25 of us sitting in an open-top pickup truck, driving through the desert, with no shade. It is very hot and uncomfortable. We drove for three days, sleeping in the desert. At night, it was very cold, we had to buy blankets and big coats to keep warm.
'I'm afraid they'll shoot us'
Sometimes the drivers are nice people, but others are very harsh, and they will beat us. When we arrived in Libya, we were beaten and all our money was taken. Luckily, I hid some food in the bus. The people who hit us had guns, and I was very afraid that they would shoot us.
The next leg of the journey was to Sabhā, central Libya. Since I had no money, I had to stay in Sabhā for four months, looking for work to pay for the ticket to Tripoli.
When you go from Sabhā to Tripoli, you have to sneak in. If you were seen, people could kill you, so I had to hide in a dark room with no light for three days. This was during the civil war, and there was a lot of danger.
'They shot the boat'
I had to wait over a year in Tripoli before I could get to the coast and sail to Italy. One of my brothers made money for me to get a seat on the boat. Before we set off, there was some shooting and we quickly realized that our boat was in water:.
There were armed people who didn't want us to go to Europe so they shot at the boat, not caring if any of us died in the water. Our only option was to return to the Libyan coast, and when the boat was full of water, we swam to shore.
When we reached the shore, we were taken to a detention center. We were beaten by the soldiers, they told us to give them money, but I had nothing left. I had to stay there for two months in these harsh and dirty conditions. Our phones were taken away so we couldn't contact our family; many of them even though we were dead.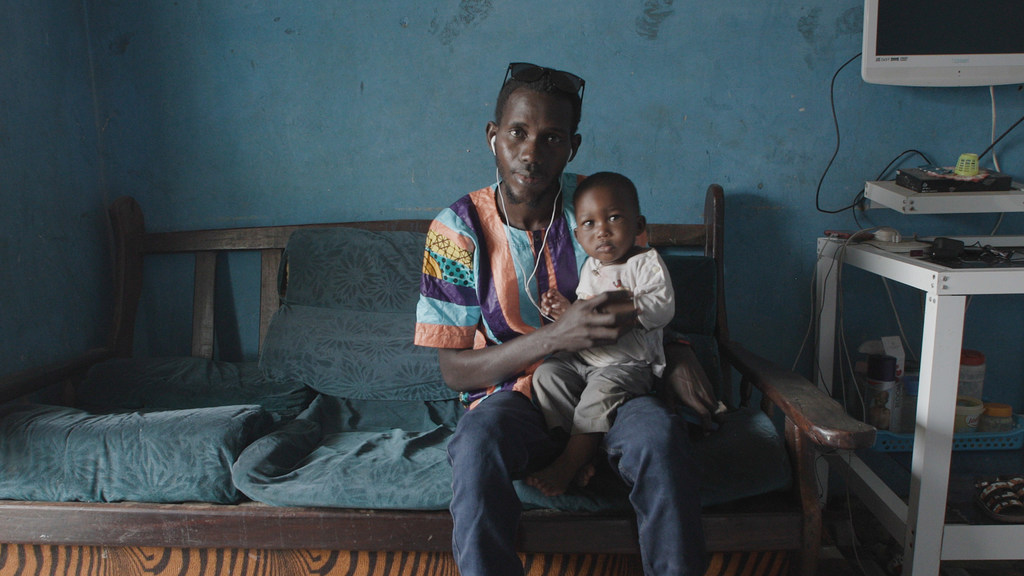 Starting from zero
Finally, people from the United Nations arrived at the center. They gave us clothes and some food and offered to fly back to Gambia voluntarily.
I am very sad: I have lost everything and will have to start from scratch. I don't want to go home, but I have no other choice.
When I arrived in the Gambia, the United Nations migration agency (IOM) offered to help me get started. They asked me what I wanted to do and thanks to my experience in construction, I told them I could sell cement.
They provided me with proper in-kind support in the form of a cement business, but unfortunately the place I found to store the cement bags was not protected from the weather: it was the rainy and watery season. spill over all cement. It was ruined.
I went back to the United Nations to ask for more help and they offered me skills training. This was very helpful and I was able to get the certificate and get back to working with aluminum. I got a job working in a friend's shop in Banjul, which sold aluminum window frames.
In the future, when I can raise some money, I plan to open my own store. Now I am married and I have two children. I want to be successful here now, and I'm not going to try again on my journey to Europe. It's too risky. If you don't succeed, you lose everything."