News
Somalia: 'Dire and grim' drought, impacting more than 7 million |
"The situation is dire and dire: 7.1 million people will be affected by this drought before the end of the year," said the Humanitarian Coordinator for Somalia. Adam Abdelmoula.
1.4 million children 'face acute malnutrition'
He said that around 1.4 million children face "acute malnutrition this year and 330,000 children are likely to be severely malnourished"".
As of May, according to a recent report from the United Nations Office for the Coordination of Humanitarian Affairs, OCHAAbout 6.1 million Somalis have been affected by the drought emergency.
Among them, 771,400 people were displaced from their homes in search of water, food and pasture; mainly women and children. The outlook was made worse by the prospect of a fifth consecutive rainy season failure.
Mr. Abdelmoula is speaking at the 'ADC' camp for internally displaced people (IDP) in the Baidoa district of the southwestern state of Somalia. He accompanied Somalia's Special Envoy for Drought Response, Abdirahman Abdishakur, who was appointed by the Somali president at the end of May, on his visit to an IDP camp.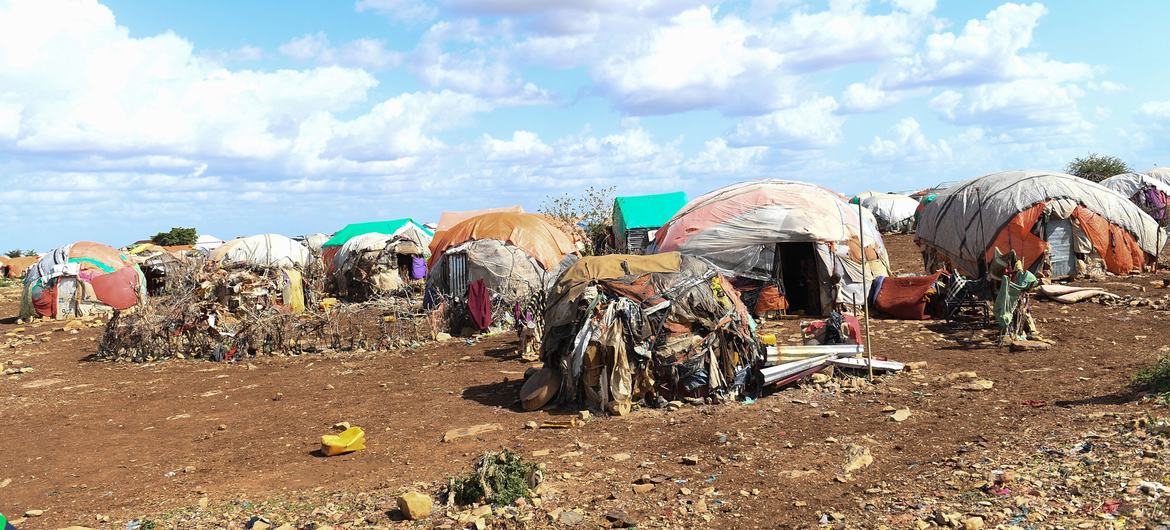 Photo UN / Fardosa Hussein
A view of the ADC displacement camp currently welcoming newcomers in Baidoa, Somalia.
Not enough rain
OCHA has announced that between April and mid-May of this year light to moderate rain was recorded in southern, central and northwestern parts of Somalia, with localized storms and flooding. scan in some areas.
But rainfall is below average, poorly distributed and not enough to alleviate the current drought.
As a result of bad rains, Somalia is facing fourth consecutive rainy season failure and high risk of localized famine in six regions – including in the Southwest State – especially if food prices continue to rise and humanitarian assistance is not maintained to reach the most vulnerable.
Additionally, the coming rainy season is forecast to be below average, meaning the drought emergency is set to worsen. As the country confronts the threat of hunger in those six areas, humanitarian organizations are shifting the thrust of their operations from responding to drought to preventing hunger, reorienting responses to the most vulnerable populations and develop a plan to prevent hunger.
Baidoa among the hardest moves
The Baidoa district of the South West state is one of the areas of Somalia hardest hit by the current drought.
Since the beginning of the year, 230,000 people have been displaced to the South West State.
Its Bay Area has the highest number of people with severe food insecurity; this is coupled with high rates of malnutrition, especially in the Baidoa IDP camps. Since March, cases of acute diarrhea have increased, with a total of 2,279 cases, including 11 deaths, reported since January this year.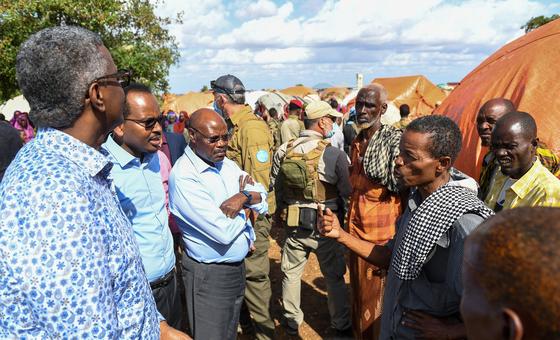 "I am here to mobilize as many resources as possible, and coordinate efforts in humanitarian assistance. Baidoa is where the hardest hit people have been coming recently – almost half of them displaced because of the drought are here in Baidoa," said Abdishakur at the 'ADC' camp. "We call on the international community to redouble their efforts and support the Somali people during this difficult time."
Mr. Abdelmoula, who is also the UN's Deputy Special Representative for Somalia and the UN Resident Coordinator, noted that the world body and its partners can only do so much without more. power.
Limited capital, increasing demand
Funding for this year's Humanitarian Response Plan for Somalia, which seeks about $1.5 billion to assist 5.5 million most vulnerable Somalis, remains as low as 15.7% as of May 20.
"With the limited resources we have, we were only able, from January to April, to reach 2.4 million of all those in need of humanitarian assistance," said Humanitarian Coordinator said.
The Special Envoy and Humanitarian Coordinator intends to make more joint field visits in the near future.