News
Sir Graham Brady to stand down as MP at next election | Politics News
Sir Graham Brady, chairman of the influential 1922 committee of reserve Tory MPs, will step down at the next general election.
The 55-year-old, who has represented Altrincham and Sale West for the past 26 years, said his time in parliament was a "huge privilege for which I will always be grateful".
In a statement, he added: "I have decided to end this fascinating and fulfilling chapter in my life while I am young enough to pursue other opportunities and interests, so I will not be involved in the future. next election."
Live politics: Home Secretary accused of 'inciting language' as she begins crackdown on small boats
Sister Graham said he would continue to chair the 1922 committee until the end of this session of parliament if his colleagues wanted to.
"I will continue to do everything I can to support the Conservative Party and Rishi Sunak. He is bringing both stability and vision as prime minister," he said.
"In 2024, I will campaign locally and nationally to reclaim a Conservative government, in the national interest and in the interests of my constituents.
"I will continue to work hard to serve the people of Altrincham and Sale West, giving my judgment and experience until the end of parliament."
Sir Graham was first elected as an MP in 1997 and has been chairman of the 1922 Committee since 2010, except briefly in 2019.
But it's only in the last few years that he has become a household name – with his visit to Number 10 seen as an end to recent prime ministers.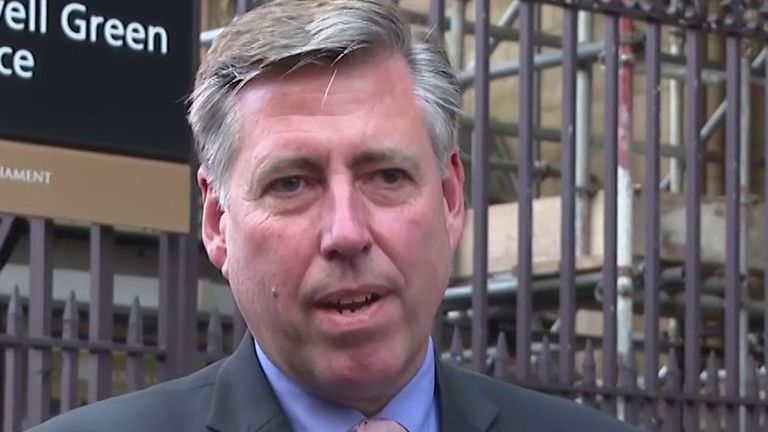 As chairman of the group of reserve MPs, he was tasked with assessing the dissatisfaction of his colleagues and counting the all-important letters of no-confidence – a number that he keep a closely guarded secret until it reaches the threshold for voting.
Sir Graham oversaw the election of three party leaders and prime minister – Theresa May, Liz Truss and Rishi Sunak – as well as votes of no confidence in Mrs May and Boris Johnson.
He is the latest senior Conservative to announce they will not contest their seats at the next election, amid predictions of an election that would wipe out the party.
Former cabinet ministers Sajid Javid, George Eustice and Nadine Dorries are among 22 Tory MPs who have announced their withdrawal plans, with the latter of blame "infighting and stupidity" resulting in Mr. Johnson's death.
Former health secretary Matt Hancock is also stepping down, but he is now sitting as an independent after being suspended by the Tory parliamentary party after joining I'm a Celebrity… Get me out of here!
Twelve Labor MPs said they would give up their seats.