News
Route revealed for queue to see the Queen lying in state – and where you can take a break | UK News
New details have been announced for those who want to see the Queen lying in state.
The Queen's coffin will be placed in Westminster Hall four days before a state funeral at Westminster Abbey on Monday.
Extensive rules and regulations – on what can be done, for example – were made available before the coffin fly to London on Tuesday.
Now, the roadmap has been revealed. It begins on the Albert Embankment, next to Lambeth Bridge, before descending down the Thames to Southwark Park – a distance of more than four and a half miles.
Those in the queue will pass famous landmarks including the London Eye, the National Theatre, the Tate Modern and HMS Belfast.
New details also include:
• Additional toilets and fountains along the route
• Southbank Center, National Theater and BFI Southbank extend opening hours to provide refreshments
• Coffee shops and other local businesses are also expected to stay open longer
• More than 1,000 volunteers, managers and police will be present
• BFI Southbank will show the Queen's archive footage on outdoor screens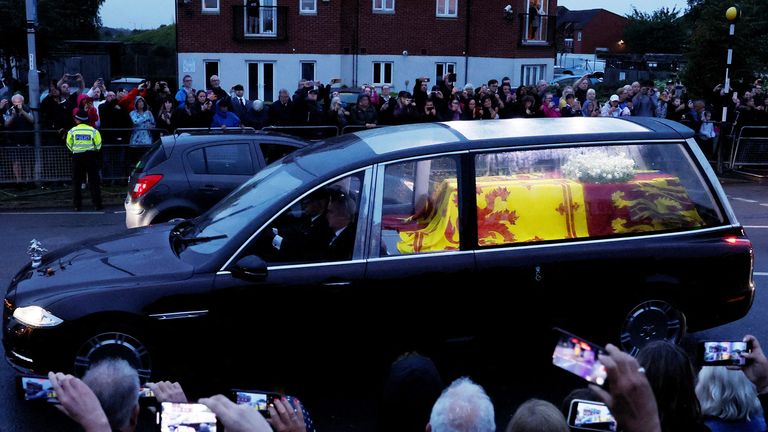 Queen will be in state at Westminster Hall from 5pm on Wednesday, and the doors will be open 24 hours a day.
At 2:22 p.m. Wednesday, her coffin will be carried by gun carriage from Buckingham Palace to the Palace of Westminster, with King, his two sons and other royals, as well as staff from the royal household go behind.
At 3pm, the coffin will arrive at the Palace of Westminster, where the Archbishop of Canterbury will conduct a brief ceremony.
The Queen's layover – codenamed Operation Marquee – will then begin at Westminster Hall and last for four days.
The Queen's closed coffin will be placed on a raised platform, known as a catafalque. It will be worn according to the Royal Standard, with the Crown of the Royal State and a wreath placed on the head.
Large crowds are expected and people will need to stand for hours – possibly overnight – with little opportunity to sit down as the line will continue to move.
It is predicted that there will be congestion on public transport.
Travelers will be screened through airport-style security and those waiting will be given numbered bracelets, allowing them to temporarily leave to use nearby gates or buy supplies .
Regular updates on queue lengths, estimated wait times and closing times will be made available on government social media accounts.
The entire route has step-by-step free access. However, a separate route will begin at Tate Britain, where timed entry slots will be issued to those who need them.
Government advice urges people with pre-existing conditions to "check guidelines, plan accordingly and prepare for significant waiting times, including possibly overnight".
It added: "Members of the public are also encouraged to check for travel updates, plan their itinerary and check times for final services."
Guide dogs, hearing dogs and other official service dogs will be allowed into Westminster Hall, and English Sign Language interpreters will be available.
What can you bring?
There will be a strict baggage policy, only one small bag per person is allowed.
It must be less than 40cm x 30cm x 20cm in size, with a simple opening or zipper closure.
Anyone who has to carry a larger bag will have to leave it in a drop-off facility – but space is limited and there's no guarantee of storage capacity.
There are a limited number of places to buy food and drinks along the line, so the public is encouraged to bring their own. But they must be consumed, or processed, before entering the palace.
It is recommended to use a mobile phone charger.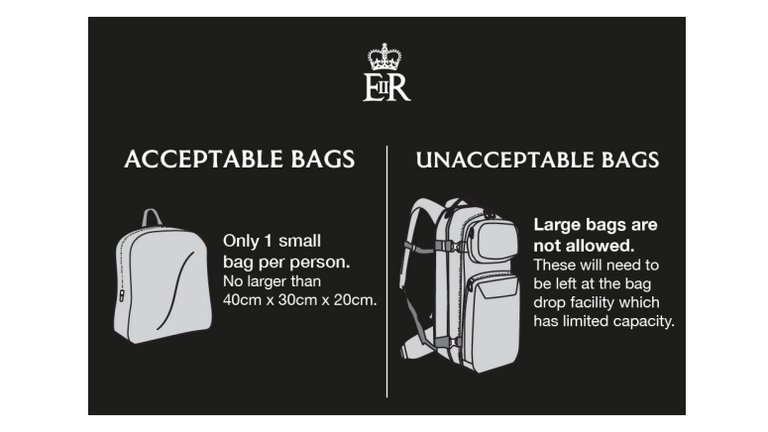 What items are prohibited?
Water bottles or jars are not allowed, unless they are transparent.
Flowers and other tribute items, including candles, soft toys, and photographs are also prohibited.
Flowers should only be brought to designated areas in Green Park.
Sharp items, paint sprayers, padlocks, chains, climbing gear and any other dangerous items are prohibited.
Banners, banners, flags, promotional or marketing messages are also not allowed.
All camping equipment – including coolers, headbands, sleeping bags, blankets and folding chairs – are not allowed, as are strollers that cannot be folded.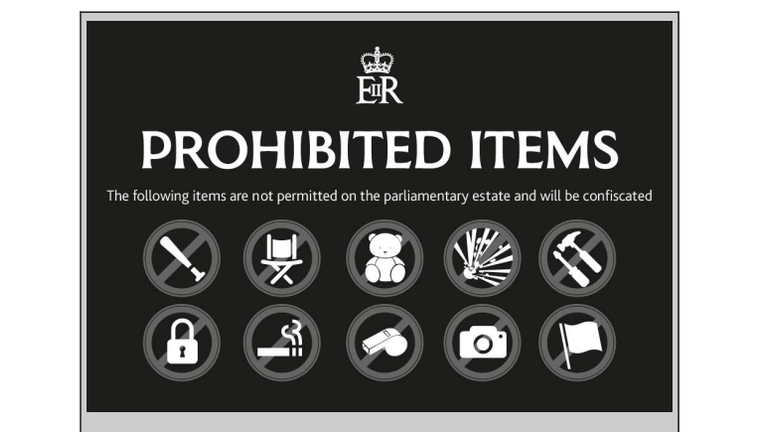 Add-ons on the go
An army of 1,000 dedicated volunteers, including more than 100 scouts, managers and the Metropolitan police will be on hand to help, along with facilities including toilets and sprinklers.
But take advantage when you see them, as logistics personnel told Sky News they are worried there won't be enough, saying: "There will be people lining up in queues to get to the port.
"There can be a lot of crossed legs. I advise people to have very little fluid. It's a matter of fact."
St John Ambulance will operate eight stations along the route to provide first aid if needed, and there will be emotional support from the Samaritans and the Salvation Army.
There will be welfare support from the Red Cross, and Lambeth Palace will have a street pastor serving multiple faiths.
Read more:
William and Harry walking with the King behind the Queen's coffin
Accompany the Queen on her last 'honor and privilege' journeys – Princess Anne
How should you behave?
People were warned to "respect the dignity of this event" and to keep quiet in the Palace of Westminster.
Antisocial behavior, including jumping in line, drinking too much alcohol or being intoxicated will not be tolerated.
People are warned not to film, take pictures or use mobile phones in the security search area or in the palace.
You cannot bring tents or gazebos, barbecues or fireplaces.
The Met Office says London will be dry from Wednesday until the funeral, with less than a 10 per cent chance of rain.
'She sacrificed so much for this country'
Before the queue route was even announced, people were trying to figure it out.
We found James Russell at Lambeth Bridge, with sandwiches, pasta, water – and a portable chair.
The 45-year-old from Waltham Forest admitted he didn't expect much sleep overnight, but said securing a prime spot in the queue was worth it.
"I would stay up all night if I had to," he said. "I saw her mother lying in a state, I was here when Diana died.
"I've lived in London all my life and I love the Royal Family and what it brings to the country."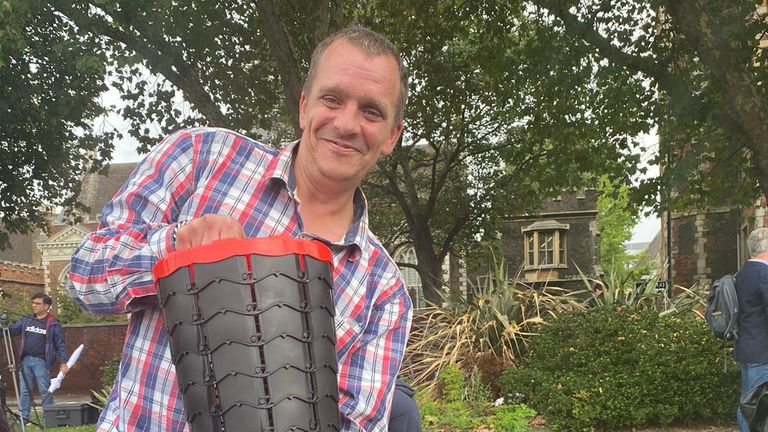 Chris Imafiden, 60, from Essex, started waiting at 9am on Tuesday and packed up some pastries and drinks to keep going.
He will also camp overnight but doesn't worry about getting cold or hungry, telling Sky News: "I'm ready. No sacrifice is too much for the Queen. She has sacrificed a lot for the land. this country."
Mareian Kaewthong, 51, who lives in Wrexham, started queuing a few hours later, and while she had brought some snacks, there were no main meals in her bag.
"I'm not here to eat, I'm here to see the Queen," she told us. "I didn't want to miss the chance to meet her. She was the most amazing person ever."