Game
Reviews Featuring 'Ib', Plus 'Rakuen' and Today's Other New Releases and Sales – TouchArcade
Hello gentle readers, and welcome to the SwitchArcade Round-Up for March 23rd, 2023. In today's article, we kick things off with a couple of reviews. I take a look at Playism and kouri's Ib, while our pal Mikhail has a look at the latest DLC expansion to Two Point Campus. After that, it's time for the new releases summaries. We've got more than a dozen new games to check out, and there are a few really good ones in there. As always, we finish off with the lists of new and expiring sales. Let's get to business!
Reviews & Mini-Views
Ib ($14.99)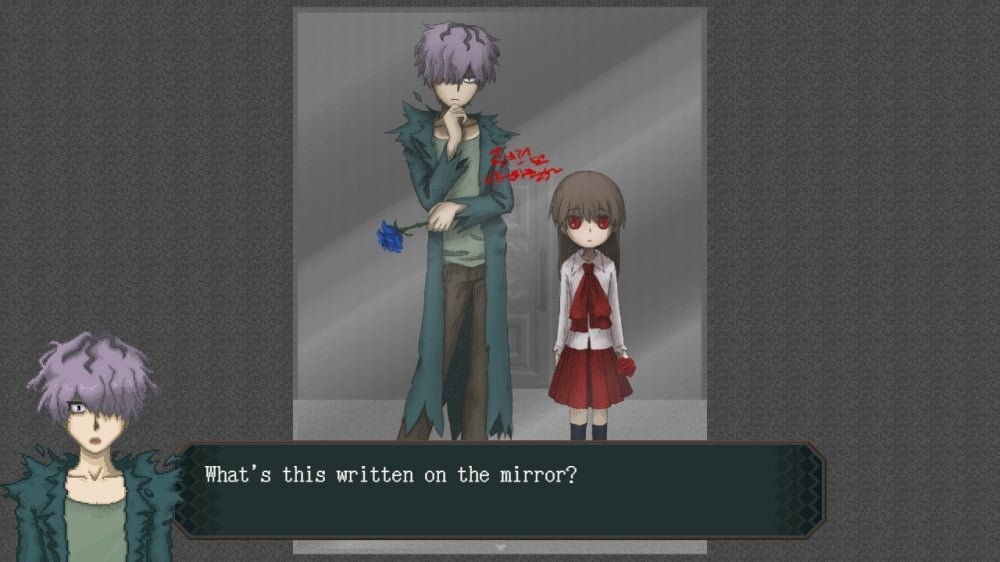 As I mentioned when I recently reviewed Paranormasight, I'm not good with horror games. I do make exceptions once in a while if it is a game I've heard a lot of interesting things about though, and that's where kouri's Ib comes into the picture. Ib was originally released for free on PC over a decade ago, and it was remade for PC last year. That remake has been brought to the eShop via publisher Playism, and given the game's semi-legendary status within its category, I figured I would check it out.
Ib sees you stepping into the shoes of a young girl named Ib in an art gallery with her parents. As Ib, you start walking around and looking at works of art. Some stuff happens, and you find yourself alone. This is where the mystery-horror blend begins, as you try to escape back to the real world. It's a very simple game with exploration, puzzles, some chase sequences, a few jump scares, and a lot of heart. You know, the charming sort of heart. Not the "Kano reaching out to touch someone" kind of heart.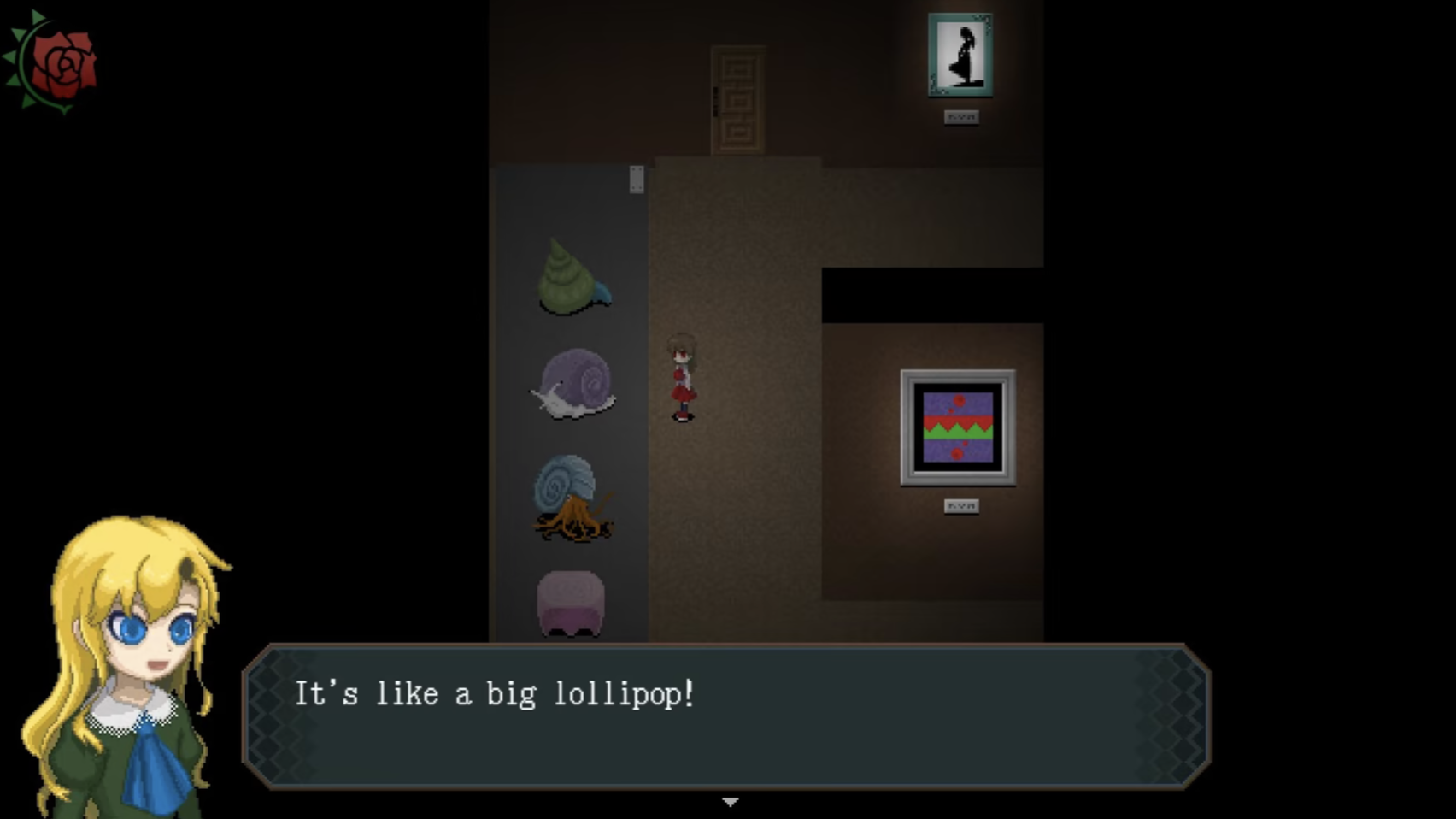 While the two or three hours the game lasts is highly compelling, it is unfortunate that one of the puzzles is perhaps a bit too obtuse for its own good. Barring that particular naughty boy, the blend of puzzles, excellent characters, and gorgeous art makes Ib worth spending time with, and it's a perfect fit for the Switch. I'm also glad it has a lot of save points because it makes going after all of the multiple endings a bit easier.
Ib does a lot with its limited set of characters and scope. If you enjoyed games like Corpse Party, Ib will fit right in with your tastes. Following its freeware launch back in 2012, it is great to see the game come to a console for the first time. 2023 has been a really amazing year for the Switch, but don't let Ib slip past in that crowd. It is one of the best adventure games I've played in a while, and a joy to play on the go. Even given my general disinterest in horror, I had trouble putting it down until I finished it.
SwitchArcade Score: 4.5/5
Two Point Campus: School Spirits ($5.99)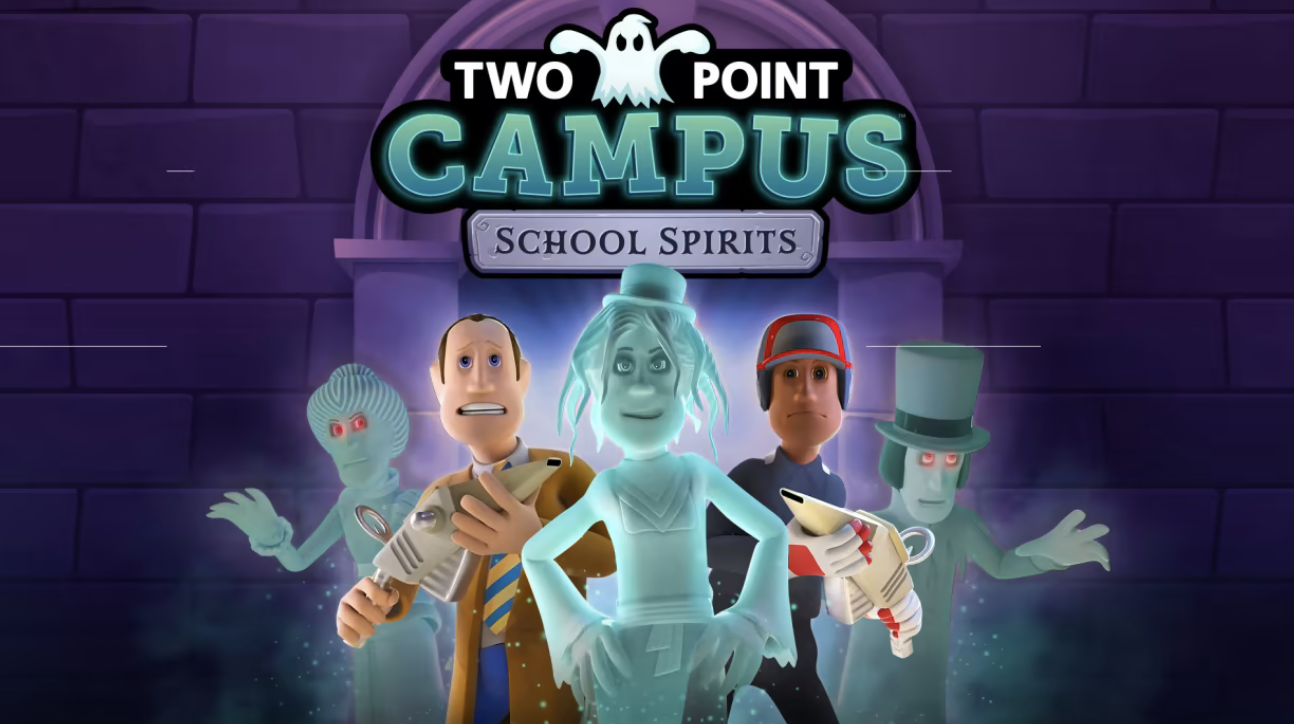 Two Point Campus is a game I continue to play when I want to relax and listen to a podcast or even play something while listening to Periphery's newest album for the 100th time. Having played the prior DLC for review, I was very curious to see what Two Point Studios would bring next to the game. With Two Point Campus: School Spirits, the team has delivered a great DLC with a fun theme, but one that needs more work on Nintendo Switch in its current state.
This DLC includes a brand-new campus location, two new courses, a new challenge mode level, items, animations, and more. While I do think the last DLC being as content packed as it was has led to Two Point Campus: School Spirits feeling a bit lacking for its asking price, this DLC is aiming for a quality over quantity approach. Think of it as one of those smaller DLC packs you get in a season pass that you buy for its major expansions, only Two Point Campus just offers all of this a la carte without a bundle right now.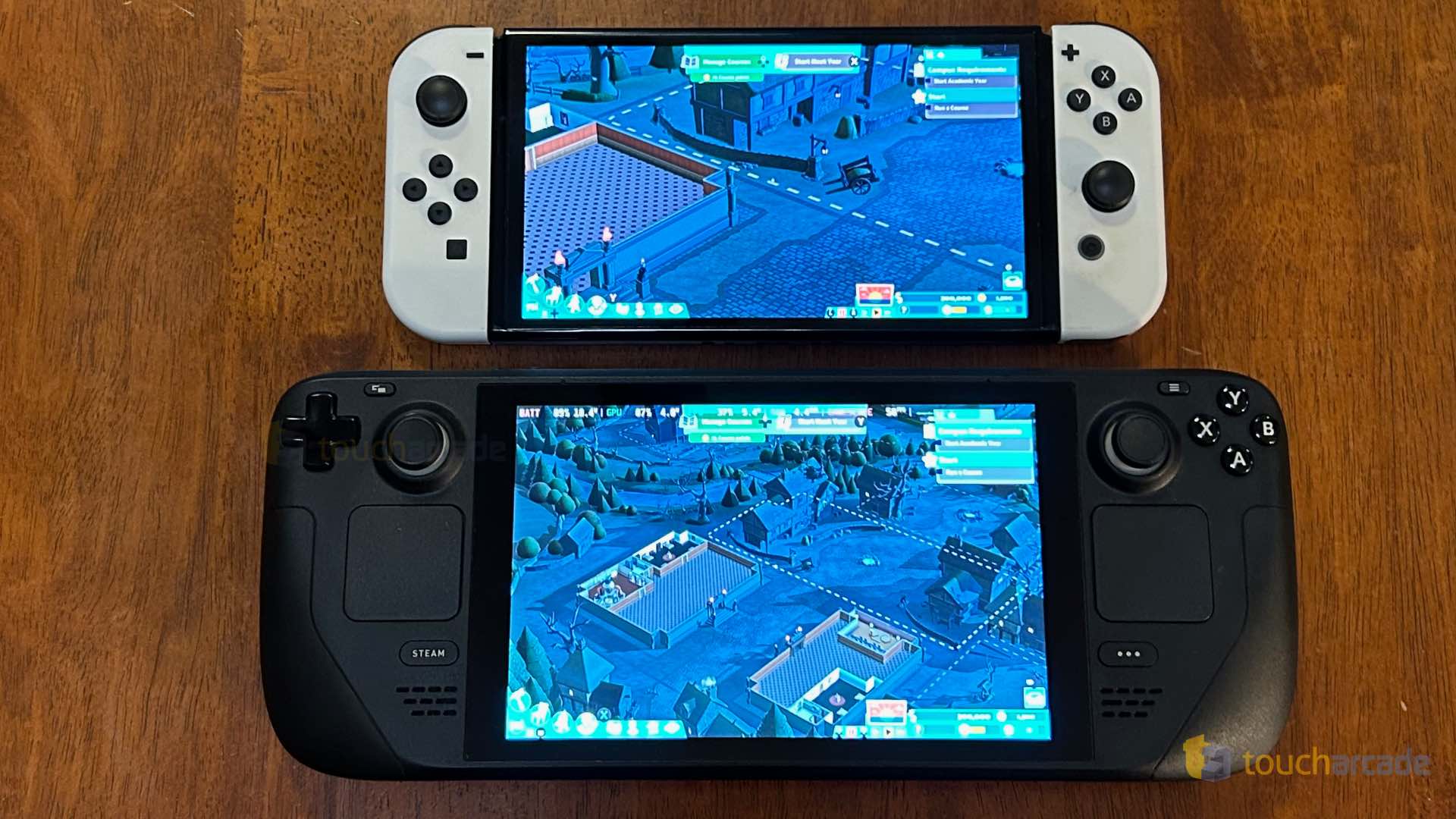 When I reviewed the Two Point Campus: Space Academy DLC, I also tested it on Steam Deck. For my Two Point Campus: School Spirits DLC review, I had access to the DLC on Steam a few days before getting it on Switch. I've grown to love how Two Point Campus plays on Steam Deck, and still think it is the best version of the game by offering solid performance and portability. The lack of proper zoom options on Switch (due to technical reasons) feels like a bigger issue in this new DLC since you can't actually see what's happening around certain in-game situations. The photograph below shows the difference in zoom levels possible.
Two Point Campus: School Spirits is a good DLC that feels a bit overpriced compared to the superlative Space Academy pack from late last year. In a vacuum, Two Point Campus: School Spirits is brilliant, and I still recommend it for anyone who has been regularly playing Two Point Campus, but it feels a bit lacking overall, and it is held back by the Switch version not offering a proper and stable experience. I hope Two Point Campus gets patched to be more stable as we lead into the next major DLC for the game in the future on Switch. -Mikhail Madnani
SwitchArcade Score: 4/5
New Releases
Rakuen: Deluxe Edition ($24.99)
You might know Laura Shigihara for her many musical contributions to games like Plants vs. Zombies, Deltarune, Minecraft, To The Moon, and so on. But Shigihara is also a game creator, having released the adventure game Rakuen several years back on PC. The game was rather well-received, and it has finally made its way to consoles in this Deluxe Edition. It's about a boy who is laid up in a hospital ward. His mother reads him stories from a book called Rakuen when she visits, and it turns out that the book can transport him to its fantasy world. He finds out that if he performs certain tasks, he can get a single wish granted, and you can probably guess what your job is here. Get ready for some… emotions.
Storyteller ($14.99)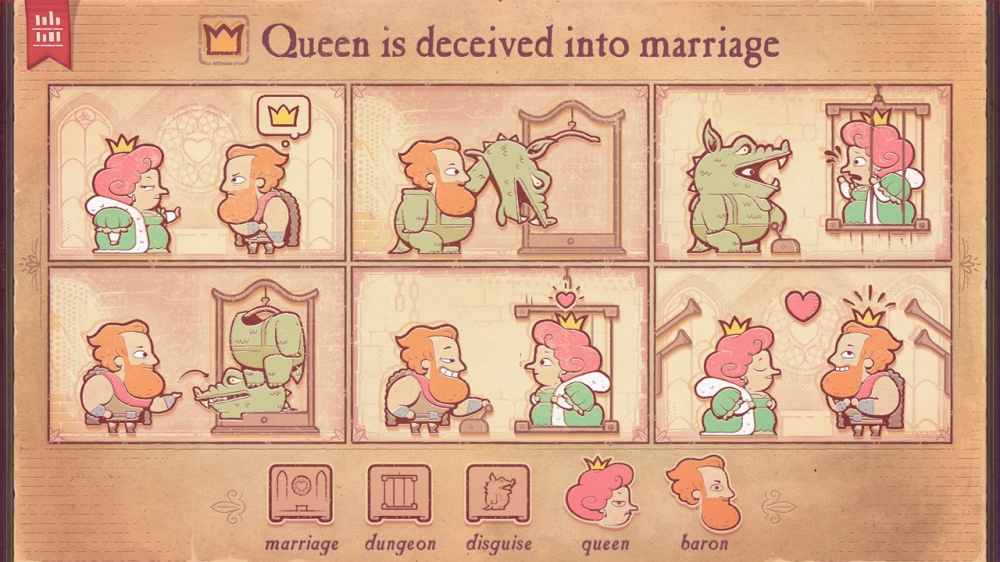 Here's a neat one from developer Daniel Benmergui and publisher Annapurna. Basically, you have to re-tell some very famous stories in brief cartoon-style form. You can follow the original flow or exercise a little creative control to see how things play out. Our pal Mikhail is working a review of this one that should be ready very soon, so I'll leave the rest of it to him.
Song of Memories ($28.99)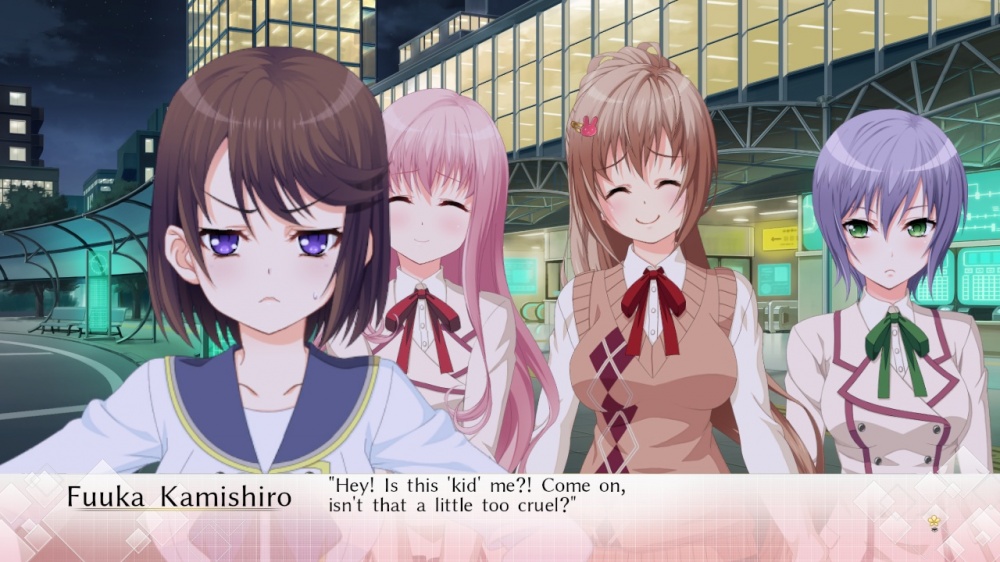 A visual novel about a a guy who is enjoying his happy, ordinary school life surrounded by cute girls. That's the first half of the game, anyway. The poor fool doesn't realize that an apocalypse is about to occur, and his visual novel is going to turn into a weird rhythm game hybrid where the attacking monsters need to be fended off with musical numbers. If this sounds weird, it is. If this sounds good, it's really not. Kind of a stunning example of "he who chases two rabbits shall catch neither", both in terms of its tone and its gameplay. Throw in a dubious localization and, well, I sure wouldn't spend thirty bucks on this.
Sushi Bar Express ($29.99)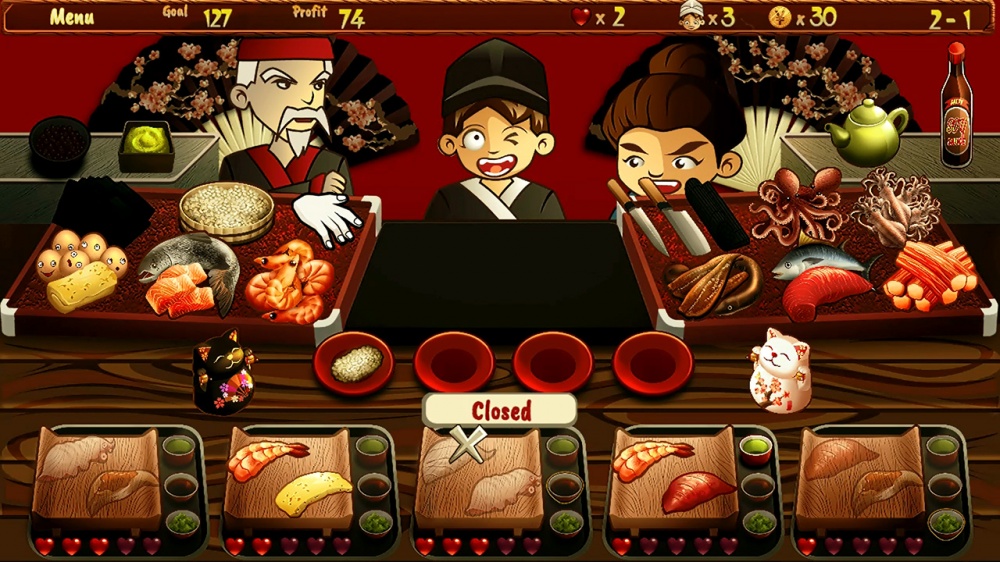 Look, I am no connoisseur of cooking games or anything, but this game looks to me like a plain, normal-butt cooking game. The kind that go on sale in bundles for a buck or whatever. Customers put in orders, and you have to prepare the food and serve it before too much time passes. Use the money you make to upgrade your equipment and buy new recipes. Like, maybe I'm missing something here as to why it's going for a relatively high price? Anyway, I recommend buying one of those cheap games and using the savings to buy yourself a decent dinner.
Monorail Stories ($14.99)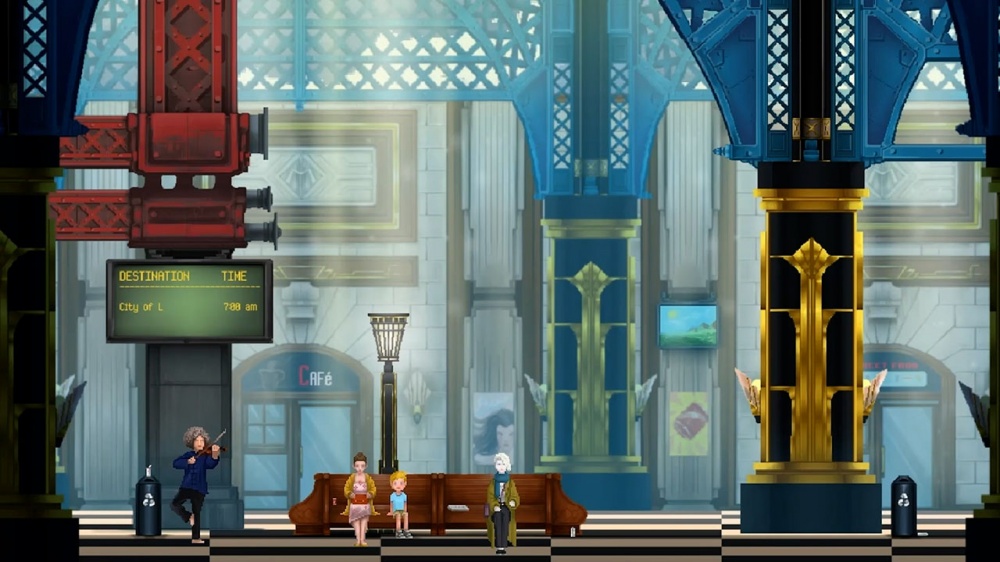 Well, this is interesting. It's a narrative adventure about two people from fictional cities who ride the same monorail every day. The player chooses who they interact with, which will change various things that will be reflected in the other character's story. You can play both characters by yourself or have a second player take control of one of the pair via online multiplayer. The latter is assuredly a unique experience, but even playing alone this is a rather intriguing adventure.
Numolition ($7.99)
I'll say it again, even though it won't be for the last time: if you have some kind of unique puzzle game that doesn't obviously explain itself by its screenshots, the onus is on the description to tell us how it works. I haven't had a chance to play this one yet, and despite all of the details in the description, I have no idea how the basic gameplay works. Something with numbers and making things blow up? Your guess is as good as mine. Whatever it is, you get fifty levels of it. It used to be on mobile, but it was pulled from both the App Store and the Play Store at some point.
Arcade Archives Bonze Adventure ($7.99)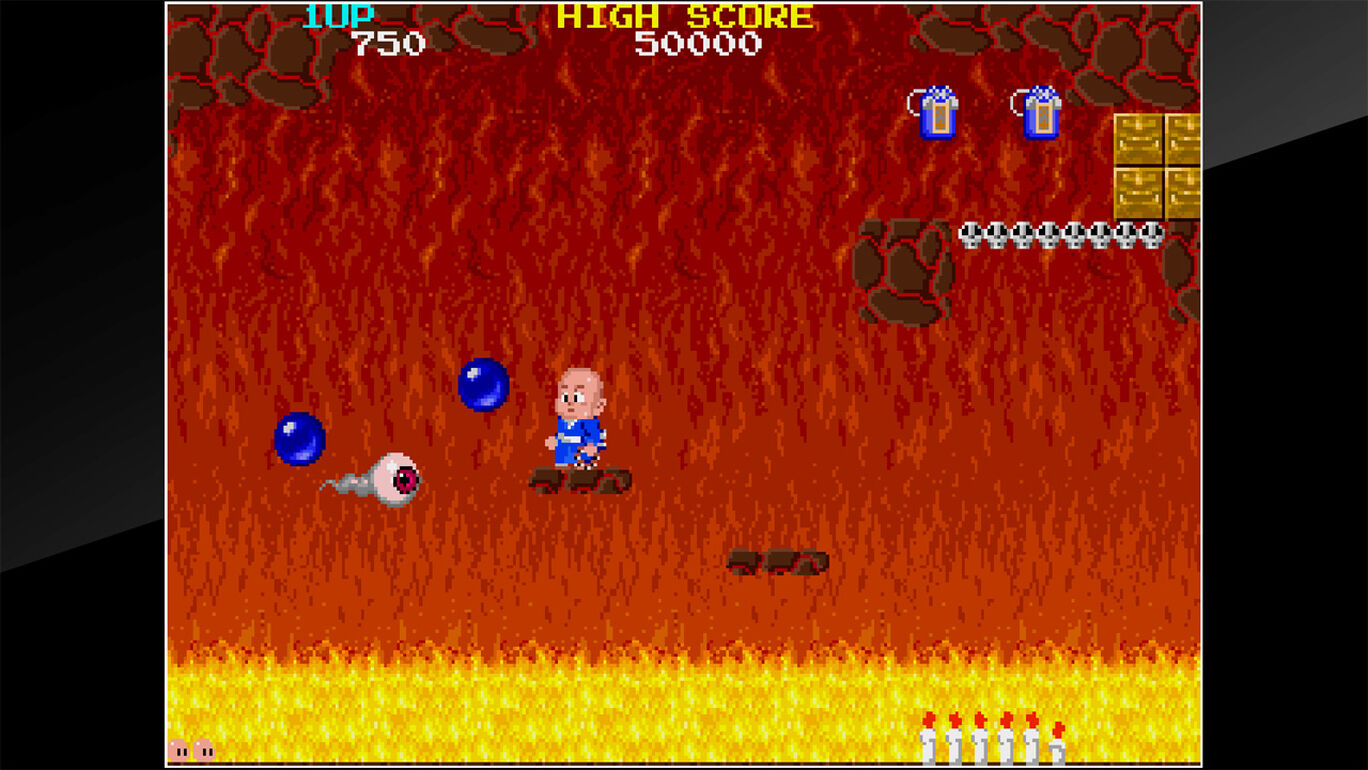 Here's an unusual pull, though not an entirely unknown one. Bonze Adventure is basically Taito's take on Ghosts 'n Goblins or, I don't know, Legend of Hero Tonma. It's a very challenging platformer, and one that will do its best to eat your coins at a rapid clip. But it has a very cool vibe to it, and if part of an arcade game's appeal is to take you on a tour through the imaginations of the developers, then this game certainly succeeds on that front. Not an amazing game, but not a bad one either. Might be the flavor you're looking for today.
Omen of Sorrow ($19.99)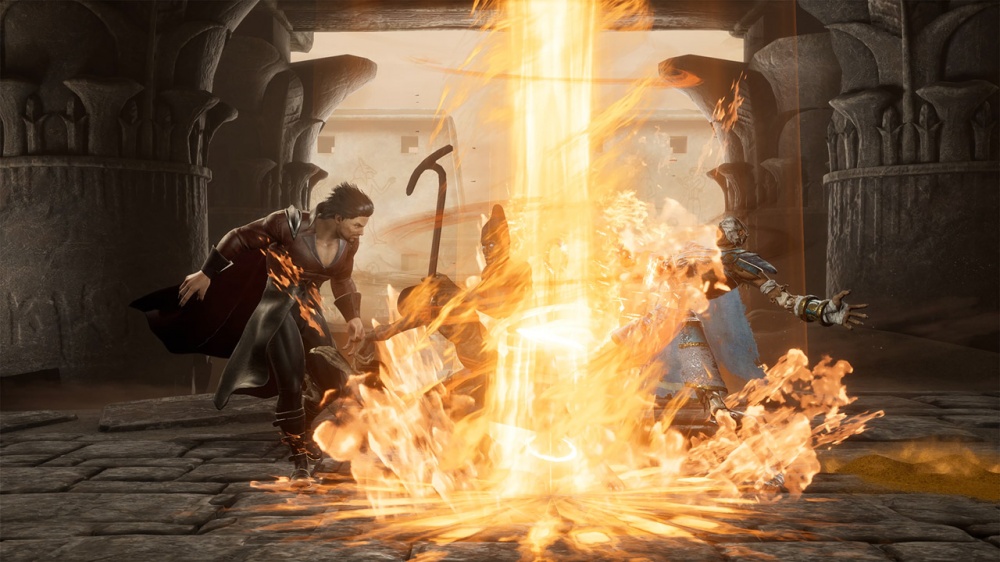 This is a fighting game that features horror-inspired monsters as the playable characters. No, not the Capcom one. Not the DLC characters in Mortal Kombat, either. It has support for multiplayer locally and online, so that's nice. It seems to be relatively well-liked by the community and it's clearly punching well above its weight class given how small the company that developed it is. Might be worth looking into if you're a fan of fighters and want something off the usual path.
Scramballed! ($7.99)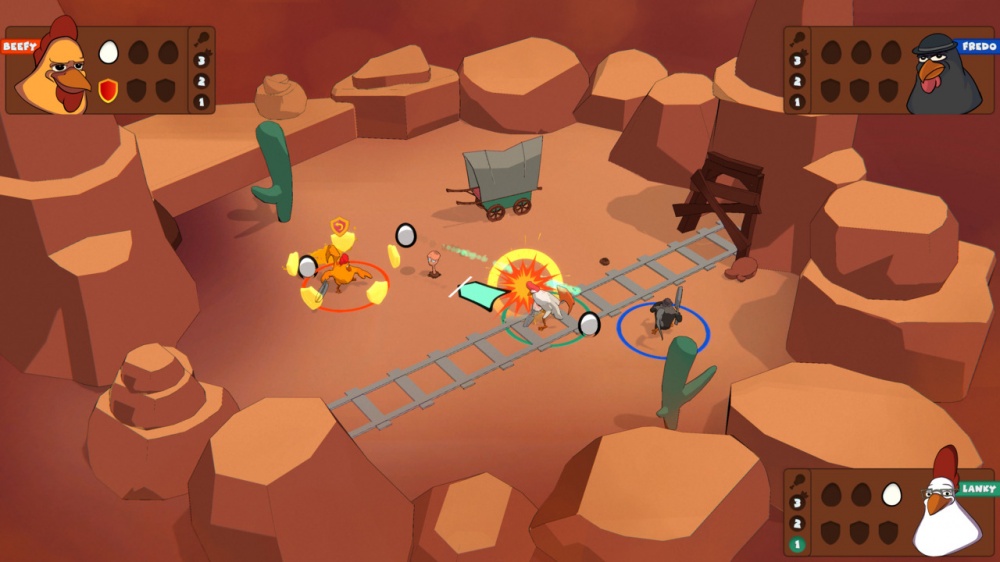 A wacky tennis-like game for up to four players via local multiplayer. You play as a chicken and you use a frying pan to whack eggs around. Whoever is the last bird standing, wins. The affordable price and silly set-up might make this a nice pick-up for families even if it does look a little on the lower budget side of things. It's hard to mess up tennis, right?
Split ($8.99)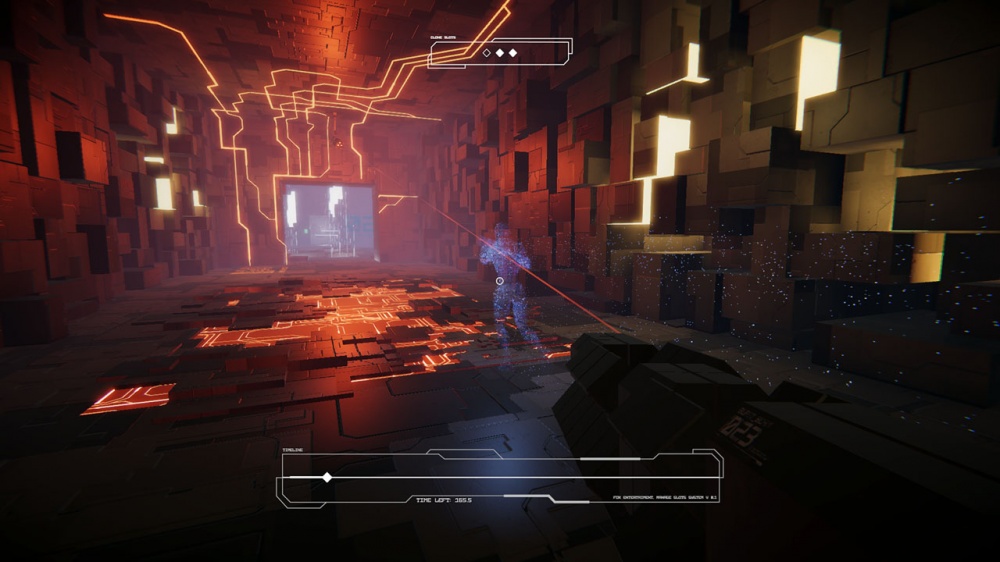 That title is not doing the game any favors for discovery, that's for sure. A subtitle wouldn't be the worst idea. But whatever, that's not really my problem. This is a first-person puzzle platformer and while it isn't very long it does have some little secrets to root out if you're inclined to do so. The main gimmick to the puzzles is in making copies of yourself by manipulating time, which isn't a bad idea to build around. I found the story incredibly overwrought and kind of awkward, but you might find it more appealing than I did.
Mighty Mage ($4.99)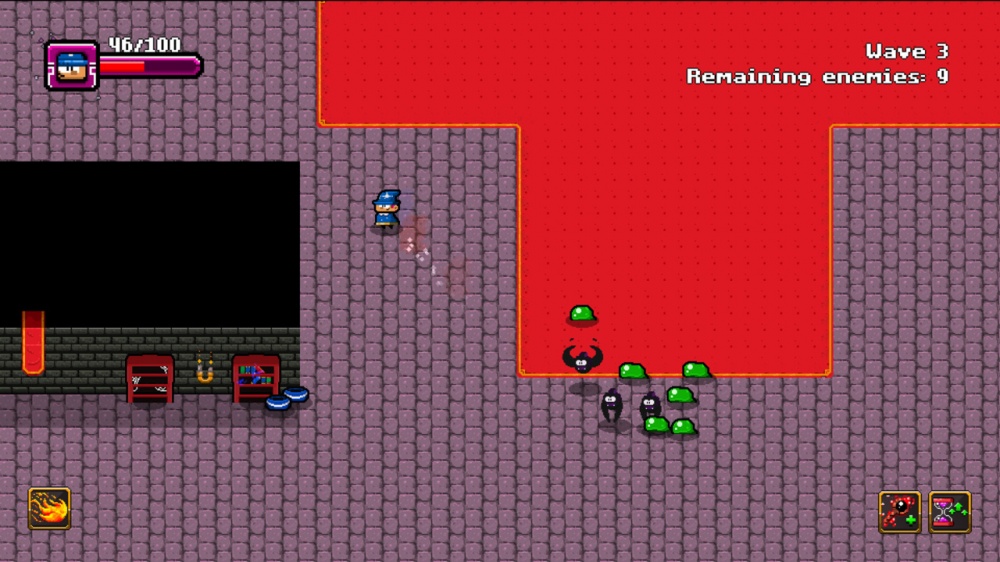 Another kick at the Vampire Survivors can, this time from the folks at Weakfish Studio. It's handheld only, as it requires touch controls. The game proceeds about the way you would think, and I suppose it's as good a substitute as any in the absence of the real thing.
Birds and Blocks 2 ($5.99)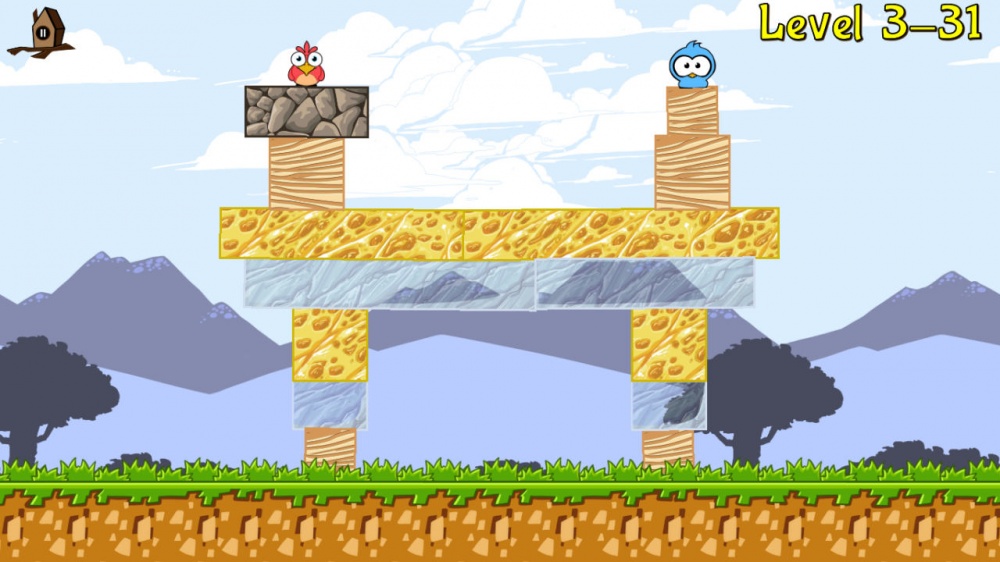 Here is the follow-up to Birds and Blocks, and it's really just a bunch of new levels. One hundred and twenty to be exact. The idea is the same as before. Remove blocks to get the birds safely to the stone blocks, and don't let them hit the ground or fly off the screen. Handheld mode only, as it requires touch controls.
Fishing: North Atlantic ($24.99)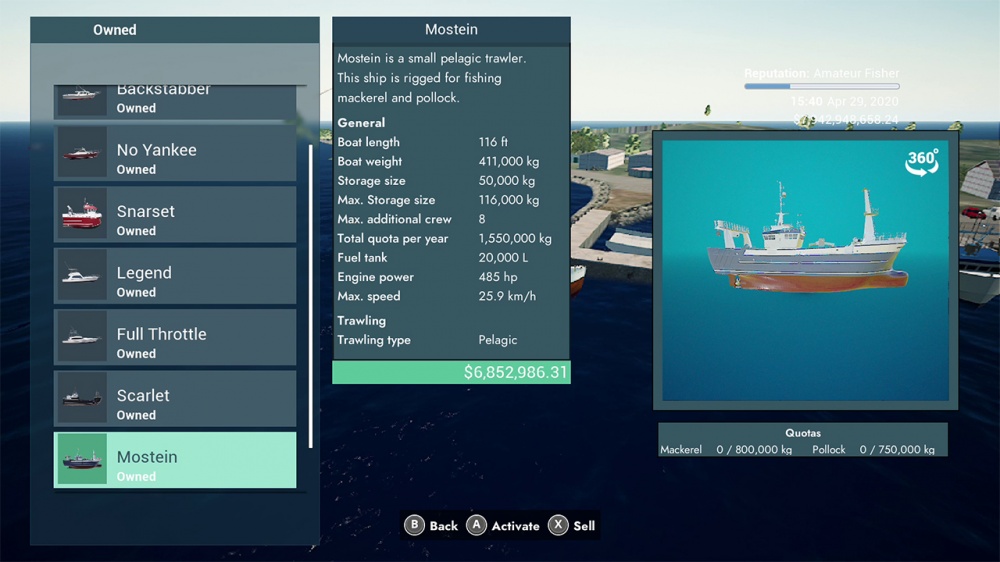 I'll grant that this seems like a thorough delivery on the promises of its title. You'll engage in commercial fishing in a huge map set around Nova Scotia, Canada, complete with six realistic ports. There are tons of different fish and ocean creatures to catch, several different fishing methods, thirty-two real boats complete with proper licensing, and a weather system to lend a little extra realism to the whole affair. The reviews of the computer version are fairly positive, so provided Forever has taken the Switch's unique user interface demands into account this might be worth looking into for those with an interest in the topic.
Subnet – Escape Room Adventure ($5.99)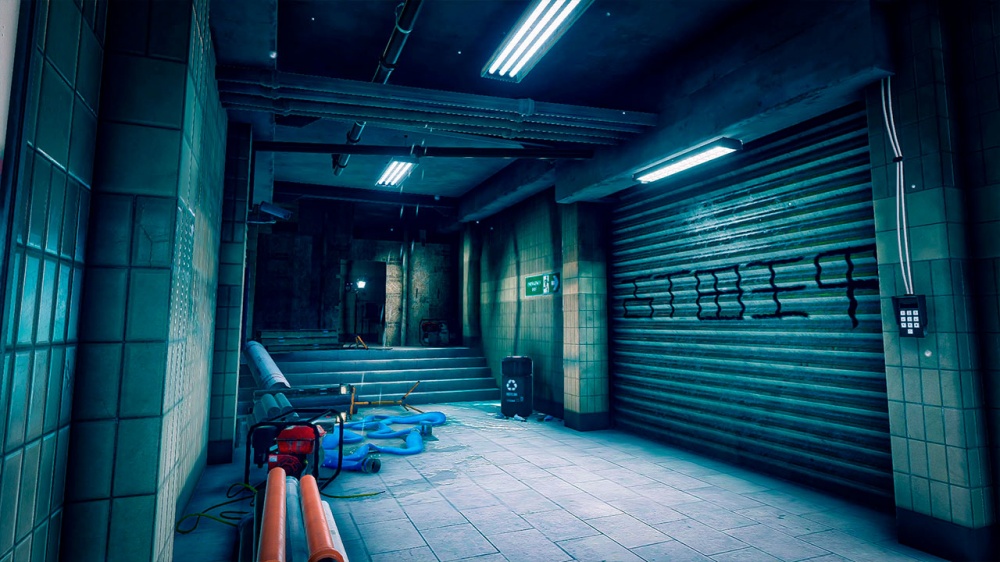 This is a first-person 3D escape room-inspired adventure game. Explore the spaces, solve the puzzles, and try to get out. I don't have a whole lot of new words to sling about games like these that just sort of do the same largely indistinct things. So all I can really say is that if you want another escape room-style game, here you go.
Crime Busters: Strike Area ($14.99)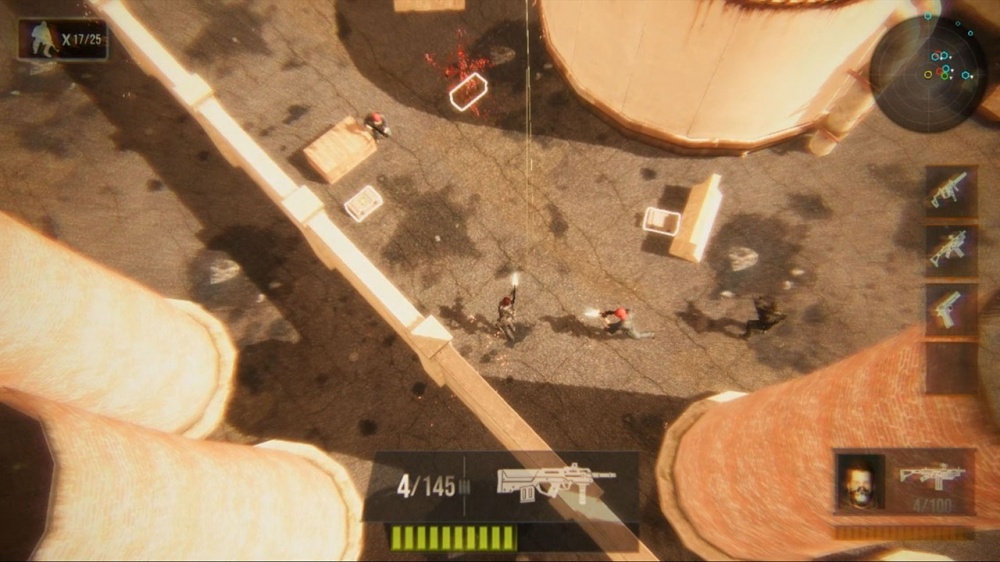 Well, I'll grant that switching to a top-down view is at least something new for TROOOZE. I don't imagine the overall quality of the thing will see significant improvements from such a move, but clearly this publisher has its fans or it wouldn't keep going. You can play a few different modes alone or pull in a friend for some local co-op play.
Sakura Neko Calculator ($4.99)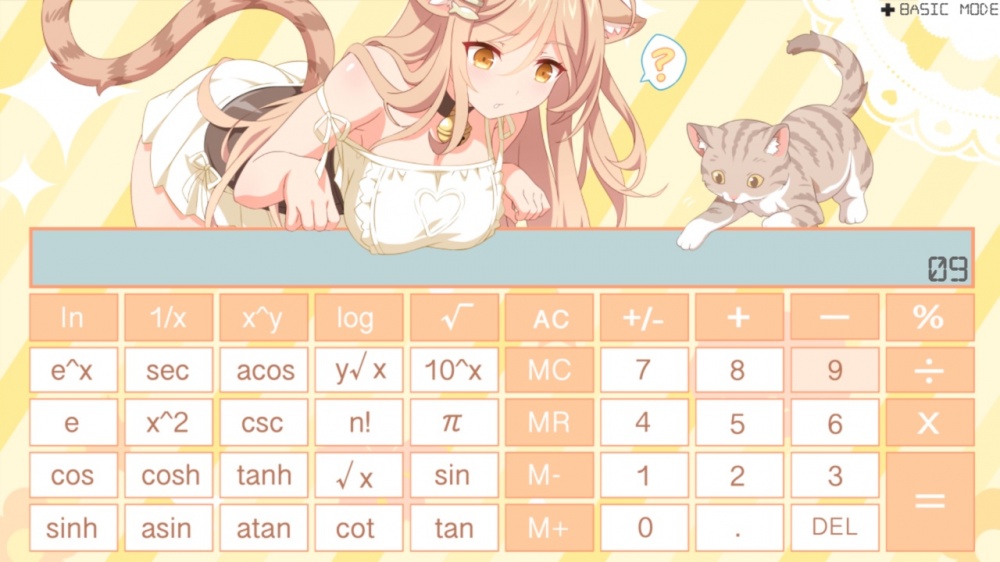 Gamuzumi is getting in on that lucrative Switch calculator market with its latest release. If you've ever wanted to use your game console as a calculator while a large-chested catgirl hangs around in the unused areas of the screen, your lotto ticket number just got called.
Zombie Garden vs Plants Defence -Battle Craft and Survival Simulator Game ($4.99)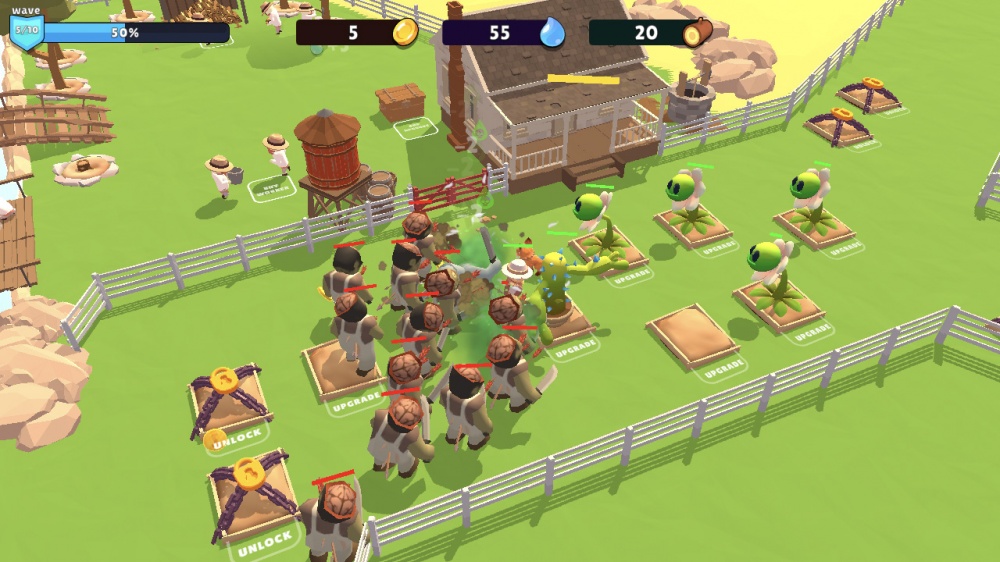 VG Games is at it again, and this time they've decided to tease the tiger. Is ripping off Electronic Arts a Robin Hood-like move? I don't know, but I don't think these jerks deserve anyone's money for this kind of shenanigans.
Sales
(North American eShop, US Prices)
Not much of note in the inbox at the time of writing. I guess I could mention FIFA 23's discount, which is happening because it is the latest Game Trials title for Nintendo Switch Online owners. Otherwise, it's a lot of the usual suspects. I'm sure we'll have more to look at tomorrow, though. The outbox is more notable because the first wave of Mario Day sales are wrapping up. It's your last call for Luigi's Mansion 3, Donkey Kong Country: Tropical Freeze, Mario Party Superstars, and Yoshi's Crafted World at their discounted prices. Do keep in mind that we will be seeing more Mario game discounts as these head out the door, so don't completely empty your wallet.
Select New Games on Sale
Sail Forth ($16.39 from $19.99 until 3/30)
Freshly Frosted ($6.79 from $9.99 until 3/30)
#Funtime ($3.22 from $14.99 until 3/30)
Fracter ($2.20f rom $6.99 until 3/30)
The Ambassador: Fractured Timelines ($3.22 from $14.99 until 3/30)
Deleveled ($2.15 from $9.99 until 3/30)
Yonder: The Cloud Catcher Chronicles ($8.99 from $29.99 until 3/30)
Roundguard ($6.30 from $19.99 until 3/30)
Space Otter Charlie ($6.52 from $14.99 until 3/30)
Daardoa ($2.79 from $3.49 until 3/31)
Timore Redo ($15.19 from $18.99 until 3/31)
Timore 5 ($10.39 from $12.99 until 3/31)
Daemonum ($3.59 from $4.49 until 3/31)
Puppy Cross ($3.99 from $4.99 until 4/1)
EA Sports FIFA 23 Legacy ($19.99 from $39.99 until 4/4)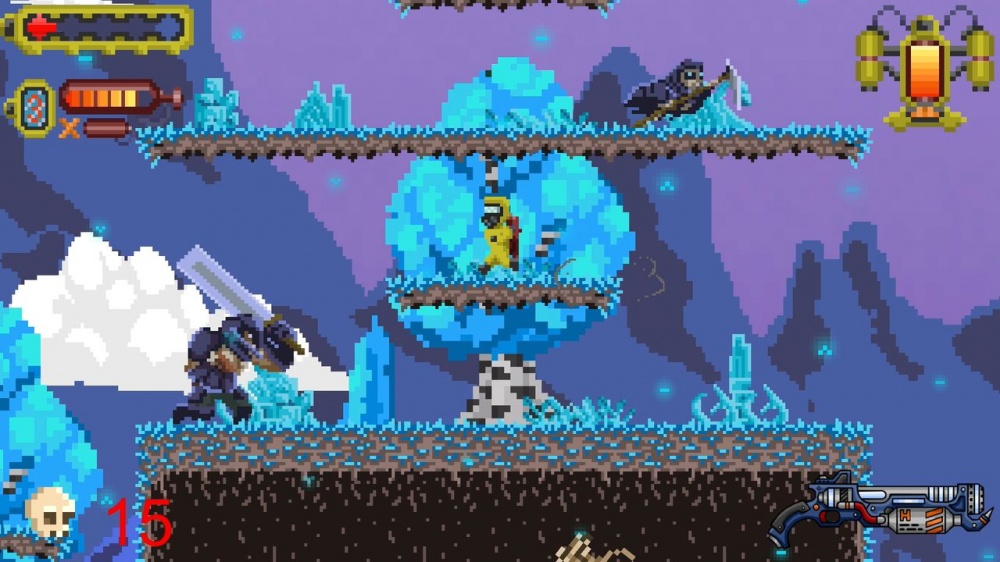 Arsonist Heaven ($2.99 from $4.99 until 4/7)
Explosive Candy World ($2.49 from $4.99 until 4/7)
Teratopia ($5.99 from $9.99 until 4/7)
Wind of Shuriken ($4.79 from $7.99 until 4/7)
Back Again ($2.09 from $2.99 until 4/7)
Pretty Girls Rivers ($3.59 from $5.99 until 4/7)
Summer in Mara ($9.99 from $19.99 until 4/10)
Pure Chase 80's ($2.09 from $14.99 until 4/12)
Niko and the Cubic Curse ($2.49 from $4.99 until 4/12)
The Sinking City ($9.99 from $49.99 until 4/13)
Sales Ending Tomorrow, Friday, March 24th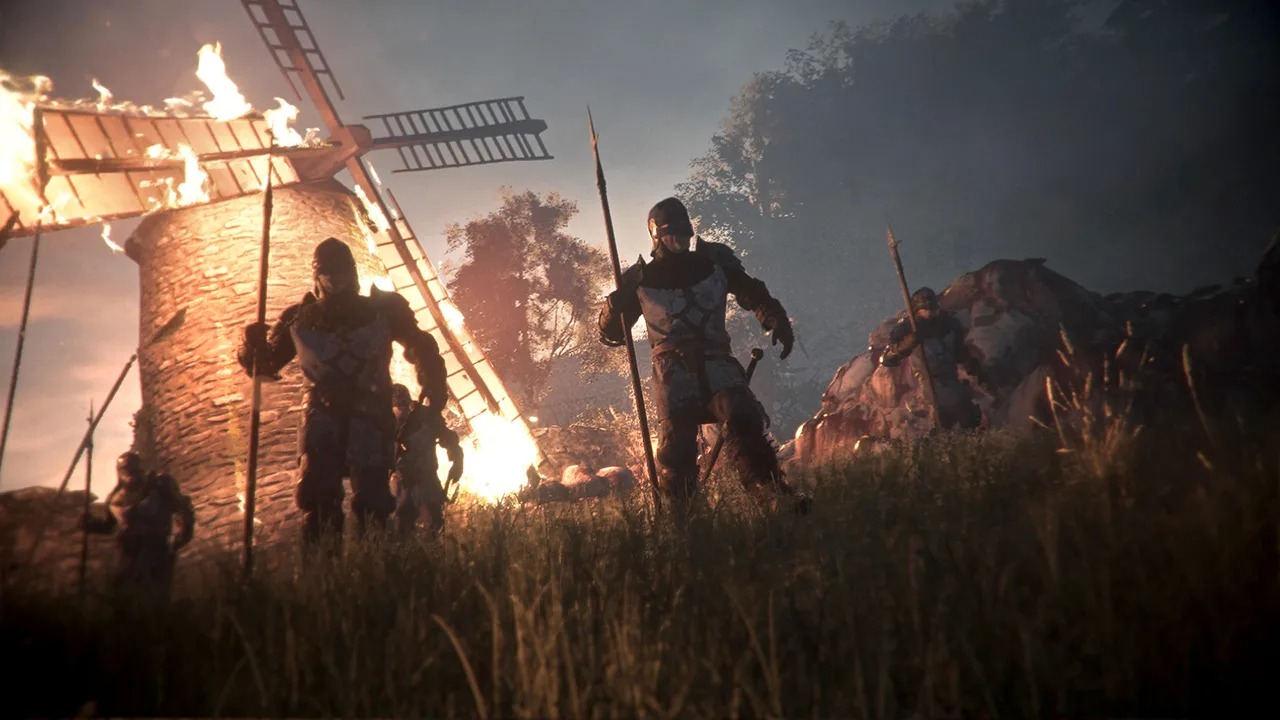 A Plague Tale: Innocence Cloud Vers. ($26.79 from $39.99 until 3/24)
A Plague Tale: Requiem Cloud Vers. ($41.99 from $59.99 until 3/24)
Bishoujo Battle Cyber Panic ($2.99 from $5.99 until 3/24)
Cyanide & Happiness: Freakpocalypose ($7.99 from $19.99 until 3/24)
Demon Turf: Neon Splash ($1.99 from $4.99 until 3/24)
Donkey Kong Country Tropical Freeze ($39.99 from $59.99 until 3/24)
Drift & Drive ($7.79 from $12.99 until 3/24)
Dying Light: Definitive Edition ($19.99 from $49.99 until 3/24)
Farmers Co-op: Out of This World ($4.54 from $12.99 until 3/24)
Football Manager 2023 Touch ($30.14 from $44.99 until 3/24)
For The Warp ($4.99 from $17.99 until 3/24)
Gemini Arms ($6.64 from $9.49 until 3/24)
Green Soldiers Heroes ($1.99 from $20.00 until 3/24)
Gunman Tales ($5.59 from $6.99 until 3/24)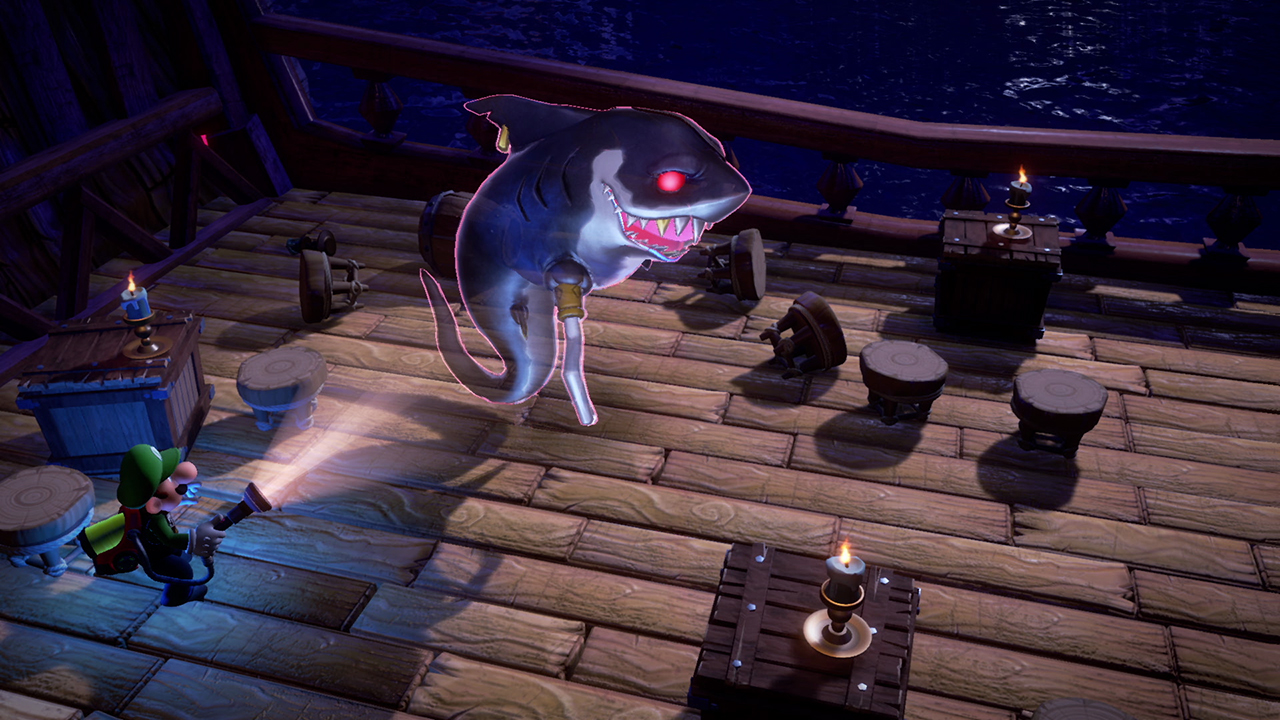 Luigi's Mansion 3 ($39.99 from $59.99 until 3/24)
Madorica Real Estate ($7.49 from $14.99 until 3/24)
Madorica Real Estate 2 ($12.99 from $18.99 until 3/24)
Mario Party Superstars ($39.99 from $59.99 until 3/24)
Missile Dancer ($6.99 from $9.99 until 3/24)
Poker Pretty Girls Battle Fantasy ($2.99 from $5.99 until 3/24)
Pretty Girls Klondike Solitaire ($2.99 from $5.99 until 3/24)
Raging Blasters ($10.29 from $14.70 until 3/24)
Santa's Holiday ($9.99 from $19.99 until 3/24)
Scar of the Doll ($6.59 from $9.99 until 3/24)
Streets of Rage 4 ($12.49 from $24.99 until 3/24)
Talisman Digital Edition ($1.99 from $19.99 until 3/24)
Treachery in Beatdown City ($4.99 from $19.99 until 3/24)
Unmatched: Digital Edition ($19.99 from $24.99 until 3/24)
Words in Word ($1.99 from $9.99 until 3/24)
Yoshi's Crafted World ($39.99 from $59.99 until 3/24)
That's all for today, friends. We'll be back tomorrow with the remaining releases of the week, plus a whole bunch of new sales. That will probably be it unless Mikhail comes up with a surprise. I hope you all have a great Thursday, and as always, thanks for reading!