News
Rare protests in China as fatal fire collides with zero-COVID fatigue | World News
Public anger in China over the continued lockdown due to COVID-19 has sparked rare protests in several major cities in recent days.
The latest protests were prompted by a fire at a high-rise apartment complex in the northwestern region of Xinjiang on Thursday.
The fire in the city of Urumqi has killed at least 10 people, and questions have been raised about whether China's strict lockdown policy has prevented people from escaping the flames.
Officials deny this, and a fire department spokesman sparked further anger after blaming residents for not being able to "rescue themselves".
Many Chinese cities have been under strict lockdown for months – for example, many of Urumqi's 4 million residents have been unable to leave their homes for any reason since August.
In Shanghai on Saturday night, police used pepper spray on about 300 protesters who gathered at Middle Urumqi Road with flowers and candles and held placards reading "November 24 Urumqi" in remembrance. victims of the fire.
One protester who gave only his last name, Zhao, told the AP news agency that one of his friends had been beaten by police and two of his friends had been pepper sprayed.
He said police stomped on his foot when he tried to stop them from taking his friend away. He lost his shoes in the process and left the rally barefoot.
Read more:
Protests in China after apartment fire killed 10 people during strict restrictions due to COVID
Beijing 'effectively locked down'
Lockdown frustration grows in China's epicenter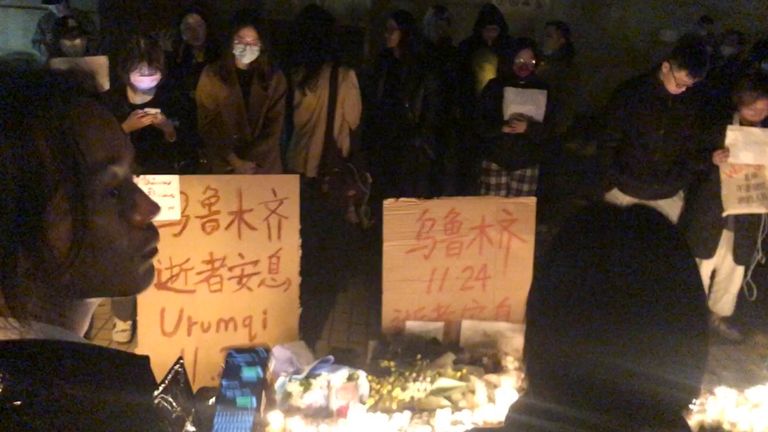 Mr. Zhao said protesters chanted slogans including "Xi Jinping, resign, Communist Party, resign", "Unlock Xinjiang, unlock China", "don't want PCR (testing). ), want freedom" and "freedom of the press".
Reuters reported they had seen a video showing Beijing residents in an unspecified part of the city marching around an outdoor parking lot on Saturday, shouting "end the blockade".
Sean Li, a resident of Beijing, told Reuters his plan to lock the door on his property was scrapped on Friday after residents noticed workers building barricades in front of their gates.
The people protested to their local leader and persuaded him to cancel the plans.
"The fire in Urumqi upset everyone in the country," Li said.
"That tragedy could have happened to any of us."
Read more:
Who are the Uighurs and why do they face Chinese repression?
Urumqi, in Xinjiang, saw protests on Friday night, when a vigil for fire victims turned into an anti-lockdown protest.
People chanted "open up, open up," in videos shared on social media before being removed by censors on Saturday.
But protesters have won some concessions, with areas of the city deemed low-risk given a little more freedom from restrictions over the weekend.
Protests against government policy are rare in China but even more unusual in Xinjiang.
Xinjiang, home to China's persecuted Uighur minority, has experienced some of the country's longest lockdown restrictions, with reports of people being starved earlier in the year.
Disappointment grows as the number of COVID-19 infections spikes

China's COVID-free policy was initially well-received by the people, who said it helped reduce the number of deaths while other countries were battling large numbers of casualties.
But support has dropped in recent months as Chinese people grow weary of restrictions far beyond those seen during the UK's lockdown, for example.
China is the only major country still battling the COVID-19 pandemic with mass tests and strict lockdowns.