News
Queen's death: Princesses Beatrice and Eugenie pay tribute to 'dear Grannie' | UK News
Princesses Eugenie and Beatrice paid homage to the Queen, describing her as their "Dear Grandmother" who had "the loving hand on our back to guide us through this world".
In a statement on Saturday, they said: "We, like many, thought you would be here forever. And we all miss you immensely.
"You are our matriarch, our guide, our loving hand on our back leading us through this world. You have taught us so much and we will cherish the lessons. learn and remember that forever."
The earliest funeral rehearsal – follow the latest updates
Watch Queen's live stream in status
It added: "Now, dear Grannie, all we want to say is thank you. Thank you for making us laugh, including us, for picking heather and raspberries. sticky rice, for the marching soldiers, for our tea, for comfort, for pleasure.
"You, being you, will never know the impact you have had on our family and so many people around the world."
The princesses added that it was "the honor of our lives to be your niece".
They added in the statement: "We know that dear Uncle Charles, the King, will continue to lead in your footsteps as he too has dedicated his life to service. God save the King."
Read more:
'My father was faster than me': William joked as he greeted the mourners
What did the queen do when you were born? Find out here
World leaders arrive in London as Westminster Abbey watches state funeral rehearsal
Beatrice and Eugenie, the daughters of Prince Andrew and the Duchess of York, will participate in a 15-minute vigil around the Queen's coffin on Saturday night.
They will be joined by six other grandchildren of the late monarch – Prince William, Prince Harry, Zara Tindall, Peter Phillips, Lady Louise and Viscount Severn.
Prince Harry will wear the uniform at the request of the King, Buckingham Palace has confirmed.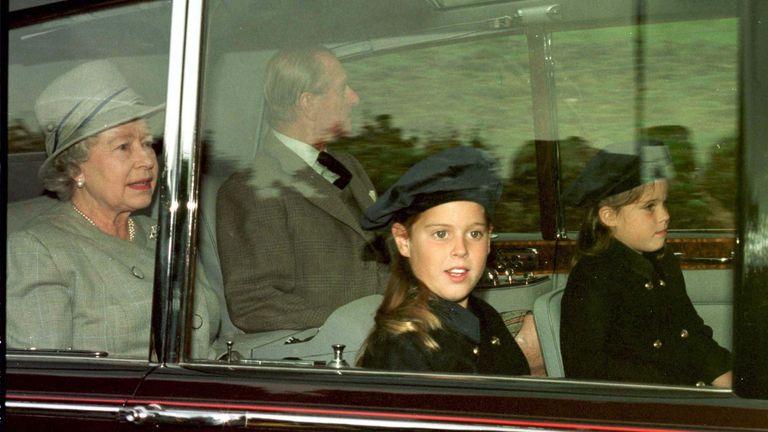 On Friday night, the Queen's children – Charles, Duke of York, Princess Royal and Earl of Wessex – celebrated their own vigilance around the coffin.
Meanwhile, thousands of people are still lining up to see the Queen's coffin in safe condition ahead of her funeral on Monday, with some queuing for more than a day.
The queue, for those with accessibility requirements, or those unable to stand for long periods of time, closed permanently on Saturday night.