Horse Racing
Pegram Celebrates 30 Breeders' Cup Years in Style
The talented 2-year-olds owner Mike Pegram will send out on "Future Stars Friday" at this year's Breeders' Cup World Championships carry names referencing Lake Tahoe landmarks as opposed to his former penchant for monikers that referenced inside jokes, double entendres that kept The Jockey Club on its toes, or even a police officer who helped him out of a jam.
There was a time for Pegram that having the odds-on, morning-line favorite for the FanDuel Breeders' Cup Juvenile presented by Thoroughbred Aftercare Alliance (G1)—as he does this year with undefeated two-time grade 1 winner Cave Rock —would have called for a week-long celebration complete with long dinners and parties. But this year Pegram, 70, has planned a quicker turnaround geared toward a great day at the races.
Yes, 30 years after Thirty Slews—the first Breeders' Cup starter and winner for Pegram in the 1992 Breeders' Cup Sprint (G1)—some things have changed for the longtime Thoroughbred owner. But one thing that most assuredly has not changed is his love of racing and his delight with big victories.
That thrill most assuredly is as fervent as ever.
"It still means a lot to me," Pegram said. "If you don't get a thrill out of this game, it's too tough to stick around to run second. It's a tough game in more than one way—on the track and maybe even tougher off the track.
"I feel like I'm busier than ever these days but it's a good busy. Anytime you're live in a big 2-year-old race, you're having a good day."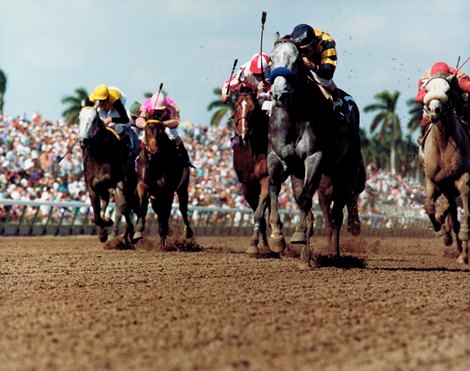 Thirty Slews wins the 1992 Breeders' Cup Sprint at Gulfstream Park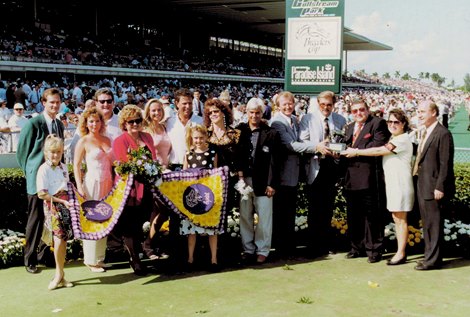 Connections of Thirty Slews in the winner's circle after the 1992 Breeders' Cup Sprint
With Cave Rock, Pegram and longtime partners Karl Watson and Paul Weitman are live in the biggest race of the year for juveniles as Friday's 1 1/16-mile tilt at Keeneland offers a $2 million purse and bestows the winner the title of "early Kentucky Derby favorite." Cave Rock has rolled to three straight victories by a combined 16 1/2 lengths and has never trailed at any point of call in a race. He enters the Juvenile off commanding wins in his maiden special weight debut at Del Mar, the Runhappy Del Mar Futurity (G1), and the American Pharoah Stakes (G1) at Santa Anita Park.
"I'm not one to really watch fractions in a race, but you just see what he does," Pegram said. "Each time I watch him there's a moment where I think, 'Wow, that's something new.' He's a dream horse so far. We just hope we can say that after Friday."
Pegram is plenty familiar with top juveniles. In 1998 he watched his filly Silverbulletday use her breath-taking stride to rally six wide to win the Breeders' Cup Juvenile Fillies (G1) at Churchill Downs—where she returned in the spring of 1999 to win the Kentucky Oaks (G1). She won championship honors in her first two seasons of racing on her way to the Hall of Fame.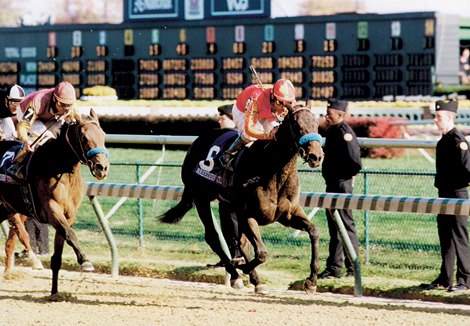 Silverbulletday wins the 1998 Breeders' Cup Juvenile Fillies at Churchill Downs
In 2009, Lookin At Lucky  , racing with Pegram's current partners, finished second in the Juvenile, a head behind longshot Vale of York . His victories in the same two races Cave Rock has captured would be enough to propel Lookin At Lucky to a championship, and he earned a second Eclipse Award in 2020 off his Preakness Stakes (G1) and Izod Haskell Invitational Stakes (G1) victories.
For Cave Rock time will tell—beginning with Friday's race—but he could not be more spectacular to date.
"We've hooked on to a few good 2-year-olds over the years, but the way Cave Rock does things is exciting," Pegram said. "Lookin At Lucky did just enough to win; he was such a smart horse. And Silverbulletday showed those flashes of brilliance. But with what Cave Rock has done up until now, he's in both of their leagues—and depending on what he does Friday, he may exceed them."
Another thing that hasn't changed for Pegram over the years is his trainer, Bob Baffert, who sent out Thirty Slews to an upset victory in the Sprint 30 years ago and has conditioned the three horses that captured five more Breeders' Cup victories for the owner. 
All involved are looking forward to more thrills this year, as the connections were aware they had a special horse soon after they went to $550,000 to purchase the son of Arrogate  bred by Annie and Ronnie Sheffer Racing at the 2021 Keeneland September Yearling Sale. Barry Eisaman provided the initial training for Cave Rock and passed along glowing reports when Pegram and Baffert visited his farm while in Florida for a sale.
"Barry was showing us the horses and he said, 'Right there is the best on the farm,' as he pointed to Cave Rock," Pegram said. "Barry's been around longer than dirt, so when you hear that from somebody of the level of horseman that Barry is, it brought a lot of anticipation. 
"And then once we got him to Del Mar, he didn't disappoint. He lived up to that report for sure."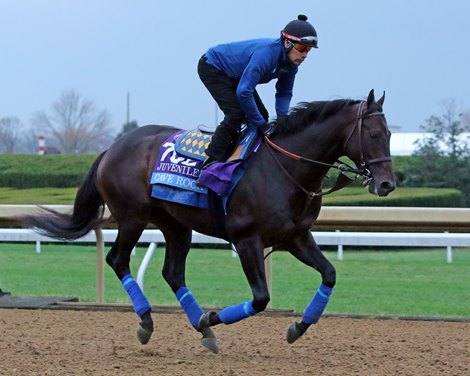 Cave Rock gallops Nov. 1 at Keeneland
While the Juvenile will be the day's big race, Pegram also will have undefeated Speakeasy Stakes winner Speed Boat Beach  in the day's opening Breeders' Cup tilt—the Breeders' Cup Juvenile Turf Sprint (G1T). Baffert, Pegram, and his partners knew of Speed Boat Beach's devastating speed from the start as he worked a furlong in 9 3/5 seconds ahead of this year's Ocala Breeders' Sales Co. March Sale of 2-Year-Olds in Training. The owners went to $200,000 to purchase the son of Bayern  from the Really and Truly Thoroughbreds consignment.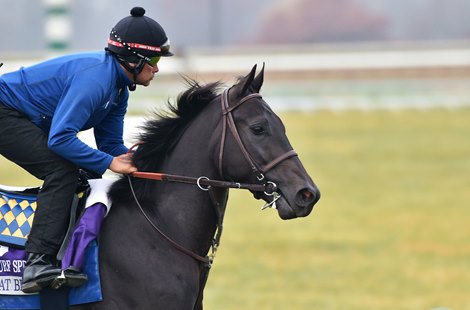 Speed Boat Beach gallops Nov. 2 at Keeneland
That gives the owners a pair of talented juvenile sons of horses Baffert saddled to victories in the Breeders' Cup Classic: Bayern in 2014 and Arrogate in 2016. Pegram recalled Baffert giving Speed Boat Beach a long look at the sale before telling him, "I need this horse."
Pegram said that the Juvenile Turf Sprint is the best current opportunity for Speed Boat Beach but there's been no decision yet on his favorite surface. Speed Boat Beach delivered a front-end score in his maiden special weight Sept. 10 on the Del Mar main track before trying the turf in the Speakeasy Stakes Oct. 2 at Santa Anita. His clear victory in that five-furlong grass test—a Breeders' Cup Challenge "Win and You're In" race—punched his ticket to Lexington.
"He's no fluke; he's talented," Pegram said. "They say he's faster than Cave Rock and that's saying something when you have a horse that's already gone :43-and-change (as Cave Rock did in winning the seven-furlong Del Mar Futurity). We named him right; we knew how fast he was when we named him that.
"He did his job in the Speakeasy and hopefully he improves off that race and if he does, we can have some beer money," Pegram said. "We won't have to go into our pockets again Friday."
Over the years Pegram has referenced "beer money" for his horses or Baffert-trained horses running on the undercard of a race day where they have a top contender in the card's main event. It doesn't reference the quality or potential of the horse.
Pegram recalled The Thoroughbred Corp.'s Point Given, a Baffert trainee, receiving the "beer money" designation in 2000 before he won the Kentucky Cup Juvenile Stakes (G3) on the same September Turfway Park card that saw Pegram and Baffert team to win the Kentucky Cup Classic Handicap (G2) with Captain Steve. A year later Point Given would win two classics and knock down the Horse of the Year title in a Hall of Fame career.
Pegram credits his longevity of competing at the sport's highest levels to putting his trust in Baffert from the start. He notes that Thirty Slews was the first horse the Hall of Fame trainer purchased at Keeneland, going to $30,000 at the 1988 September sale. Four years later in the Breeders' Cup Sprint at Gulfstream Park, Thirty Slews—racing for Pegram, Degroot, and Dutch Masters III—would track front-running filly Meafara before dueling with her in the stretch and just getting up to win by a neck under Eddie Delahoussaye, scoring at 18-1.
"I remember that day like it was yesterday," Pegram said. "I'll never forget Delahoussaye came into the paddock and usually Bobby is pretty cool, but all of a sudden he started giving Eddie instructions and all that. Eddie looked at him and said, 'Bob, slow down. I know this horse can run.' 
"That brings back some good memories."
The victory announced Baffert's arrival as a force in horse racing and in the years ahead Pegram would enthusiastically supply many of the trainer's biggest stars. 
"I hooked my wagon to the right guy," Pegram said. "The thing about Bobby is, he's a great horse trainer but he's got a greater eye to buy yearlings and 2-year-olds. He knows what issues he can live with as a trainer and what he can't. 
"I trust him and that's the reason I've been so successful. It's kind of hard to explain to a new client that a horse that sells for $6,500 as a yearling is now requiring you to go to six figures. I mean, Lookin At Lucky was a $35,000 RNA as a yearling and we bought him for $475,000 at 2. Speed Boat Beach sold for $12,000 as a yearling and we bought him for $200,000 this year."
Pegram has been willing to sacrifice some level of pedigree in his purchases over the years. 
"A lot of people want to buy the pedigree," Pegram said. "I've been lucky enough with Bob that he knows I don't care where they come from. We make our pedigree.
"To sit here and be part of the ride, it's been special; especially after what he's gone through these last couple of years," Pegram said. 
In 2021 Baffert-trained Medina Spirit , owned by Zedan Racing Stables, failed a post-race drug test after finishing first in the Kentucky Derby Presented by Woodford Reserve (G1). Baffert would soon be banned from Churchill Downs for two years and eventually Medina Spirit was disqualified by the Kentucky stewards, who also levied a 90-day suspension and $7,500 fine of the trainer. Baffert has served the suspension but the stewards' decision is still being appealed. Pegram has stuck with Baffert through it all.
Along with his three decades with Baffert, Pegram has been with partners Watson and Weitman for many years. Just as a Breeders' Cup horse got Pegram's relationship with Baffert off to a flying start, the ownership trio came together around another World Championships standout.
"We met up kind of by accident," Pegram said, noting that after Midnight Lute   RNA'd at $290,000 at the 2005 Ocala Breeders' Sales Co. Selected Sale of 2-Year-Olds in Training, Baffert introduced him to Watson and Weitman ("two buddies from Tucson that need a horse") to get a deal done. As Midnight Lute had the added attraction of being a son of Pegram's dual classic winner Real Quiet, he enthusiastically signed on. 
Midnight Lute earned champion sprinter honors after winning the 2007 Breeders' Cup Sprint in the slop at Monmouth Park and in his final career start a year later closed out his career by defending that Sprint victory at Santa Anita. The trio, often referred to as "Three Amigos" when Baffert signs sales tickets for them, would follow with two-time Breeders' Cup winner Secret Circle , who captured the 2011 Sentient Jet Breeders' Cup Juvenile Sprint and the 2013 Sprint—Pegram's fourth score in the latter.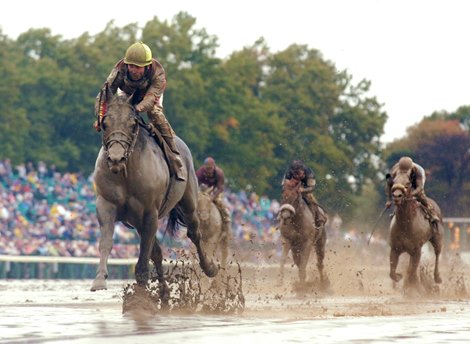 Midnight Lute wins the 2007 Breeders' Cup Sprint at Monmouth Park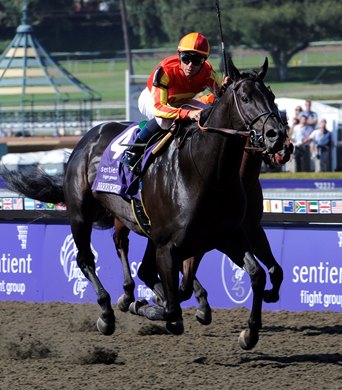 Midnight Lute defends his title with a 2008 Breeders' Cup Sprint score at Santa Anita Park
"They are a fun group," Baffert remarked. "They've had some quiet years, and in this game you can't be a bad loser. You are going to go through bad times, but things are going to come around. You just can't give up. They've had some nice horses, the last big one was McKinzie  , and then we had a dry spell. But then you get a horse like Cave Rock and you get lucky."
The partners' relationship has strengthened over time.
"For a few years we probably bought 80% of our horses together and for the past 10 years I think everything we've bought has been in partnership," Pegram said. "It's been a great run for all three of us. To think the first horse that Bobby ever bought at Keeneland was Thirty Slews and with this partnership the first horse was Midnight Lute? Wow. We've been pretty fortunate."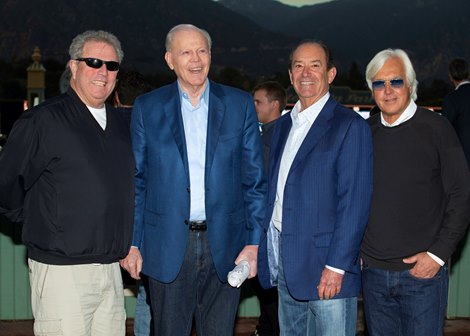 (L-R): Mike Pegram, Paul Weitman, Karl Watson, and Bob Baffert in 2018 at Santa Anita Park
Bob Ehalt contributed to this story.