News
Pallbearers of Queen's coffin recognised in special honours list | UK News
The eight people who carried the late Queen's coffin at her funeral were among those recognized in a special honorable list.
The soldiers – selected as coffin bearers from King's Company (then Queen's), 1st Battalion of the Grenadier Guards – were awarded the Royal Victorian Medal in silver.
They have been named recipients of honors by the Royal Victorian Order (RVO) in recognition of their service to the Queen, as part of the Special Death award set.
November 2022: Hau Hau 'remembers'

RVO gifts are given by the King to those who have served the monarch or the Royal Family in a personal way.
Sergeant Lance Alex Turner, Corporal Lance Tony Flynn, Sergeant Lance Elias Orlowski, Guard Fletcher Cox, Guard James Patterson, Sergeant Ryan Griffiths, Guard Luke Simpson and Guard David Sanderson carried the coffin in front of millions of followers. attend the funeral last September.
Read more:
King shares photo to mark first Mother's Day without the Queen
King Charles reflects on the Queen's 'profound loss'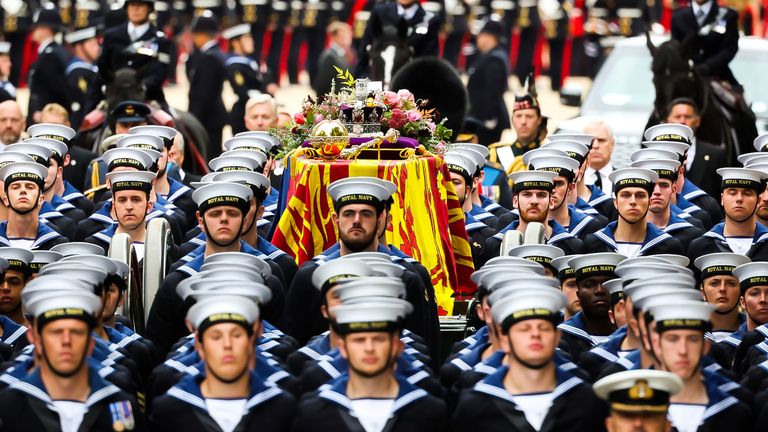 The unit is closely linked to the Queen – as the serving monarch, she holds the position of company commander and gives a personal assessment of the company every decade.
Also recognized in the special honors list are the Queen's closest adviser, Angela Kelly, and the bearers of the Queen's coffin as she rests in Edinburgh.
Ms. Kelly, the Queen's personal assistant, advisor and curator, has worked for the monarch for more than 25 years and was appointed Commander of the RVO.
Click to subscribe to Sky News Daily wherever you get your podcasts
During the COVID lockdown, Ms Kelly is believed to be part of a small group called "HMS Bubbles" that the Queen has been quarantined with.
Ms. Kelly once revealed in an interview: "We are two typical women. We discuss clothes, makeup, jewelry."