News
North Korea supports Russia's 'sacred fight' against the West, Kim Jong Un tells Vladimir Putin | World News
Kim Jong Un has pledged his support to Russia in what he has described as the "fight against imperialism".
The North Korean leader praised Russia and its president for a fighting a "sacred war" against the "hegemonic forces" of the West.
"We will always support the decisions of President Putin and the Russian leadership … and we will be together in the fight against imperialism," Mr Kim told Mr Putin via a translator.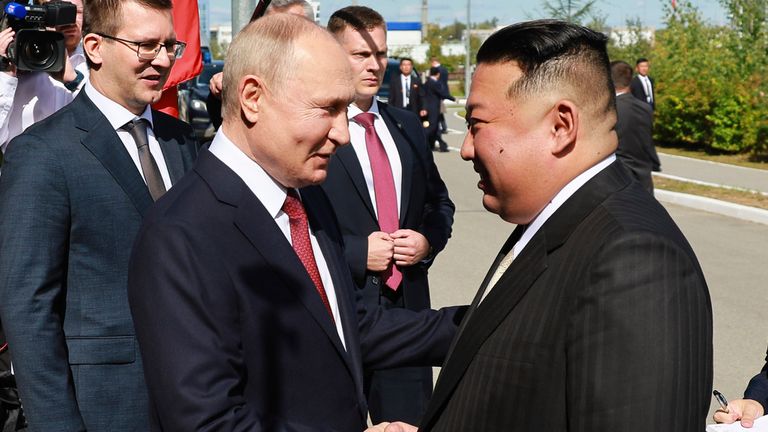 It comes after the pair shook hands as they met at the Vostochny Cosmodrome, Russia's biggest domestic space launch centre.
The two leaders are holding talks – their first in person since 2019.
Mr Putin is believed to be seeking ammunition from heavily militarised North Korea for his invasion of Ukraine – which he has himself compared to the conquests of Russia's former imperialist monarch, Peter the Great.
Experts believe Mr Kim is seeking Russian technical assistance for his efforts to develop military reconnaissance space satellites.
The meeting came hours after North Korea fired two ballistic missiles toward the sea, extending a highly provocative run of North Korean weapons testing since the start of 2022.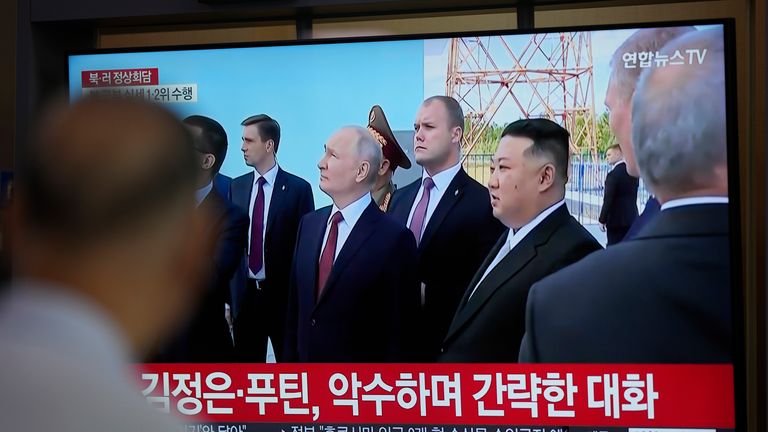 Mr Putin welcomed Mr Kim, who arrived at the facility in a limousine, having travelled from Pyongyang in his special armoured train with his influential sister Kim Yo Jong.
The pair shared a handshake that lasted about 40 seconds, with Mr Putin saying he was "very glad to see" the North Korean leader.