News
NHS consultant warns he's 'never seen anything like this' as hospitals buckle under winter strain | UK News
When I walked through the door of section 23, I was struck by the feeling of deja vu.
Room after room, bed after bed, filled with sick, sometimes very serious, patients.
They are mostly old and weak looking. Most got the flu, some got COVIDand others with respiratory infections.
Really unlucky people have a combination of two or more of these viruses. The scene brought back memories of my visits to hospitals full of COVID patients at the height of the pandemic.
One of ward 23's patients is John Greenwood. He is 92 years old. He lives alone. His wife is in a nursing home.
John woke up in the early hours of Sunday morning, barely able to move. He had the flu.
John's son rushed him to the Royal Preston Hospital. They couldn't risk waiting for an ambulance for two hours.
"When I was younger, the way people talked, I just thought that people would get healthier and stronger and hospitals would no longer be needed," John told me from his hospital bed.
"And it just goes the opposite way."
If you are an NHS worker and would like to share your experience with us anonymously, please email [email protected]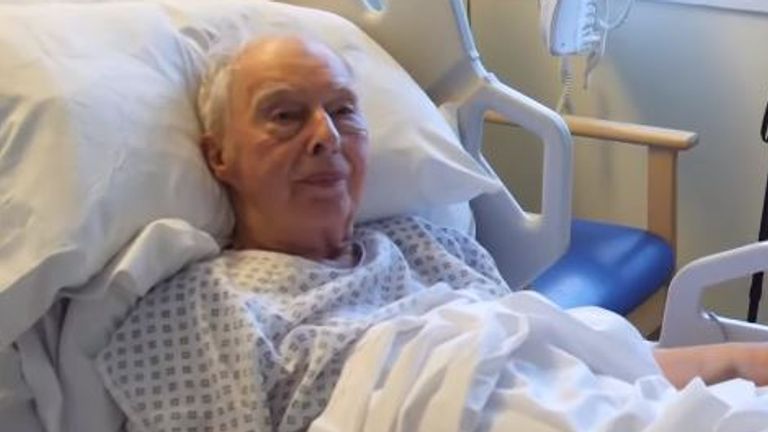 'I've never seen anything like this'
John has made good progress in his recovery, but is clearly still not fully recovered from the infection.
"When I arrived, I couldn't drink, I couldn't do anything and I was getting a little better every day," he said.
"I can't even use a cell phone. I still feel very weak.
"This morning I had to shower in bed, they said 'can you do it yourself?'"
The ward is operating at 100% capacity, and it's been a while.
As soon as a bed is vacated, it is filled with a patient waiting. The pressure is relentless.
Professor Mohammed Munavvar said he had never seen a winter like this.
"I've been here as a respiratory consultant in this department of this hospital for 24 years and I've never seen anything like this before," he said.
Read more:
Worst ambulance response time on record
How many spare beds does your local hospital have?
One of the worst winters ever for the NHS
Professor Munavvar is one of the most senior respiratory consultants in north-west England.
His expertise has helped this hospital navigate it through the peak of the pandemic. His skills are being retested as the NHS faces one of its worst winters ever.
But this winter, he said, was the worst he had ever seen.
"You have a COVID pod, you have flu patients, then you have COVID," he said, worried that this pressure will affect the hospital's waiting list.
"If we focus our time and efforts on the acute hospital, we will have less time to do our other jobs, which are seeing patients in clinics, doing procedures," he said. procedures and endoscopy units in cinemas.
"So with the two-three-year backlog that has grown thanks to COVID, we've been trying to catch up, we're trying to work through some of that backlog, now this will make us I go back."
Strikes bring more suffering
And this is why the small positive from this month's NHS activity figures, of the UK's buffet waiting list falling from 7.21 million to 7.19 million, is unlikely to be repeated next month. .
The data represent November of last year, before flu season and before industry action by healthcare workers.
More dates will be announced by ambulance workers and the British Medical Association, the doctors' association, is voting for its members on strike action.
Ambulance response times and wake-up times for treatment continued to increase. This is due to the increasing demand and the inability of ambulances to discharge patients as there is little or no capacity inside the hospital.
This is largely due to the delayed discharge of patients without social care packages.
The government's plan to buy a home-care bed has been criticized by some health leaders as too little and too late.
At least in the short term, it is hoped it will create some possibility to ease the pressure.
There are also signs that COVID and flu infections are starting to decline.
This has been happening for two weeks in a row, so previous concerns that the figures might not give a realistic picture due to the Christmas holiday period may be unfounded. However, it is still too early to say for sure.
Ward 23 is full and will likely continue to do so for the next few weeks.