Auto Express
New Bajaj Pulsar P150 vs TVS Apache RTR 160 2V Comparative Review – Introduction
The recently updated Apache RTR 160 2V TVS continues to sell in large numbers despite its age. We find out if it can withstand the test of the all-new Bajaj Pulsar P150.
To see two great competitors always leads to an interesting event, doesn't it? Whether it's Rossi vs Marquez, Niki Lauda vs James Hunt or even motor companies like TVS and Bajaj. These two Indian manufacturers have been in the 150cc-160cc segment for many years. As for the TVS, the Apache RTR 160 2V, despite being around for almost two decades, is sold in large enough numbers to warrant a comprehensive update. And the timing of the aforementioned updates couldn't have been better as it faced a formidable challenge from a brand new 150cc Pulsar, one of Bajaj's best.
Bajaj Pulsar P150 vs TVS Apache RTR 160 2V: design and features
With motorbikes parked side by side, you won't need a second glance to see which is the old bike. The design of Apache is largely unchanged, except for the new colors and graphics. This, along with the new LED headlights (which are excellent on dark roads) as well as the LED taillights contribute to the Apache's look. Personally, I like the look and feel of TVS and most people on the team agree.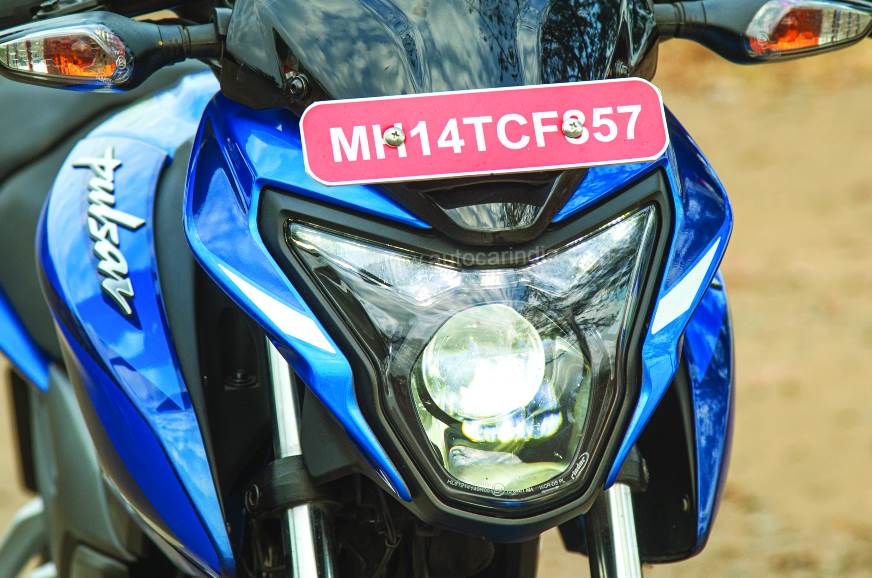 The P150's LED projector offers good throw and spread.
Turn your gaze to the Pulsar P150 and take strong influences from its predecessors, the N160 and N250 in its design. That's not a bad thing, and I think the sleeker body panels of the new generation Pulsars look very nice. What doesn't look good, especially in the case of the P150, are the pointed forks and thin tires. Lacks a sense of mass and proportion, the kind we've seen in previous Pulsars.
TVS also beat Bajaj in the 'who has better features' contest. With a full digital display with Bluetooth connectivity, turn-by-turn navigation, and more, it's far more detailed than the Pulsar's simple yet stylish analog digital device. If that wasn't enough, TVS also boasts driving modes – Rain, Urban and Sport. These modes smooth out the power delivery as well as the peak output. For example, in Sport mode, maximum power and torque are 16.04 hp at 8,750 rpm and 13.85 Nm at 7,000 rpm. While in Urban/Rain mode, these numbers drop to 13.32 hp at 8,000 rpm and 12.7 Nm at 6,500 rpm. The riding modes on a 160cc bike might seem useless to some, but during testing the benefits were clear and we'll cover that later. Right now, Apache is clearly leading the way, and there's another area where it remains undefeated.
More modern TVS cluster with Bluetooth connection.
Bajaj Pulsar P150 vs TVS Apache RTR 160 2V: ergonomics
Jumping on Apache, it's clear that the company designed this bike for male riders and not well-fed individuals or tall riders. The footrests are relatively high and rear, the grips are pulled in more than on the Pulsar and your knees stink from the extension of the fuel tank resulting in a cramped riding position. Move to the Pulsar and the comfortable seats and less constrained driving position make your day-to-day commute much more comfortable. But even the Pulsar has a sportier stance than some might expect, and if you want to prioritize comfort then the single P150 comes with a flat, taller handlebar and a comfortably placed footrest. than.
Bajaj Pulsar P150 vs TVS Apache RTR 160 2V: engine and fuel efficiency
The TVS's performance is better, but vibration is an issue.
The Apache has a theoretical advantage, be it in the power and torque output of the motor or a lower curb weight, which is useful when you're comparing it to clocks. Whether it's 60 km/h, 80 km/h or 100 km/h from a standstill, the TVS is noticeably faster than the new Pulsar. In fact, it's more than two seconds faster than the Pulsar to surpass 100 km/h. Obviously there is no competition in terms of performance and I am really impressed with the speed of the old TVS. What didn't impress me or anyone on the team was the level of vibration one feels in the mid-to-higher rpm range. It feels a bit too harsh for this day and age and leaves you with tingling sensations in your hands and feet. These vibrations are the clearest indication of how old this Apache is.
Performance and fuel economy
Bajaj pulse star P150
TVS Apache RTR 160 2V
ACCELERATION
0-60kph
6.33 seconds
4.8 seconds
0-100kph
21.13 seconds
17.37s
INCREASE ROLLING
20-50kph (No. 2)
3.37 seconds
3.05 seconds
30-70kph (No. 3)
6.34 seconds
5.88 seconds
50-80kph (No. 4)
6.76 seconds
6.37 seconds
BRAKE
60-0kph
16.90m
19.76m
ENERGY SAVING
City
43.41kpl
53.1kpl (Urban)/48.5kpl (Sports)
Highway
48kpl
46.44kpl (Sports)
In stark contrast, the Pulsar's engine is beautifully fine-tuned, no matter what position the tachometer is in. It's also a super easy engine to control and at one point I was able to lazily drive at 5-6 km/h in second gear without hiccups. To pass quickly while traveling in the aforementioned way just turn on the throttle. Needless to say, the first gear is barely used even while driving in the horrible traffic conditions in Mumbai. Traveling with this engine is a pleasure.
The Pulsar's engine is refined and easy to control.
The Apache's engine is also pretty easy to use, but the nice surprise is the kind of fuel economy it delivers. Driving in Sport mode, the TVS hit 46.44kpl on the highway and 48.5kpl in the city. Switching to Urban mode raised the fuel economy in the city to 53.1 kpl, which is quite impressive. For comparison, the Pulsar managed only 43.41kpl in urban environments and 48kpl on highways.
Bajaj Pulsar P150 vs TVS Apache RTR 160 2V: ride and handle
Apache is always ready for antics like this.
Apache's compact size and smaller wheelbase make it a super effective tool for cutting traffic. I liked its very snappy handling and it was a similar story when I cycled through some corners. The bike's Remora tires, with their grip and feedback, also enhance the bike's confidence. On the other hand, the TVS's short wheelbase causes the car to wobble on bumpy highways at triple-digit speeds, and stability at high speeds isn't a strong point. Meanwhile, the Pulsar, at similar speeds and roads, feels much more solid and confident – ​​its longer wheelbase helps a lot. And, in a big difference from previous Pulsar 150s, it's worth noting that the P150 glides in and out of corners more easily and its handling has been significantly improved. It's not as exciting as TVS, but it's close.
Where Bajaj steals another valuable point from TVS is that it gets through potholes and potholes with ease. The Apache's driving quality is quite good, but the front end is quite soft, to the point of being concave when hitting sharp edges or strong decelerations. The Pulsar also has better brakes, both in terms of engagement and response from the lever.
Notably, the P150 glides in and out of corners with ease compared to the previous Pulsar 150.
Bajaj Pulsar P150 vs TVS Apache RTR 160 2V: verdict
The Apache RTR 160 2V, despite being such an old bike, still manages to make everyone grin, myself included. I think a big reason for it is that it's one of the fastest, most versatile bikes in its class. It also beats the Pulsar P150 in performance, features and, more importantly, fuel economy. But no matter how good it is, there are a few things about Apache that make it hard to recommend.
With a starting price of Rs 1.17 lakh, going up to Rs 1.24 lakh for the top end variant we tested, it's pretty close to the Apache RTR 160 4V priced from Rs 1.21 lakh-1 ,30 lakhs. The 4V is a motorcycle that excels in refinement, comfort and dynamism.
You really can't blame TVS for keeping this bike alive because that's what the market wants. But put the Pulsar P150 into the picture, and you can't help but feel that the Apache is outdated despite the refresh in style and features. Plus, the great engine improvement, more impressive chassis and level of comfort make the Pulsar a nicer car to drive in almost any situation. With a price of Rs 1.16 lakh-1.19 lakh serving as the top cherry, the Pulsar P150 emerges as our clear winner.
specifications
Bajaj pulse star P150
TVS Apache RTR 160 2V
Rating
8/10
7/10
Price (old showroom, Delhi)
1.16 lakh-1.19 lakhs
1.17 lakh-1.24 lakh
Engine
149.68cc, single cylinder, air-cooled
159.7cc, single cylinder, air-cooled
Power
14.5 hp at 8500 rpm
16.04 hp at 8750 rpm
torque
13.5Nm at 6000rpm
13.85Nm at 7000rpm
Strength to weight
103.57 hp/ton
116.23 hp/ton
The standard long
1352mm
1300mm
limited weight
140kg
138kg
Seat height
790mm
790mm
Gas tank
14 liters
12 liters
Front suspension
telescopic fork
telescopic fork
Rear suspension
Single shock absorber
Double shock absorber
Win first
260mm . disc
270mm . disc
Rear brake
230mm . disc
200mm . disc
Tire size (front)
90/90-17
90/90-17
Tire size (rear)
110/80-17
120/70-17