Horse Racing
Momentum continues on day 5 of September sale at Keeneland
The first day of Book 3 on sale at Keeneland September Yearling Sale saw steady trading through September 17, with Saturday's action headlined at $900,000 Curlin colt purchased for BSW / Crow Colts Group in partnership with Spendthrift Farm and Gandharvi.
In Thursday's trading, 287 of the 371 horses through the ring were sold for a total of $50,747,500, with an average price of $176,821 and a median of $140,000. Eighty-four horses did not sell, accounting for an RNA ratio of 22.6%.
"If you had asked me a week ago if Book 3 was this powerful, I would have said 'No', but after watching Book 1 and knowing, seeing people being pushed back the next day, I think so. . always ends up like that," remarked bloodsucker agent Michael Wallace.
During last year's Thursday sale, 297 of the 361 horses offered for sale were sold for a final price of $46,920,500. The average price was $157.981 and the average of $125,000 was taken. Sixty-four horses failed to meet their reserves, representing 17.7% RNA.
Cumulative in 5 days of sale, 996 horses changed hands out of 1,269 offered with a total turnover of 294,350,000 USD. The median price was $295,557 and the median was $220,000 after Saturday's sale. Two hundred and seventy-three horses failed to meet their reserves to represent an RNA ratio of 21.5%.
By this time in 2021, 961 horses have been sold out of a total of 1,249 horses for a total value of $254,879,500. The average price was $265,223 and the average of $200,000 was taken. Two hundred and eighty-eight horses failed to meet their reserves to express an RNA ratio of 23%.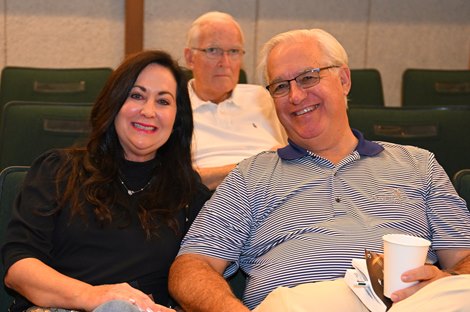 (LR): Dana and Jim Bernhard of Lynnhaven Racing
Louisiana-based company Lynnhaven Racing bought eight of the five in Thursday's session for a total of $2,870,000 with an average of $358,750 to be the top buyer of the day.
"The market is great, but you have to be good," said delivery man Peter O'Callaghan. "It's still hard for us breeders and shooters to breed or buy a nice horse. When you have one, it's nice to be rewarded. Believe me, we've made it. going through enough of the unqualified, injured, or non-vetarian. When it all comes down together, it's incredibly gratifying and relieved."
O'Callaghan added: "People are very selective about what they want these days; they really know what they want. Most of these people are on the same horse, and they can't all afford it. them. Win one, lose one; buyers want to buy in the top 10% of each session. Those horses are highly sought after and sell very well."
Antony Beck's Gainesway ended Saturday selling 24 heads for a total of $6,785,000, making it the session's top shipper by totals and an average price of $282,708.
Agent Ben McElroy, who bought for the second highest price in the session, commented on the strength of the sire brought to the table by breeders and shippers.
"There's been a huge emphasis on male power, which has been going on for the past two years," he said. "If you have the right sire, you'll get double if not triple, which you should."
Curlin Colt Top Choice for Partners
The Stonestreet Bred & Raised pony topped the session secured from Jody Huckabay's Elm Tree Farm shipment. Brad Weisbord, president and founder of BSW/Crow, says ponies are a partner's top pick of the day and worth going over budget.
"As you can see, we try to stay in the $500,000 to $600,000 range, but he's the top mare for us today… Liz Crow, Ned Toffey, the real team love him. It's hard to buy this kind of horse. We've stretched a bit," Weisbord said. "With Mike Repole, Vinny Viola and the SF team, they're dominating the market. We tried to buy him a little cheaper, but Liz and Ned said go ahead, so that's what we did. do."
"I believe (Stonestreet) will stay in a production and we'd love to have them," Weisbord said. "We think they're one of the best breeders in the game. For us all the stars have lined up and hopefully we'll see him next year in one of the big races. ."
The partnership also purchased another Curlin colt (Hip 1523) for $350,000 from Francis and Barbara Vanlangendonck's Summerfield consignment.
BSW/Crow joined with First Row Partners to purchase two more annuities: $350,000 Ghostzapper filly (Hip 1375) from Summerfield and $150,000 Prince Cairo filly (Hip 1414) from Elm.
The second sale day from Book 3 continues on September 18 with Hips 1547-1958 slated to make its way through the ring. As of Saturday night, 39 horses had been withdrawn from session 6.