Auto Express
Minus Zero, fully self-driving by artificial intelligence, ADAS level 5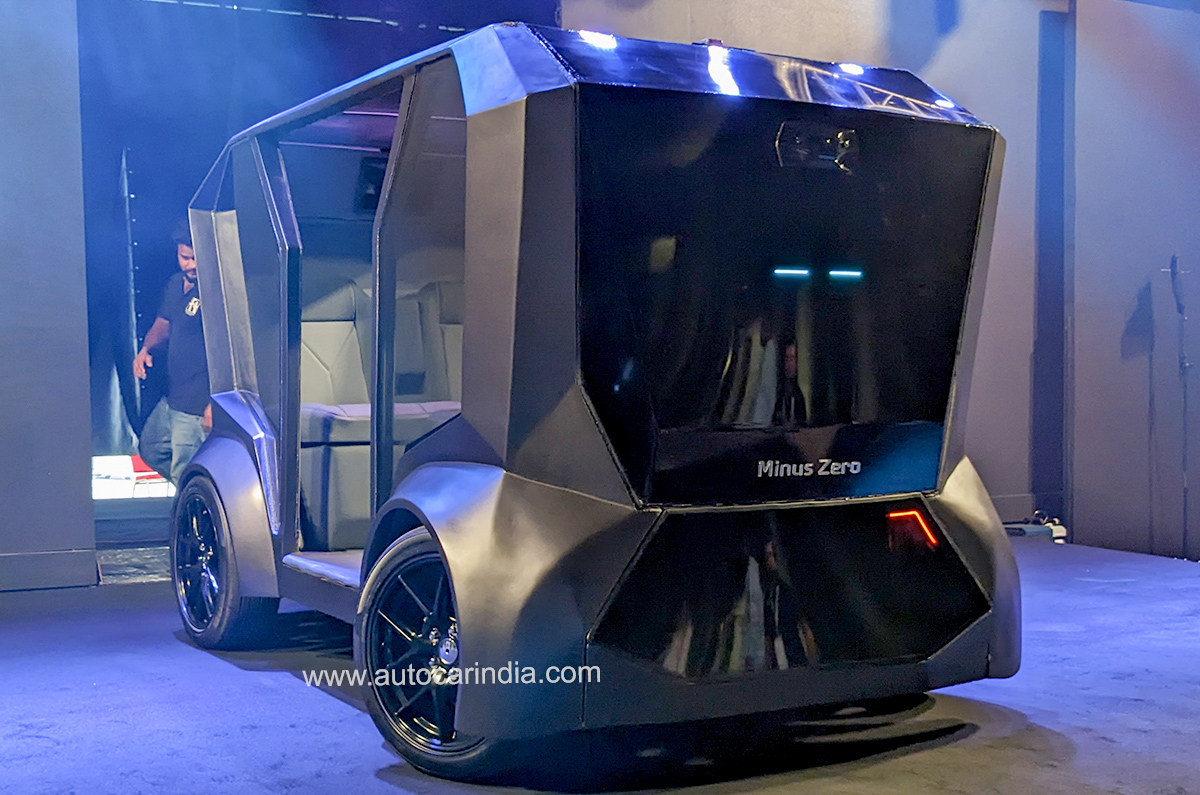 Minus Zero claims it will help reduce traffic congestion and road accidents by using its proprietary self-driving technology.
Minus Zero, an autonomous driving startup based in Bengaluru, has unveiled the zPod, which it claims is India's first autonomous vehicle. zPod introduces fully self-driving technology developed by an artificial intelligence (AI) company.
Minus Zero says it is not a car manufacturer, but a technology company that will make its autonomous driving technology available to other manufacturers to help improve their ADAS suites.
zPod may not go into production
Minus Zero uses nature-inspired AI for autonomous driving
The company will provide its technology to manufacturers to help improve their ADAS suite
Minus Zero's AI Technology
Minus Zero says the zPod is merely a technological demonstration of what it is trying to achieve, adding that its motive is to reduce traffic congestion, as well as road accidents and injuries. and deaths related to them. Unlike many autonomous vehicles, the zPod doesn't use LIDAR (light detection and range) but instead uses an array of six cameras – four on the sides and two at the front and back.
The company also introduced the True Vision Autonomy concept that uses the aforementioned cameras as sensors to navigate obstacles. Minus Zero says the concept can be adapted to any existing vehicle form factor, be it EV or ICE. According to the company, its autonomous driving technology can also be retrofitted to existing cars on the road, as long as they come with an engine control module.
Minus Zero claims that it will solve some of the key problems encountered in the development of autonomous vehicles with a new form of AI it calls Nature Inspired AI (NIA). These problems include expensive hardware, rich data requirements, and navigating through complex traffic conditions and rudimentary infrastructure. Minus Zero says the current model used in AI development is error-prone in conditions where it's not trained, adding that it will use physically-aware vision and decision-making. prediction is like the human brain.
Minus Zero zPod concept version
As mentioned, the zPod is a self-driving vehicle that can drive in all geographical and environmental conditions thanks to its set of cameras. Minus Zero claims it can scale to a level of 5 autonomy — essentially without human intervention when driving in real-world conditions — with its AI technology.
The zPod is a four-seater electric car with seats facing each other and without any of the controls and layout of a conventional car. All driving is done by AI and it processes all the information from the images captured by the camera in real time to make informed decisions. Minus Zero claims the use of the camera kit will help reduce costs.
It said that in the near future, the use case of the zPod and its AI technology will be limited to on-campus mobility – vehicles that travel within the confines of a geo-fence, away from roads. public. zPod can be used in places like educational campuses, residential areas, technology parks, etc.
Minus Zero zPod to go into production?
Interestingly, Minus Zero says it has no intention of putting the zPod into production, and that it's just a showcase of the AI-based autonomous driving technology they've developed. The company also says the zPod can be an inspiration for automakers to explore new possibilities for driverless vehicle design.
Also see: