Horse Racing
Maker, Gaffalione Meet Titles at the Kentucky Downs
There was a record that was broken at the 31st FanDuel Meet at the Kentucky Downs.
Repetition as a matter of fact.
Mike Maker, who was in the habit of winning the coaching title at the south-central Bluegrass State store meeting, did it again. As the seven-day season ended on Wednesday, Maker continued his dominance with his record seventh coaching title.
Tyler Gaffalione won the equestrian title. The 28-year-old racer won his second championship at the track with nine wins from 66 starts. He also had 17 seconds (seven of them in the final two days of the meeting) and three finishes in third place.
Maker won 12 races, a meeting record. The old record of 10 wins, set by Wayne Catalano in 2013, was broken when Maker won his 11th race on Sunday. He then broke his own record on Wednesday when Intrigue won the opening day.
"It's a good thing, it doesn't happen often," said Maker, a man of few words, laughing. "All jokes aside, it was a great meeting."
Maker started 65 horses in 73 races at the meeting and also had 11 seconds and six thirds and his horses won a record $2,340,436. Maker broke his own record with $1,529.053, which he set in 2017 with eight wins.
Wesley Ward is second in the coaching standings with six wins from 31 starts.
The 53-year-old Maker was born in Garden City, Mich., but calls Louisville home. This is the third year in a row he has won or shared the coaching title at the Kentucky Downs. He finished three games with four wins against Steve Asmussen and Brendan Walsh last year. He won it outright in 2020 as well as every year from 2015-2018.
This is the meeting that Maker is all about.
"We love everything about Kentucky racing," says Maker. "Whether it's here, Turfway, Ellis… Kentucky is home and Kentucky is where all my favorite music is. The way I see it, the Kentucky Downs make up about 10% of my business. over the last seven, eight years. Cram that 10% in five days over the years, that's pretty remarkable."
Maker won the two biggest races in the Kentucky Downs calendar as Red Knight won the G2, $1 million Kentucky Turf Cup and Somelikeithotbrown won the G3, $1 million WinStar Mint Million. Maker's Atone is second in Mint Million and Field Pass is fourth.
"We basically try to put them in the right place here and try to win as much as we can," Maker said. "We don't have a number target (to win). When you run 10 to 17 horses a day on average, you expect to win 20 to 25 percent. The competition is here. very fierce. When you play against Steve Asmussens and Brad Coxs and Chad Browns, it's very tough."
Gaffalione had a strong start, winning three races on opening day, September 1, and three more on September 8. His horses earned $2,218,906, total second highest in Kentucky Downs history behind Joel Rosario, whose mount won $2,952,097 last year. Rosario and Gerardo Corrales are second in the standings with seven wins.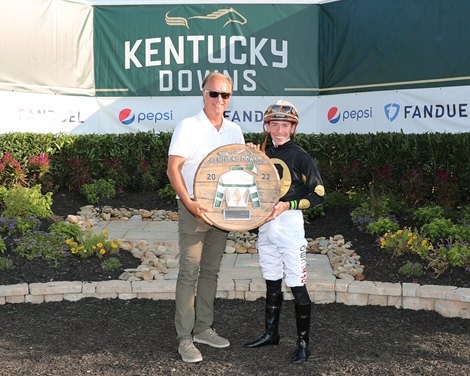 Kentucky Downs' Ted Nicholson Presents Tyler Gaffalione With Lead Driver Title
"It's very important," Gaffalione said of the quick start. "We've slowed down the last couple of days, so that start definitely helps us. It always gives you confidence. It's nice to know the horses are running for me."
Four of Gaffalone's victories have come from horses trained by Maker. He credited his agent, Matt Muzikar, for putting him on the right horse.
"I am very proud of this achievement," he said. "A lot of credit goes to the riders who brought their horses here ready to run. The horses really showed up, big time. It was a tough meeting and you have to have everything your way. ."
Six owners have won two races that meet high. These are Brownwood Farms, Peter E. Blum Thoroughbreds, Godolphin, NBS Stable, Paradise Farms Corp. and Three Diamonds Farm.
This press release has not been edited by BloodHorse. If you have any questions, please contact the organization that produced the release.