Coventry came in from behind twice to end a four-game losing streak with a 2-2 draw against Luton – only their second point of the season.
The visitors should have gotten off to a dream start when Viktor Gyokeres took the lead over Sonny Bradley to take the lead, but he could only hit the net of goalkeeper Ethan Horvath to beat it.
Town had cost them in the fourth minute when Harry Cornick delivered a cross that hung in the middle, the ball ripped through Fred Onyedinma and Carlton Morris hit the back of the net in the first half.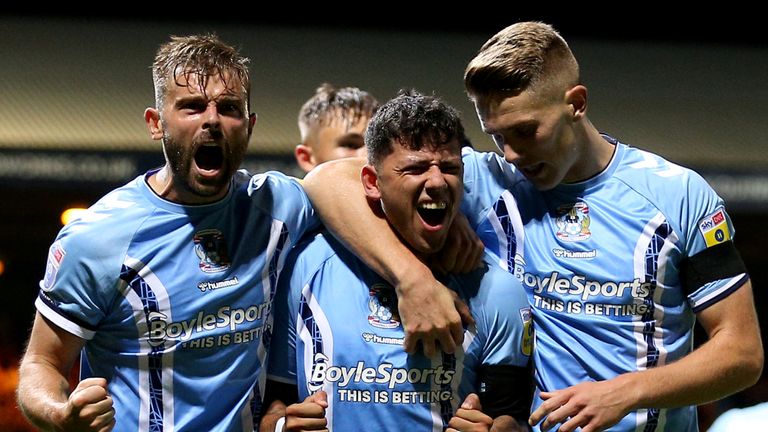 Still, Coventry proved dangerous, as Gyokeres headed a free header straight into Horvath's net before he headed home again, past Dan Potts to show his hunting instincts and find the net. grid after 11 minutes.
Luton returned when they took a 2-1 lead with a quarter of an hour passed. Cornick excellent pass to Morris for Morris to hit the bottom corner with his left foot.
The opportunities continued to come as Jordan Clark caught the volley overhead and Potts watched his close-range effort repulsed by Ben Wilson.
Gyokeres stretched from 20 yards as he continued to be a major threat, and after the game finally began to subside with less-than-desired scoring efforts to come, Gustavo Hamer took the ball. used his arm from 30 yards just before the break, good finish.
During the half-time break, the Hatters almost went further. Potts made a fine cross from the right from James Bree and his header narrowly missed the post.
After that period, Luton owed a superb save by Horvath as Gyokeres beat Gabe Osho and stretched Jamie Allen but his left-footed effort was overtaken by the US international.
Sonny Bradley then needed to make an important block when Allen was once again freed in the penalty area, but City excelled in the 61st minute.
Hamer, who had been eager to fly all night, did the same again and this time got the result he wanted, hitting a superb long shot before Horvath's dash and the ball into the corner.
Onyedinma's attempts to copy top scorer were unsuccessful as Wilson easily refocused, and the visitors could have taken the lead for the first time as they broke through with pace again but Ben Sheaf managed to pull through. .
Clark had to scream for a penalty that was dismissed by referee Andy Davies in the 82nd minute as his low shot was clearly handled by the slick Kyle McFadzean, meaning the home side were still looking for victory. first at Kenilworth Road during this term.
What the managers have to say…
Luton's Nathan Jones: "We didn't control the game. That came from the fact that our three defenders weren't dominant enough. All four centre-backs looked very real, ours and theirs, to be fair. We really couldn't stand and was really impressive, that caused us a real problem, and every time we overturned the ball they looked like a threat, so we really have no control over the game.
"We should have had a final pen, it was insanity, it was the cheats, it was crazy that it didn't come out. But actually, the second half, they could have won. get it, we could have won it, it's really too open."
Coventry's Mark Robins: "We played well beyond two moments. We scored them two goals and then almost a goal at the last minute as I just watched and we pulled one back there. Goals first, we should have taken a 1-0 lead, but Vik's (Viktor Gyokeres) came in and he really had to score.He didn't score and then their first chance was missed by them. skip it and we're 1-0 down. It was the nuance of last year and coming back after it can scar you a bit like so many players did last season.
"The result wasn't good enough, but we just gave some stupid goals. We had to cut that out, but it's a really good point. We knew we could win, but it stopped. corruption in terms of losing streaks."