News
Lured to Thailand, 300 Indians now forced into cybercrime in Myanmar | India News
CHENNAI: More than 300 Indiainclude at least 60 words
Tamil Nadu
was held hostage by a gang at Myawaddy in
Myanmar
Many sources said they were forced to carry out cybercrime activities. People from several other countries were also held racquets.
The victims were detained in the Myawaddy area, which is not under the control of the Myanmar government and dominated by ethnic armed groups. Some of the hostages sent text messages to their families calling their captors 'Chinese Malaysians'.
The problem came to light after some Tamil The men sent a video about SOS on Saturday, calling on the Union Government and Tamil Nadu to rescue them. They say their employer forces them to work more than 15 hours a day. When they refused to work illegally, they were beaten and electrocuted, they added. The Indian Embassy in Yangon, Myanmar issued an advisory on July 5 warning against 'unscrupulous elements offering employment'.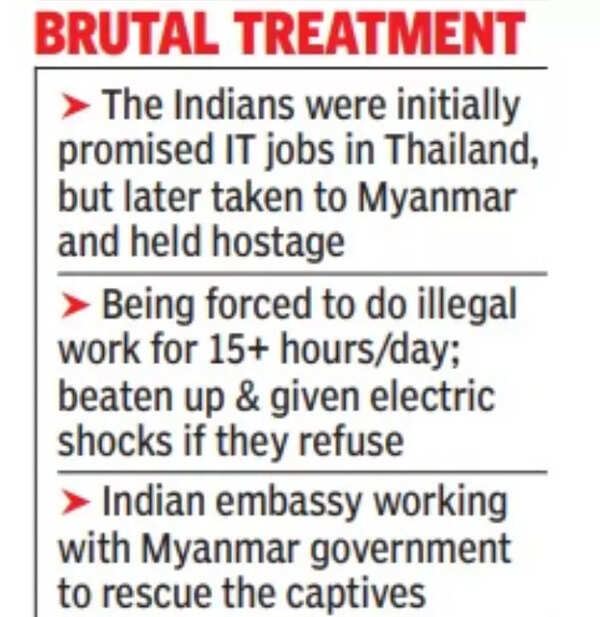 On Monday, Raja Subramanian (60 years old), a fisherman from Karaikalmedu appealed to collectors in Karaikal district in UT of Puducherry to rescue his son who is being held in Myanmar. Subramanian's eldest son, Sudhakar, recounts the story of his brother, who is working as a data entry operator in Dubai.
"Earlier this year, his manager said he had been promoted and asked him to move to their office in Thailand. From Thailand, he and several others were illegally brought by road to Myanmar," he said.
For security reasons, the names of the victims are being withheld. "My brother said a few days ago his employer beat his co-worker for refusing to do illegal work. He suffered a severe head injury and required 5 stitches. His ear was torn," said Sudhakar. A source said: "So far, we have rescued more than 30 Indians.
"We are working to get the rest of us back through our connections in the business community." Politicians including AMMK secretary general TTV Dhinakaran and CPI state secretary R Mutharasan have urged the Union and Tamil Nadu governments to take steps to bring back Indians from Myanmar.