Sports
Look at what the Bills did to Takeo Spikes!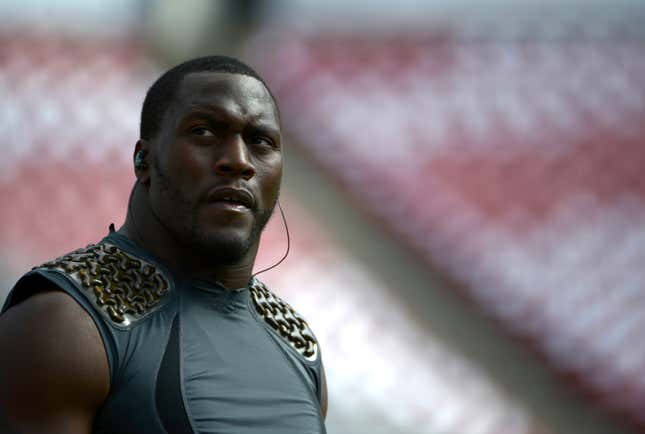 If there's one thing NFL teams love to do, it's bring back fan favorite players to cheer the team on before a big matchup. Just last week, we saw Tom Brady in Foxboro, taking up the mantle of "Patriot for life," even though he won a Super Bowl with another team, is trying to acquire an ownership interest in still another and New England definitely thought Drew Bledsoe was the better option. But no matter. It makes the fans happy, it allows the NFL to divert attention away from things like traumatic brain injuries and racial discrimination lawsuits and violence against women. Anyway!
Don't buy into the Tom Brady hype | Trash Talkin' Tuesday
Part of the deal for beloved players returning is that they get a cushy seat for the game. Sadly for former Bills' linebacker Takeo Spikes, Buffalo ownership didn't get the memo. But then, they've had bigger fish to fry this week.
Spikes appeared on the field before the game to whip up the fans, so it's safe to assume he was there at the invitation of, if not ownership, at the very least the people in charge of promotions. Here he is holding up his end of the bargain:
 https://x.com/BuffaloBills/status/1703460538620027069?s=20
Listen to that crowd! You can't ask anyone to do it better than that. And then, after doing what was asked of him in admirable fashion, Spikes was whisked away by the team to no doubt enjoy the best seats in the hou…oh.
https://x.com/TakeoSpikes51/status/1703530262695456886?s=20
I am absolutely dying to know so many things. 1) Who decided this was the place to seat a former player? 2) Can we get him something more comfortable than a plastic chair with a table digging into his back? And 3) Why does this suite even exist? Does some poor hapless millionaire have these seats every other game during the season? Do the Bills just eat the cost of this monstrosity being regularly unoccupied?
Making matters worse, Spikes was the official Legend of the Game, chosen by the Bills' official store! Doesn't that get you a better eat? Come on, Buffalo. We know the Pegulas had a rough week, but this, this is not, and I can't stress this enough, it.