Auto Express
Launching India's first self-driving car, the startup plans to compete with Tesla, Google
The concept of self-driving cars is still at a very nascent stage in India. But an Indian startup took the lead and unveiled the country's first self-driving car. Bengaluru-based AI startup Minus Zero introduced the zPod, which is shaped like a toaster like some of the other self-driving vehicles on show around the globe. The self-driving car zPod claims it can weather all kinds of conditions and weather thanks to its camera sensors.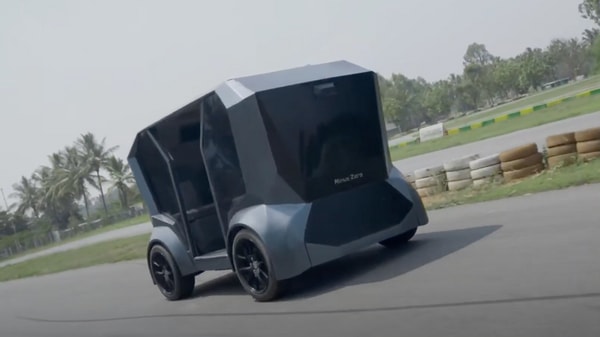 One of the most unique features of the Minus Zero Zpod is that it does not have a steering wheel. Instead, it uses a series of strategically placed high-resolution cameras to analyze driving conditions, including traffic. The startup says that the self-driving car can be extended up to level 5 autonomy, the highest level a self-driving car can have. Any autonomous vehicle with Level 5 autonomy is capable of driving without any human intervention.
The zPod's camera sensor can capture real-time images of the vehicle's surroundings and share them with the embedded artificial intelligence (AI) system. The AI ​​will then process the information through the images to navigate the vehicle to avoid obstacles, control speed and even stop. What sets the zPod apart from several other global autonomous cars developed by Google's Waymo and others is that the Minus Zero relies on camera technology instead of expensive sensors.
For now, the startup says that the zPod is good enough to transport in an enclosed and controlled area like a campus or a large residential area. "With a true vision of autonomy, one can make autonomous vehicles a reality, solving the key pain points of the mobility model," said Reehal, CEO of Minus Zero. The startup he and Gursimran Kalra founded in 2021 with plans to produce fully self-driving vehicles such as Tesla and Google. It also aims to share its technology with other automakers to further develop Advanced Driver Assistance Systems (ADAS) in their vehicles.
Minus Zero plans to use AI to develop autonomous vehicles suitable for Indian roads. It also plans to expand testing in overseas markets with stable regulatory standards over the next two years, including on public roads.
First published date: June 5, 2023, 10:04 AM IST