Auto Express
Lamborghini Invencible and Autentica are the only tributes to the V12 . engine
When we talk about Lamborghini cars, the company's legendary V12 engine deserves special mention. With ever-tighter emissions standards and a growing focus on electrification, the giant V12 is nearing the end of its life. However, the Italian supercar company does not regret paying homage to the legendary power plant. The latest in a series of efforts by the automaker to ditch the V12 in style are two one-off models – the Invencible and the Autentica, which come in coupe and roadster form respectively.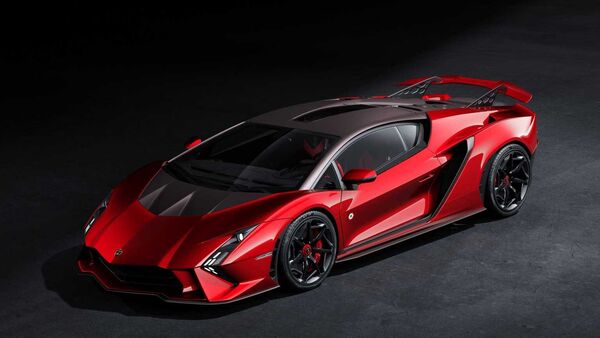 The Lamborghini Invencible and Autentica are built on the longstanding Aventador platform that debuted 12 years ago with the original LP 700-4. Interestingly, these two models debuted at a time when the automotive world thought the Ultimae would be the brand's last model with a pure V12 engine under the hood.
Also read: Audi opens pre-orders for Q3 Sportback in India, coming later this month
Both the Invencible and the Autentica are amalgamations of the automaker's previous models. They have styling cues derived from a few V12-powered mid-engines, including the Reventon, a limited-edition special edition based on the Murcielago but offering a preview of the Aventador. The automaker also claims that the latest one-off models with a Veneo-influenced V12 are the wildest-looking Lamborghini Aventador derivative ever produced. The roof of the duo looks similar to the Essenza SCV12, a race-only machine with a 6.5-liter V12 tuned to make 818 hp.
Both the coupe and roadster have a rear spoiler that reminds us of the Gallardo-based Sesto Elemento. The supercars come with all-carbon fiber bodywork featuring Lamborghini's traditional hexagonal theme. Invencible is completed in Rosso Efesto, while Autenteica presents the Grigio Titans theme. Inside the cockpit, both cars have a minimalist dashboard, no infotainment system and have 3D printed air vents.
Lamborghini has not revealed the performance details of these two models, but hopefully they can accelerate from 0-100 km / h in 2.8 seconds with a top speed of about 355 km / h, similar to the Ultimae.
Date of first publication: 15:14pm IST February 6, 2023