Auto Express
Kia EV5 concept breaks the cover of future electric SUV preview Details here
Kia unveiled the EV5 concept at the automaker's China EV Day event to preview an upcoming all-electric SUV. The Kia EV5 concept seems to have taken design cues from the automaker's EV9, which was introduced at Auto Expo 2023 in January this year in India. Kia has announced that the EV5-derived electric SUV will go on sale in China later this year, which shows that the Korean car brand has made a lot of progress with the project. However, it has yet to reveal many details about the EV.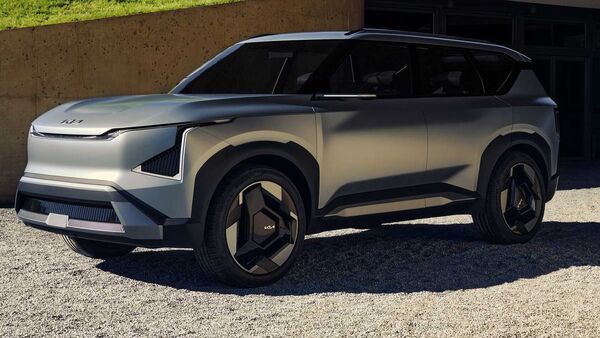 Kia claims the Ev5 concept is a pure design showcase for the futuristic SUV, and it doesn't reveal any powertrain or platform details about the upcoming model. The exterior of the Kia EV5 has a sleek and vertical sculptural shape, similar to the Kia EV9. It has a similarly blunt front end and sleek LED headlights that are oriented vertically on the outer edges. The front fender and overall side of the car also seem similar to the EV9. Moving to the rear, it has a frame-shaped taillight that covers the entire width of the tailgate. It rides on 21-inch wheels with an asymmetrical design.
Also read: Tesla cars tune in to the tune of RRR's song 'Naatu Naatu'
The Kia EV5 concept sports a custom Iceberg Matte Green color scheme, which appears as a silver theme in the image revealed by the automaker. Also, it carries some subtle blue tones.
Stepping inside the cabin, the Kia EV5 blends a softer aesthetic with a masculine body. The control panel has a large single screen that takes up half of the panel. Interestingly, it has an octagonal steering wheel instead of the usual circular one, with just a few sleek capacitive buttons on it. It doesn't come with any traditional center console between the seats. Instead, a storage area is in front of the seats, allowing for a bench-like seating arrangement.
Bearing another similarity to the EV9, the Kia EV5 has swivel seats. The Kia EV5 also has an elongated panoramic sunroof that acts as a solar panel. However, Kia has yet to reveal any details about its functionality. The Kia EV5 is built using a variety of sustainable materials, including recycled plastic bottles for the seats, doors, dashboard and ceiling.
First published date: March 21, 2023, 07:15 AM IST