News
Israel's occupation of Palestinian Territory is 'apartheid': UN rights expert |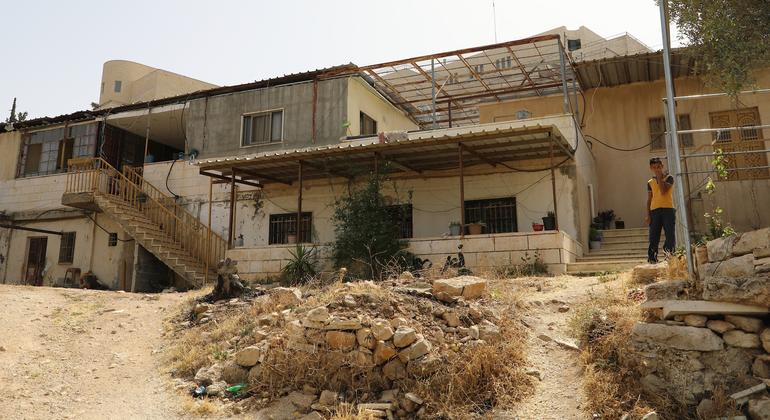 The UN Special Rapporteur's report echoes recent findings by Palestinian, Israeli and international human rights organisations. Israel's 55-year occupation of the Palestinian Territories.
"Today in the Palestinian territory occupied by Israeli since 1967, a deeply discriminatory dual political and legal system that privileges 700,000 Israeli Jewish settlers living in 300 illegal Israeli settlements in East Jerusalem and the West Bank," Michael Lynk, United Nations Special Rapporteur on the human rights situation in the occupied Palestinian territory since 1967.
'Outdoor prison'
Referring to the fact that people living in the same neighborhood lack rights but are separated by walls, checkpoints and roads, Mr. Ket admitted that "there are more than three million Palestinians live under an oppressive and discriminatory regime and there is no path to a genuine Palestinian state that the world has long promised, is their right".
"Another two million Palestinians live in Gaza, often described as an 'outdoor prison', without adequate access to electricity, water or health, with a crumbling economy and an inability to self-defence. due to travel to the rest of Palestine or the outside world. ", he added.
He explored the internationally understood legal definition of apartheid – the institutionalized system of apartheid that was in place in South Africa before being dismantled in the early 1990s.
Israel, he said, fits the definition of a "political regime that intentionally and unambiguously prioritizes fundamental political, legal and social rights for one group over another, within the same application." geographical position on the basis of each person's racial-national-ethnic identity".
Crime against humanity
"Sadly, apartheid is not a phenomenon confined to the history books of southern Africa." Mr. Lynk said, in his report to Dong Nhan Quyen Association.
"Rome Regulation 1998 on International Criminal Court came into force after the fall of the former South Africa. This is a forward-looking legal instrument that prohibits racism as a crime against humanity today and in the future, wherever it may exist. "
The independent rights expert added that Israel's military rule over occupied Palestinian territory was deliberately constructed with "the intention of gathering factual data to determine the demographics of a permanent and illegal Israeli claim to the occupied territory, while detaining Palestinians in disconnected lands with smaller and more limited reserves".
Sadly, Apartheid is not a phenomenon recorded in the history books in southern Africa – UN rights expert Michael Lynk
He also mentioned that top international figures – including former United Nations Secretary-General Ban Ki-Moon, Archbishop Desmond Tutu, South African Foreign Minister Naledi Pandor, and former Israeli Justice Minister Michael Ben-Yair – both describe the Israeli occupation as a racist regime.
Responsible international community
Mr. Lynk said the international community was responsible for basic rights, child mortality, collective punishment, the military court system of abuse and destruction of homes, citing acts inhumane, arbitrary and out-of-court murder. current situation.
"For over 40 years, UN Security Council and the General Assembly declared in hundreds of resolutions that Israel's annexation of occupied territory was illegalIt is illegal to build hundreds of Jewish settlements, and to deny Palestinians the right to self-determination is a violation of international law," he added.
Emphasizing that no accountability has ever been followed, the Special Rapporteur concluded, "if the international community had indeed acted on its resolutions 40 or 30 years ago, they would be today." We're not going to talk about racism."
Mr. Link called on the international community to come up with an imaginative list of effective accountability measures to completely end the Israeli occupation "and racist activities" in Palestinian territories. occupied.
The Special Rapporteur is part of what is known as Special procedure of the Human Rights Council. They are not employees of the United Nations, and do not receive wages for their work, and serve according to their personal capacity.