News
Israel and Palestinians agree to de-escalate tensions and 'prevent more violence' ahead of holy month | World News
Israel and Palestine have agreed to reduce tensions and "prevent an increase in violence".
Palestinian and Israeli delegations met in Jordan in an effort to ease tensions ahead of the Muslim holy month of Ramadan.
In a joint statement, Israel agreed to suspend approval of new settlements in the occupied West Bank for four to six months.
The representatives have agreed to work towards a "just and lasting peace" and will meet again next month at Sharm el-Sheikh in Egypt.
Egypt, Jordan and the United States, whose delegates also participated in the meeting, said they see the agreement as "positive progress towards the reactivation and deepening of ties" between Israel and Palestine.
An Israeli official said the parties would form a panel to consider restarting security coordination between Israel and the Palestinians.
As the negotiators were meeting, a Palestinian gunman killed two Israeli brothers in the northern West Bank.
The military is looking for the attacker and Israel's defense minister has called for an increased military presence in the West Bank.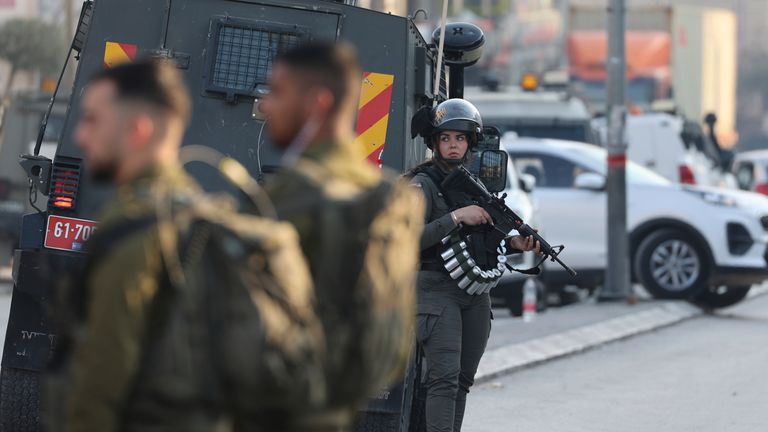 Violence escalates
It happened a few days after an Israeli army raid on a nearby Palestinian city kill 10 Palestinians, most of them militia. Two men over the age of 60 were also killed in the raid and a 66-year-old man died from escalating tear gas.
Violence between Israelis and Palestinians has increased since a series of Palestinian attacks last spring, with Israel responding by stepping up attacks across the West Bank.
According to the Associated Press, more than 60 Palestinians have been killed in the West Bank and East Jerusalem this year.
Palestinian attacks against Israelis have killed 13 people this year.
This year's month of Ramadan coincides with the week-long Jewish holiday of Passover. Worshipers from both religions are expected to flock to the holy sites in Jerusalem's Old City, which has often become a hotbed of violence.