Sports
Irish Oaks: Magical Lagoon Gives Jessica Harrington Her Second Classic Success at Curragh | Racing news
Coach Jessica Harrington landed her second Classic as a Royal Ascot Magical Lagoon winner doing it hard at Juddmonte Irish Oaks at Curragh.
The race looked like Magical Lagoon would lose after previous post favorite Emily Upjohn withdrew, but Ribblesdale Stakes scorer worked hard to achieve her first Group One success with Aidan O'Brien's toys pushed her to the end.
Moves smooth as she watches Show Of Stars outside, the leader of the field it's a 5/4 favorite who came out big and took over at the two-feathered column. And she showed all her stamina and fighting qualities to push back the final third Cairde Go Deo for the first time and also win the protracted showdown as runner-up.
"It's great to win a Classic, to win two is absolutely amazing," said Harrington, who won 1,000 Irish Guineas with the Alpha Centauri in 2018.
"She's such a dirty game, she just does what she has to. She's just a lovely game to train Mr. Zhang.
"I keep looking at what's behind her but I know she's going to stay, she's staying in Ascot very well. They may not be going as fast as in Ascot and she just ran a great race.
"Shane was in the right place and kept moving forward. He drove a super race and she kept looking and looking.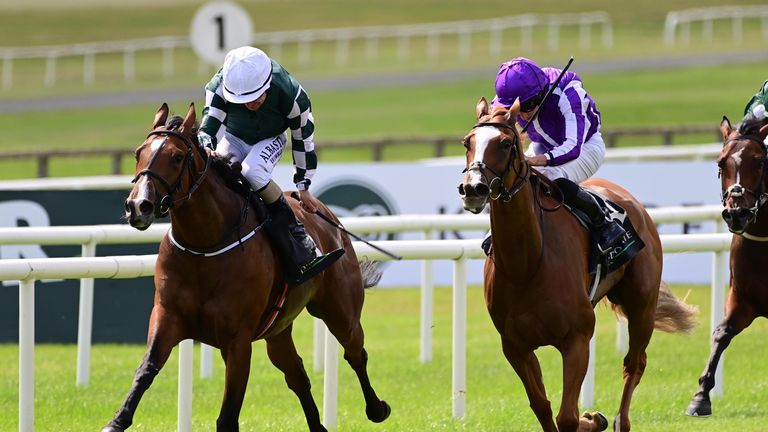 "This is only her third run this year and I'd say she'll improve again. She's at the Yorkshire Oaks and after that, I haven't really made a decision yet.
"I want to keep her training next year. I hope so because Galileo's descendants are more advanced and her brother is a much better four-year-old than a three-year-old."
Asked how she felt after hearing Emily Upjohn pulled out on Friday because of travel difficulties, she added: "I was terrified because suddenly I was the favorite.
"Before we were the underdogs and I preferred to be the underdogs and have a fight with them, but it worked out well."