Tech
High-tech garden at the Natural History Museum to track how wildlife responds to climate | Science & Technology News
The Natural History Museum is creating high-tech gardens full of sensors to see how wildlife responds to climate changes and could be better protected in towns and cities. our city.
The gardens will allow researchers to examine the types of life that make these environments home, from insects and frogs to microscopic creatures invisible to the human eye.
Sensors installed throughout the site will monitor conditions such as temperature, humidity and sound such as the climate changes.
Although there are about 5 acres of land around this site in London, for over 25 years only a small corner has been used as a dedicated wildlife area.
Scientists are currently working to create a garden across the entire site as part of a living gallery, which will open to the public late next year.
The gardens will tell the story of the evolution of life on Earth, taking people through the sciences of paleontology as they move from east to west.
The garden will also reflect modern times, focusing on what can be done to protect nature.
Read more from Sky News:
The UK is one of the world's most nature-depleted countries, new data shows
New 'Living Lab' launched by Kew Gardens to study UK biodiversity benefits
Climate activist arrested after Captain Tom statue was destroyed
In partnership with Amazon Web Services, the museum in west London will also create a new data platform, the Data Ecosystem.
This will help researchers gain a deeper understanding of the UK's urban biodiversity, including its composition, how it relates to environmental conditions and how it responds to conservation actions. direct.
Dr John Tweddle, head of the UK Angela Marmont Center for Biodiversity at the Natural History Museum, said: "We're really trying to build up as much information as possible about climate change. abundance of wildlife that we have in our gardens so we can begin to track how and why it changes."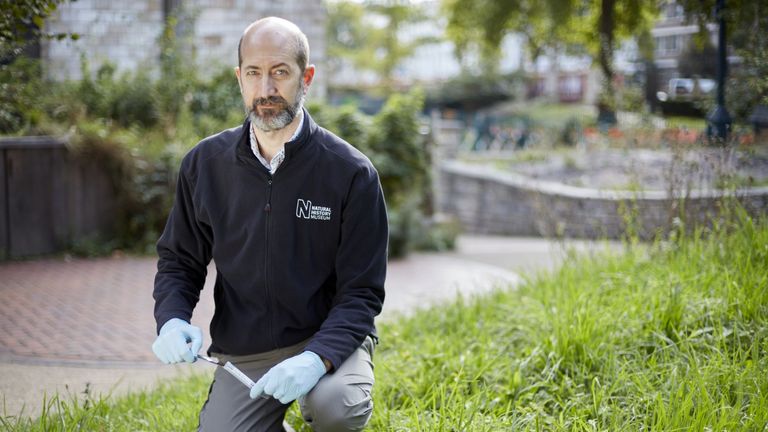 "And then use that in a really positive way to help restore this character in towns and cities, whether it's us or it's individuals and community groups," he continued. "
He added, the museum's scientists are "delighted" to have the opportunity "to be at the cutting edge of ecosystems in and around our site by combining these disparate approaches." together and start looking at how we can analyze very large, very disparate datasets to really uncover these patterns in the wild, and then apply it to preserve and communicate that for those who come to visit".
The researchers hope to observe as much diverse life as possible, including common frogs, toads and fluffy newts in ponds, blue canola, emerald willow, blue bell fish and birds such as the ringed sparrow and the golden sparrow in wooded areas.
Hundreds of species of insects and wildflowers that pollinate grasslands and pollen grasslands, including up to 20 species of bumblebees, will also be part of the study.