News
Guterres: World Humanitarian Day salutes 'the best in humanity' |
Far from the limelight and not the headlines, humanitarians work around the clock to make our world a better place, he said.
"Against the staggering odds, often at great personal risk, they alleviate suffering in some the most dangerous situation imaginable."
'It took a village'
World Humanitarian Day It is observed annually on 19 August. It was designated in 2008 by the UN General Assembly to commemorate the 2003 bombing of UN headquarters in Baghdad, Iraq, which killed 22 aid workers.
This year's theme – It takes a village – emphasizes the fact that whenever and wherever people are in crisis, there are always others who will help them.
"This village consists of the affected people who are always the first responders when disaster strikes – neighbors helping neighbors. It includes a global community is pulling together to support them as they recover and rebuild," said the head of the United Nations.
"And it includes hundreds of thousands of humanitarian individuals – volunteers as well as professionals. Provide health care and education services. Food and water. Cover and protect. Help and hope".
Record high demand
The number of people in need of humanitarian assistance is higher than ever, due to conflict, climate change, COVID-19 pandemics, poverty and unprecedented levels of displacement.
Mr. Guterres said, World Humanitarian Day is an occasion to honor humanitarians everywhere.
"We applaud their dedication and courage, and Grateful to those who lost their lives to pursue this noble cause. They represent the best of humanity."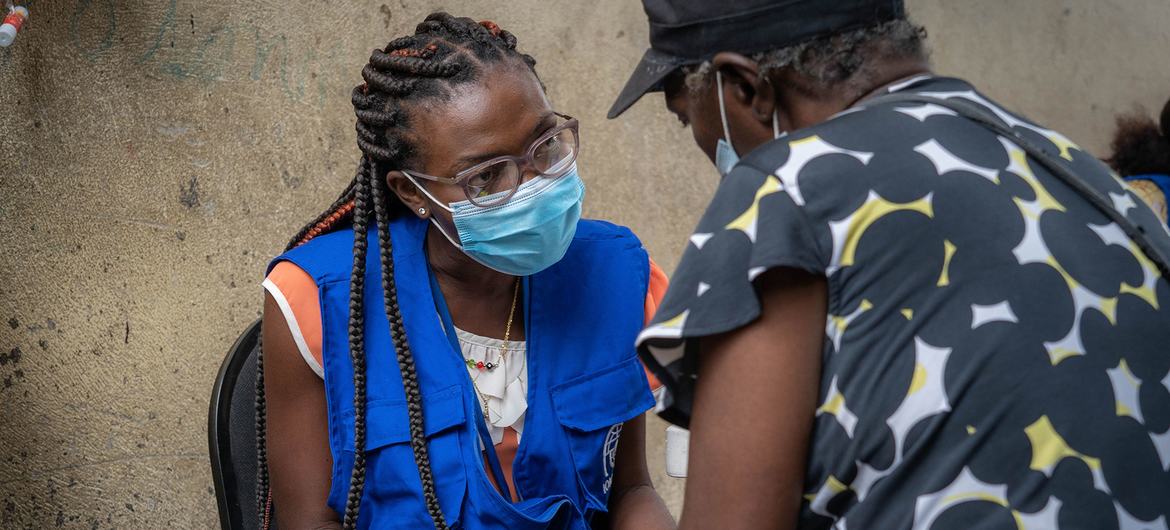 © UNOCHA / Matteo Minasi
An IOM official provides basic medical services at a school for victims of gang violence in Port-au-Prince, Haiti.
Solidarity and Appreciation
As part of the celebrations, the United Nations Office for Humanitarian Affairs, OCHAlaunched a weeklong social media campaign, #ItTakesAVillageto the public show solidarity with those in need, and evaluation for those who work to deliver it.
Humanitarians include teachers, who act as a lifeline for children in crisis. They help boys and girls continue their education so they don't lose their future.
Teachers also provide psychosocial support, especially for girls, children with disabilities and youth who have been displaced, such as migrants and refugees, or those living in the land. their water.
OCHA reports that last year, nearly 110 million children in emergency settings had access to formal or non-formal education, including early learning.
Women and girls first
Meanwhile, the United Nations Population Fund (UNFPA) is working to ensure emergency response prioritizes the needs, rights and dignity of women and girls.
This year, the agency target to achieve 54.5 million women, girls and young people impacted by the crisis with sexual and reproductive health services being saved, information and supplies, and more.
People like Shakila Parvin, a UNFPA-trained midwife serving Rohingya refugees in camps in Cox's Bazar, Bangladesh, are the mainstay of the organization's humanitarian work.
She provided obstetric care so that mothers can give birth safely, even during heavy floods caused by monsoon rains.
"By securing these services, I can help reduce maternal and child mortality, which is one of the most fulfilling parts of my job," said Ms. Parvin. "When I see the happiness of a mother with a healthy child, my life feels meaningful."