News
Guns N' Roses front man Axl Rose to stop throwing mic after fan hurt at Adelaide concert | Ents & Arts News
Guns N' Roses frontman Axl Rose said he would not throw his microphone into the crowd at the end of a concert after a woman was beaten, leaving her covered in blood and bruises.
The rock star said he would stop performing his signature final act "in the interest of public safety", following the incident in Adelaide, Australia.
Fan Rebecca Howe was hit on the bridge of her nose by the mic after the band's last song, Take Me Down To Paradise City.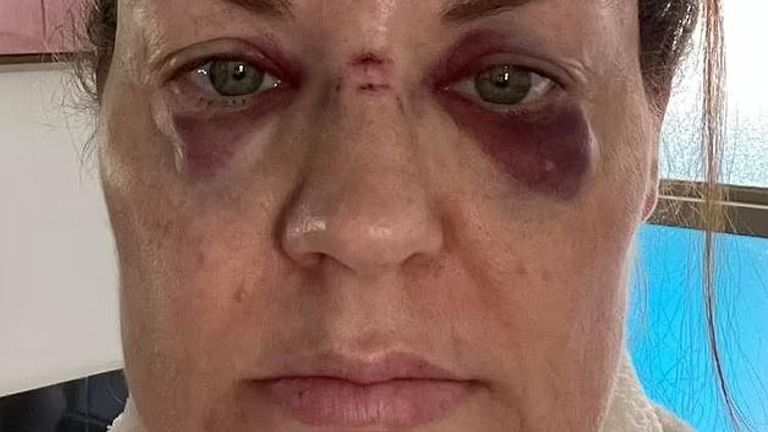 Footage from the concert shows the 60-year-old singer throwing a microphone at the audience before swinging his arms in the air.
Another video did not capture the moment Ms. Howe was beaten, but showed fans jostling for mementos.
Writing on social media, Rose said: "I noticed that a fan who may have been injured at our performance in Adelaide, Australia, may have been hit by the microphone at the end of the show when I threw it. mic for traditional fans..
"If true, it's clear that we don't want anyone to get hurt or somehow, hurt anyone at any of our shows anywhere.
"Having thrown the mic at the end of our shows for over 30 years, we've always felt it's a known part of the end of the performance that fans want and know, to get a chance to pick up the mic.
"Regardless, in the interest of public safety from now on, we will not be throwing mics or anything to fans during or at our concerts."
He added: "Unfortunately, there are people who, for their own reasons, have chosen to frame their reporting on this topic in a more negative and irresponsible direction out of nowhere and are inseparable from reality. We hope the public and of course the fans will understand that sometimes it happens.
"BIG THANK YOU to everyone for their understanding."
Ms Howe, who had two dark eyes and had her nose cut off, told Australian media: "He bowed and pointed the microphone at the crowd… and then hit the bridge of my nose hard."
"My mind thought, 'Oh my God, my face is sunken in.
"I have blood dripping down the front of my face.
She added: "What if it's a few inches to the right or left? I could lose an eye… what if it hits my mouth and I break a tooth?
"If my head turns around and it hits my temple, it could kill me."
Ms Howe also felt shocked by the behavior of other fans despite her injury.
She sadly said: "There was a big mess when this man tried to get the microphone… he held it up like he was winning, 'I got it, I got it', while I was trying to hold it. Calm."