Lifestyle
FlexMami on life beyond social media
Until recently, Australian media personality Lillian Ahenkan (aka FlexMami) had mostly existed away from the mainstream gaze, preferring to share her stories on Instagram and TikTok to her 169,000 and 138,000 loyal followers respectively. But since being nominated for her first Logie Award this year, her public profile has shifted gears.
Ahenkan was up for the Graham Kennedy Award for Most Popular New Talent for her co-hosting role on the Love Island Australia spin-off show, I've Got a Text with Josh and Flex! – and while she didn't win, she's been a talking point ever since.
Her Logies journey began with an invitation to the nomination breakfast in June, a morning she remembers fondly. "I was hysterical when I heard my name called and Hamish Blake was clapping behind me," she says. "I am in this room full of stars and few people of colour – and suddenly I felt validated and seen."
Ahenkan puts her popularity down to her approachability. She's a slashie Millennial who works across multiple platforms: a TV host, an influencer inking sponsorship deals with FIFA and McDonald's, a self-made entrepreneur, and a part-time VJ turned DJ. She is proof that the more circles you spin, the more opportunities you attract.
She's written a self-empowerment book, started her own jewellery line and makes podcasts for a living. Sales of her ReFlex conversation-starter cards turn over seven figures annually. It's her no-apologies approach and comic undertone that keep her fans entertained. The fact she's occupying a space where few African-Australian women have been before isn't lost on her, either.
But when the Logies awards night began to approach, weeks after that nomination breakfast, her positive internal narrative started to change. "That's when the neurotic views started to creep in," she admits. "Was the nomination token? Did anybody watch the show? What if I lose? The day the Logies came around, I was in a hotel room alone. I called my friends and they said, 'You look so out of it.'
"I didn't want anyone to do my hair and make-up, so I did it myself. I didn't know if I was taking up too much space. The more room I was given, the smaller I felt. It made me so self-conscious, to be honest."
Ahenkan's parents migrated to Australia from Ghana a decade before she was born and split when she was three months old. Her mum raised Ahenkan and her two older brothers in Chifley, in south-east Sydney.
"I didn't know if I was taking up too much space. The more room I was given, the smaller I felt. It made me so self-conscious, to be honest."

LILLIAN AHENKAN AKA FLEXMAMI
"When Mum got divorced from Dad, it wasn't common or very accepting in our African Christian culture," she says. "It wasn't seen as a good thing but, as a result, I grew up with a strong matriarchal force and Mum had to figure it out for herself along the way."
Her mother was employed as a commercial cleaner, and Ahenkan recalls tagging along with her to work because her mum couldn't afford a babysitter to mind her and her siblings after hours.
While many of Sydney's Ghanaian community live in the city's west, Ahenkan says being in the east shifted perceptions in their migrant circles. "That really set us apart," she says. "Mum didn't speak any English when she arrived in Australia. She found the experience isolating. The nature of living in commission housing and not knowing your neighbours was foreign to her, and having no community to lean on was very different to what she knew of life back home.
"But Mum made sure to craft a clear narrative about where we are from, as opposed to understanding blackness from a very Australian way," says Ahenkan. "That has remained part of me to this day."
It's perhaps this resilience that set the foundational roots for Ahenkan. She's the reason FlexMami has such a powerful narrative: curating content with a conscience and ever mindful of inclusivity. She aligns with brands that reflect her values because authenticity matters. But right now, she's feeling the weight of representing black women in media added to her invisible workload.
"I remember a few instances when Mum tried to drill down the concept of race to me as a teenager," she explains. "I didn't really think she had to because in my mind, when we were at church every Sunday and hanging with our Ghanaian people, what was there to understand?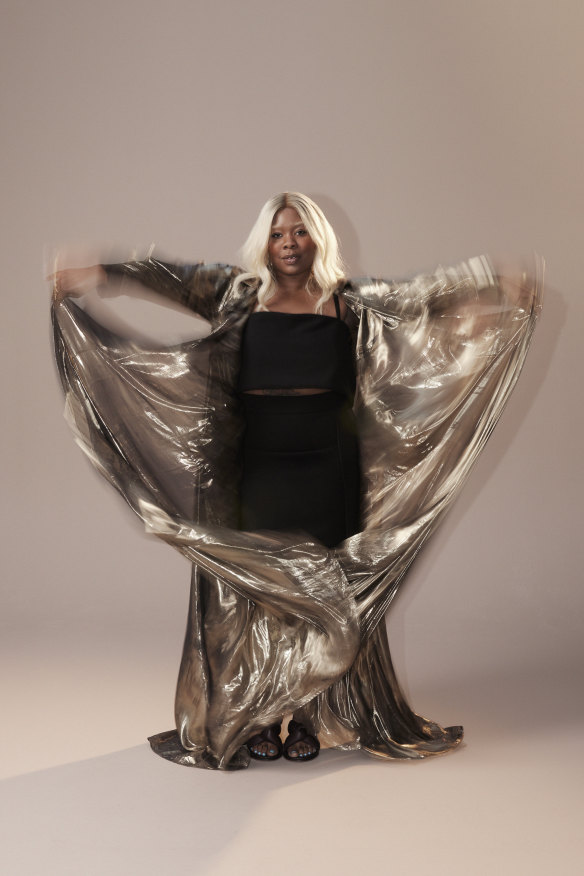 "The older I get, the more I realise how intrinsic Mum has been in my life. It was only when I stepped outside that community that I realised what Mum told me was true: that other people will judge me by the colour of my skin and not as a person with a personality. That was a realisation I had to have."
It was during year 10 at Randwick Girls' High School that Ahenkan began exploring different subcultures online. She was into punk and rock music, and wore heavy eyeliner, black jeans and black boots. "My look matched the music I listened to, and I was finding these external ways to find my identity," she says. She was the only African at the school for years, and bonded with the girls from Italian, Greek, Samoan, Indonesian and Korean backgrounds.
"I have a gap in my front teeth which I hated as a teenager. I complained about it a lot. Mum said that in our culture it's a sign of prosperity."

LILLIAN AHENKAN AKA FLEXMAMI
While Ahenkan has learned how to turn Western body-shaming into a positive, encouraging others to embrace themselves without judgment, the teen version of herself did have hang-ups. "I have a gap in my front teeth which I hated as a teenager," she says.
"I fixated and complained about it a lot. Mum said that in our culture it's a sign of prosperity and good luck, it's a beautiful feature, but teenage me didn't think so. One day, Mum came home from the dentist with a gap shaved out in her teeth. She did it because the service was available, and possibly to prove a point to me."
Ahenkan only just passed year 12, dampening any hope of studying law or psychology, and took up jobs in retail for 12 months, including a stint in a pizza shop. She enrolled in a TAFE fashion business course, but it didn't excite her. Next came an internship at a public relations agency, which led to a part-time job. It piqued her interest to explore creating content that fused her identity with the mechanics of PR.
Loading
The 29-year-old, who now lives in Melbourne, has spent the past 10 years building an influential social-media profile. She empowers others through body-positive conversations and shares everything from impulse fashion purchases to rental woes, and whether she's dying her eyebrows blonde to match her platinum hair.
Her "wow" factor has led to collaborations with make-up brands such as Fenty, Mecca and Rimmel, and she once created a plus-sized range with clothing brand Nasty Gal.
It's her fast-talking sassiness that led her there – few can dissect the dating show Love Island like FlexMami, providing honest discussions about race and dating. And Millennials love nothing more than a brutal take-down of what's really happening in reality TV.
The former Big Brother contestant – she survived two episodes in 2021 – says for now it's all eyes on podcasting and focusing on living, rather than being viewed via the curated content on her social media posts. With Lucinda Price – a writer, presenter and comedian – she co-presents the popular iHeart national drive podcast Flex & Froomes, which was named one of Vogue's "10 Best Podcasts for Women by Women" in 2022.
For someone who never thought she'd land a job in media, Ahenkan still pinches herself. "The opportunities that exist for me now are because of the hard work that other people of colour have done before me," she says.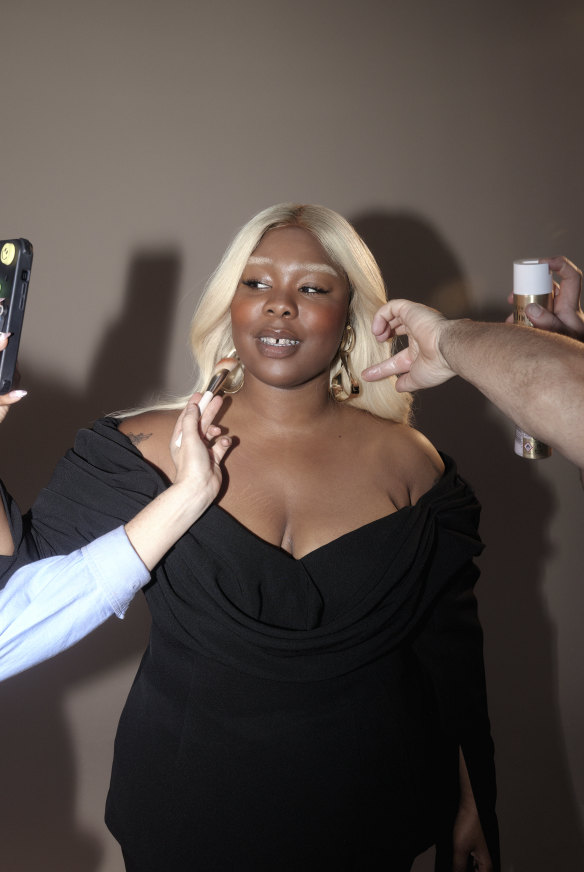 But she's also looking at her bigger picture with a critical thinking cap on. "I didn't go to university so, if there was no Instagram tomorrow, would I still have any relevance? What if there were no TV jobs for me? What would I do? That's why I have worked across multiple platforms, from my conversation cards to building equity for myself beyond one category.
Loading
"It's not about how can I stay relevant forever, it's about recognising your value if it gets taken away from you. I seriously don't know anybody in media who has the same start as me. Right now, I am figuring out what my interests, needs and wants are outside this world of 'likes'. I have funnelled every opportunity into a career move. I want to look at life with a personal lens now."
Ahenkan says she's trying to pull back and see a separation between work and herself. "I don't know how to take pictures of experiences without the lens of posting it on Instagram!" she says, laughing. "It's a scary thought. I view myself as something to be consumed and I want to live my life as me, myself and I."