Auto Express
Ferrari pulls the plug on the Portofino M to make room for the entry-level Roma Spider
Italian sports car maker Ferrari has pulled the plug on its Portofino M to make room for the Roma Spider, the brand's current entry-level convertible. Road & Track has reported on the discontinuation of the entry-level hardtop, to be replaced by the Roma Spider, which, unlike the Portofino M, comes with a traditional fabric roof.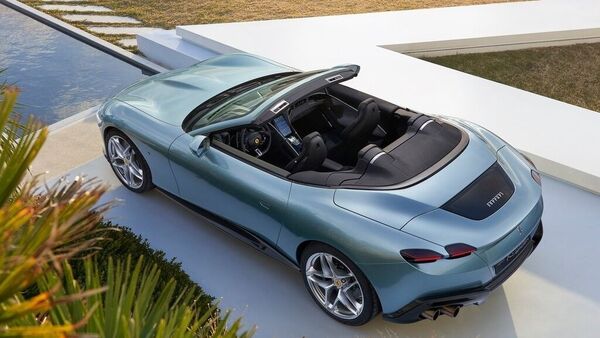 The Rome Spider becomes significantly lighter than Portofino M, thanks to a fabric roof instead of a collapsible hard top. Also, like the discontinued model, the Roma Spider also comes in a 2+2 seating configuration. Ferrari introduced the Roma Spider a few days ago with a 3.9-liter twin-turbo V8 engine, producing a maximum capacity of 612 horsepower and maximum torque of 760 Nm.
Also read: Mercedes-Benz expects India to be the fastest growing market globally this year
Talking about the Ferrari Portofino M, the car was launched in 2020, after the Portofino was introduced to the world in 2017. This car was formerly known as the California T, originating from California, the product line was born. from 2008. the model comes with the introduction of a 4.3 liter naturally aspirated V8 that is capable of producing a peak power of 453 hp.
Ferrari added the letter T to the California nomenclature in 2014, representing the addition of twin turbochargers that boosted output to 552 hp. It was named Portofino, with output power increased to 591 hp. Portofino M was later introduced with 612 hp.
Roma Spider is said to be able to accelerate from 0-100 km / h in 3.4 seconds and 0-200 km / h in 9.7 seconds with a top speed of 320 km / h. For comparison, the hardtop model reaches 0-100 km/h in 3.4 seconds but 200 km/h in 9.3 seconds.
Despite the impressive power output numbers and improvements to the nameplate, the Portofino M and its predecessors are not exactly Ferrari's typical sports cars. It remains to be seen whether Roma Spider becomes a worthy successor. In addition to Roma's interesting overall design, the Roma Spider is a fitting replacement for the two-seater sports car.
First published date: March 19, 2023, 16:39 pm IST