News
Extinction Rebellion protesters superglue themselves to Speaker's Chair in Commons | Politics News
Extinction Rebellion protesters strapped themselves to the Speaker's chair and hung their necks to the railing outside.
The advocacy group says about 50 of its supporters "take nonviolent action" asking for a citizens' council to discuss the climate crisis.
The five protesters are pictured in the Commons room, with several placards in hand saying "let the people decide" and "citizens council now".
They are understood to have entered the building after booking an official tour, before separating from the group to protest.
One protester told the PA news agency that activists had smuggled banners into the Commons in a "bag within a bag".
Two protesters can also be seen with buckles around their necks and connected to the front gate of the Houses of Parliament.
Banners have also been dropped throughout the Palace of Westminster building.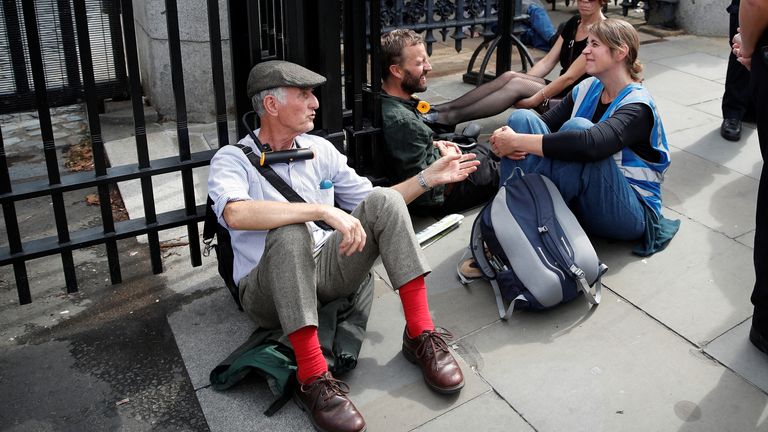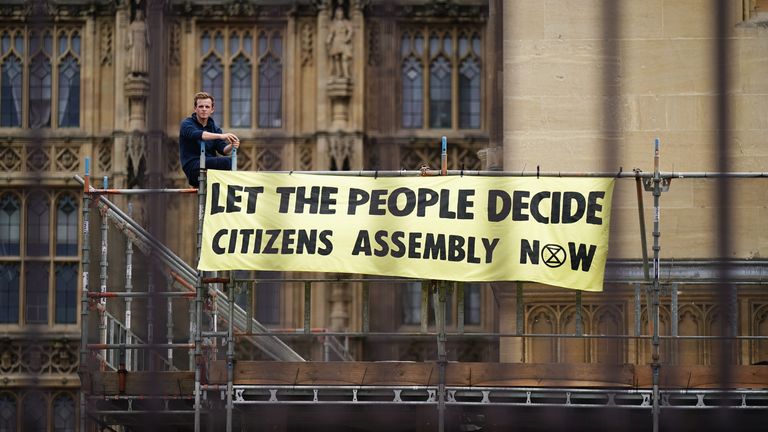 In a tweet, Extinction Rebellion said: "The protest points to the need for a citizen council to cut corruption in Westminster, update politics and let the people decide."
A citizen's council is a group of members of the public that come together to discuss policy issues.
Police, fire and ambulance ambulances arrived at the scene shortly after the protest began at 12pm.
Police officers could be seen surrounding the protesters and had earlier led a singing crowd out of the parliament grounds.
A police helicopter was also seen flying over the building.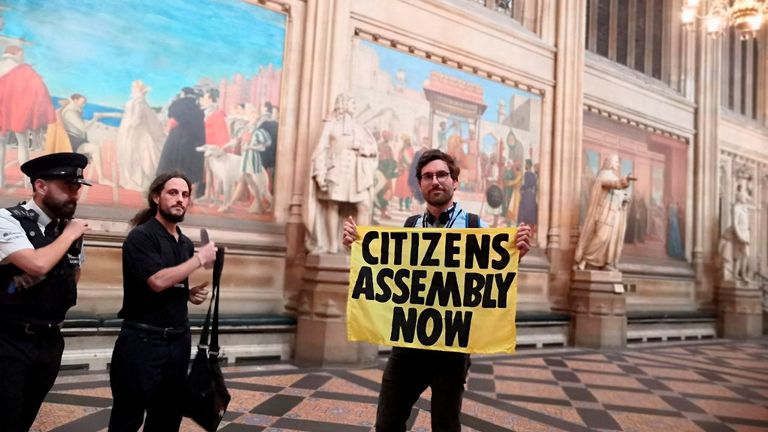 Parliament is currently on recess until Monday, when it will be confirmed whether Liz Truss or Rishi Sunak will win the Tory leadership race.
A speech by activists in the reading room said: "We are in crisis. And what goes on in this room every day amuses all of us. We cannot continue like this. like this.
"It's possible to act on climate and costs in a way that's fair and supports everyone. But our political system is too outdated and out of touch to look beyond the election cycle. next and do what needs to be done."
A spokesman for the House of Commons said: "We are aware of an incident at Parliament House and are currently addressing the situation as a matter of urgency."
A Metropolitan Police spokesman said: "The Met is aware of a demonstration by several protesters at the Palace of Westminster.
"Meet the Police and congressional staff who are responding."