Tech
Epic Games Store free games: this week's giveaways revealed
Epic Games Store free games refresh weekly, giving you the opportunity to build up a solid collection of games at no extra cost. It's usually a varied offering, with everything from AAA blockbusters to indie darlings often included. Make sure to check back in to grab these free games, even if you don't plan on playing them right away.
Epic Games and participating developers are giving away free games each week, then, and we're rounding up all the freebies below so you don't miss out. Each week, we'll list the free games you can pick up. The current offering includes a fantastic strategy game, as well as a great game creation tool.
To download the latest free titles, simply head to the Epic Games Store free games page (opens in new tab) while signed in to your account. Like any week, you can download these games to free for keep, so long as you do so before the deal expires.
Note: As part of its Holiday celebrations, Epic Games is temporarily switching up how free games are distributed. Instead of new games each week, a new game is being released every day. This will run through for the next week or so, then it's back to business as usual.
This week's games
Epic Games Store free games – Wolfenstein: The New Order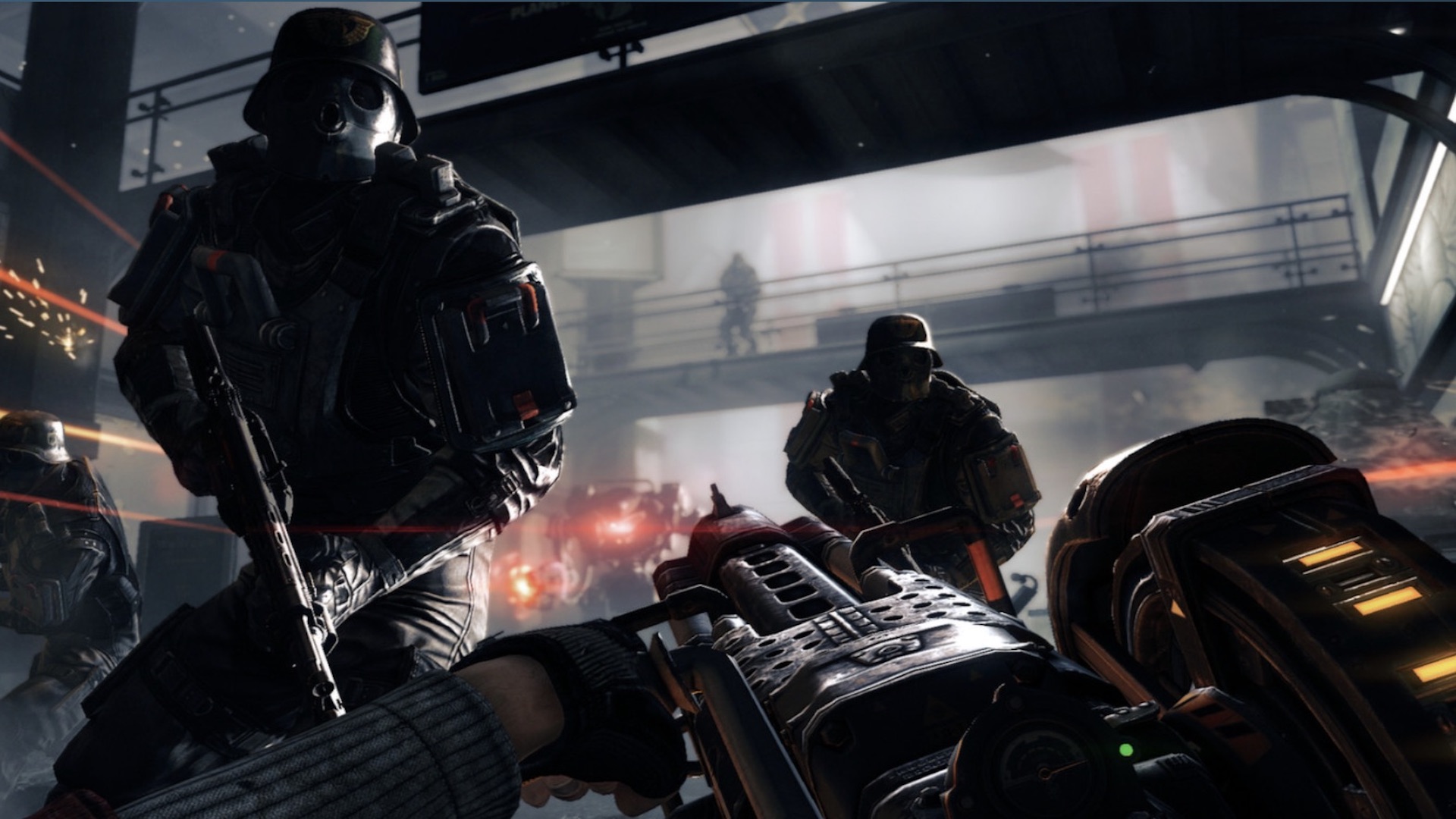 Wolfenstein: The New Order is the first game in the newly rebooted Wolfenstein series. Fight a familiar foe within an alternate 1960s timeline.
Available now until December 21, 2022.
Previous free games
Want to see what you've missed so far? Check below for the historic list of freebies that the Epic Games Store has offered up to its customers so far:
Them's Fighting Herds (December 19)
Saints Row IV Re-Elected (December 8 – December 15)
Fort Triumph (December 1 – December 8)
RPG in a Box (December 1 – December 8)
Dark Deity (November 10 – November 17)
Filament (November 3 – November 10)
Rising Storm 2 (November 3 – November 10) 
Evoland Legendary Edition (October 20 – October 27, 2022)
Fallout 3 (October 20 – October 27, 2022)
Spirit Of the North (September 15 – September 22, 2022)
Hundred Days – Winemaking Simulator and Realm Royale Reforged Epic Launch Bundle (September 8 – September 15, 2022)
Shadow of the Tomb Raider and Submerged: Hidden Depths (September 1 – September 8, 2022)
Ring of Pain (August 25 – September 1)
Doom 64 and Rumbleverse Boom Boxer pack (August 18 – August 25)
Cook, Serve, Delicious! 3?! (August 11 – August 18, 2022)
Unrailed (August 4 – August 11, 2022)
Lawn Mowing Simulator (July 28 – August 4, 2022)
Shop Titans and Tannenberg (July 21 – July 28, 2022)
Idle Champions of the Forgotten Realms and Wonder Boy: The Dragon's Trap (July 14 – July 21, 2022)
Ancient Enemy, Killing Floor 2 (July 7 – July 14, 2022)
Geneforge 1: Mutagen, Hood: Outlaws & Legends and Iratus: Lord of the Dead (June 30 – July 7, 2022)
Car Mechanic Simulator 2018 and A Game Of Thrones: The Board Game Digital Edition (June 23 – June 30, 2022)
Supraland (June 16 – June 23, 2022)
Maneater (June 9 – June 16, 2022)
Wolfenstein: The New Order (June 2 – June 9, 2022)
BioShock: The Collection (May 26 – June 2, 2022)
Borderlands 3 (May 19 – May 26, 2022)
Prey, Jotun: Valhalla Edition, and Redout: Enhanced Edition (May 12 – May 19, 2022)
Terraforming Mars (May 5 – May 12, 2022)
Paradigm and Just Die Already (April 28 – May 5, 2022)
Amnesia Rebirth and Riverbond (April 21 – April 28, 2022)
XCOM 2 and Insurmountable (April 14 – April 21, 2022)
Rogue Legacy and The Vanishing of Ethan Carter (April 7 – April 14, 2022)
Total War: Warhammer and City of Brass (March 31 – April 7, 2022)
Demon's Tilt (March 24 – March 31, 2022)
In Sound Mind (March 17 – March 24, 2022)
Cities: Skylines (March 10 – March 17, 2022)
Centipede: Recharged & Black Widow: Recharged and Dauntless (Epic Slayer Kit) (March 3 – March 10, 2022)
Cris Tales (February 24 – March 3, 2022)
Brothers: A Tale of Two Sons (February 17 – February 24, 2022)
Windbound (February 10 – February 17, 2022)
Yooka-Laylee and the Impossible Lair (February 3 – February 10, 2022)
DAEMON X MACHINA (January 27 – February 3, 2022)
Relicta (January 20 – January 27, 2022)
Galactic Civilizations 3 (January 13 – January 20, 2022)
Gods Will Fall (January 6 – January 13, 2022)
Tomb Raider Trilogy (December 30, 2021)
Salt and Sanctuary (December 29, 2021)
Moving Out (December 28, 2021)
Mages of Mystralia (December 27, 2021)
Control (December 26, 2021)
Prey (December 25, 2021)
Pathfinder: Kingmaker (December 24 2021)
Vampyr (December 23, 2021)
Mutant Year Zero: Road to Eden (December 22, 2021)
Second Extinction (December 21, 2021)
Loop Hero (December 20, 2021)
The Vanishing of Ethan Carter (December 19, 2021)
Remnant: From the Ashes (December 18, 2021)
Neon Abyss (December 17, 2021)
Shenmue 3  (December 16, 2021)
Prison Architect (December 9 – December 16, 2021)
Godfall Challenger Edition (December 9 – December 16, 2021)
Dead by Daylight (December 2 – December 9, 2021)
while True: learn() (December 2 – December 9, 2021)
theHunter: Call of the Wild (November 25 – December 2, 2021)
Antstream – Epic Welcome Pack (November 25 – December 2, 2021)
Guild of Duneoneering (November 18 – November 25, 2021)
KID A MNESIA EXHIBITION (November 18 – November 25, 2021)
Never Alone (November 18 – November 25, 2021)
Rogue Company Season 4 Epic Pack (November 11 – November 18, 2021)
Tiny Tina's Assault on Dragon Keep: A Wonderlands One-shot Adventure (November 9 – November 16, 2021)
Aven Colony (November 4 – November 11, 2021)
DARQ: Complete Edition (October 25 – November 4, 2021)
Among The Sleep (October 21 – October 28, 2021)
Stubbs the Zombie in Rebel Without a Pulse (October 14 – October 21, 2021)
PC Building Simulator (October 7 – October 14, 2021)
Europa Universalis IV (September 30 – October 7, 2021)
The Escapists (September 23 – September 30, 2021)
Tharsis (September 16 – September 23, 2021)
Speed Brawl (September 16 – September 23, 2021)
Sheltered (September 9 – September 16, 2021)
Nioh: The Complete Edition (September 9 – September 16, 2021)
Yoku Island's Express (September 2 – September 9, 2021)
Automachef (August 26 – September 2, 2021)
Saints Row: The Third Remastered (August 26 – September 2, 2021)
Yooka-Laylee (August 19 – August 26, 2021)
Void Bastards (August 19 – August 26, 2021)
Rebel Galaxy (August 12 – August 19, 2021)
Minit (August 5 – August 12, 2021)
A Plague Tale: Innocence (August 5 – August 12, 2021)
Mothergunship (July 29 – August 5, 2021)
Train Sim World 2 (July 29 – August 5, 2021)
Defense Grid: The Awakening (July 22 – July 29, 2021)
Verdun (July 22 – July 29, 2021)
Obduction (July 15 – July 22, 2021)
Offworld Trading Company (July 15 – Jul 22, 2021)
The Walking Dead Bridge Constructor (July 8 – July 15, 2021)
Ironcast (July 8 – July 15, 2021)
The Spectrum Retreat (July 1 – July 8, 2021)
Horizon Chase Turbo (June 24 – July 1, 2021)
Sonic Mania (June 24 – July 1, 2021)
Hell is other Demons (June 17 – June 24, 2021)
Overcooked 2! (June 17 – June 24, 2021)
Control (June 10 – June 17, 2021)
Frostpunk (June 3 – June 10, 2021)
Among Us (May 27 – June 3, 2021)
NBA 2K21 (May 20 – May 27, 2021)
The Lion's Song (May 13 – May 20, 2021)
Pine (May 6 – May 13, 2021)
Idle Champions of the Forgotten Realms (April 29 – May 6, 2021)
Alien Isolation (April 22 – April 29, 2021)
Hand of Fate 2 (April 22 – April 29, 2021)
Ken Follet's The Pillars of Earth (April 15 – April 22, 2021)
The First Tree (April 15 – April 22, 2021)
Deponia: The Complete Journey (April 15 – April 22, 2021)
3 out of 10: Season 2 (April 8 – April 15, 2021)
Tales of the Neon Sea (April 1 – April 8, 2021)
Creature in the well (March 25 – April 1, 2021)
The Fall (March 18 – March 25, 2021)
Surviving Mars (March 11 – March 18, 2021)
Wargame: Red Dragon (March 4 – March 11, 2021)
Sunless Sea (February 25 – March 4, 2021)
Rage 2 (February 18 – February 25, 2021)
Absolute Drift Zen Edition (February 18 – February 25, 2021)
Halycon 6 (February 11 – February 18, 2021)
Metro: Last Light Redux (February 4 – February 11, 2021)
For The King (February 4 – February 11, 2021)
Dandara: Trials of Fear (January 28 – February 4, 2021)
Galactic Civilizations 3 (January 21 – January 28, 2021)
Star Wars Battlefront 2: Celebration Edition (January 14 – January 21, 2021)
Crying Suns (January 7 – January 14, 2021)
Jurassic World Evolution (December 31 – January 7, 2021)
Torchlight II (December 30 – December 31, 2020)
Solitairica (December 29 – December 30, 2020)
Stranded Deep (December 28 – December 29, 2020)
Night in the Woods (December 27 – December 28, 2020)
My Time in Portia (December 26 – December 27, 2020)
Darkest Dungeon (December 25 – December 26, 2020)
Inside (December 24 – December 25, 2020)
Tropico 5 (December 23 – December 24, 2020)
Metro 2033 Redux (December 22 – December 23, 2020)
Alien: Isolation (December 21 – December 22, 2020)
Defense Grid: The Awakening (December 20 – December 21, 2020)
The Long Dark (December 19 – December 20, 2020)
Oddworld: New 'n' Tasty (December 18 – December 19, 2020)
Cities: Skylines (December 17 – December 18, 2020)
Pillars of Eternity: Definitive Edition (December 10 – December 17, 2020)
Tyranny: Gold Edition (December 10 – December 17, 2020)
Cave Story+ (December 3 – December 10, 2020)
MudRunner (November 26 – December 3, 2020)
The World Next Door (November 19 – November 26, 2020)
Elite Dangerous (November 19 – November 26, 2020)
The Textorcist (November 12 – November 19, 2020)
Dungeons 3 (November 5 – November 12, 2020)
Ghostbusters: The Video Game Remastered (October 29 – November 5, 2020)
Blair Witch (October 29 – November 5, 2020)
Layers of Fear 2 (October 21 – October 29, 2020)
Costume Quest 2 (October 21 – October 29, 2020)
Amnesia: A Machine for Pigs (October 15 – October 21, 2020)
Kingdom New Lands (October 15 – October 21, 2020)
Abzu (October 8 – October 15, 2020)
Rising Storm 2: Vietnam (October 8 – October 15, 2020)
Pikuniku (October 1 – October 8, 2020)
RollerCoaster Tycoon 3: Complete Edition (September 24 – October 1, 2020)
Stick It To The Man! (September 17 – September 24, 2020)
Football Manager 2020 (September 17 – September 24, 2020)
Watch Dogs 2 (September 17 – September 24, 2020)
Railway Empire (September 10 – September 17, 2020)
Where The Water Tastes Like Wine (September 10 – September 17, 2020)
Into the Breach (September 3 – September 10, 2020)
Shadowrun Collection (August 27 – September 3, 2020)
Hitman (August 27 – September 3, 2020)
Enter the Gungeon (August 20 – August 27, 2020)
God's Trigger (August 20 – August 27, 2020)
The Alto Collection (August 13 – August 20, 2020)
Remnant: From the Ashes (August 13 – August 20, 2020)
Wilmot's Warehouse (August 6 – August 13, 2020)
3 Out of 10 (August 6 – August 13, 2020)
Superbrothers: Sword & Sworcery EP (July 30 – August 6, 2020)
Barony (July 30 – August 6, 2020)
20XX (July 30 – August 6, 2020)
Tacoma (July 23 – July 30, 2020)
Next Up Hero (July 23 – July 30, 2020)
Torchlight 2 (July 16 – July 23, 2020)
The Escapists 2 (July 9 – July 16, 2020)
Lifeless Planet (July 9 – July 16, 2020)
Killing Floor 2 (July 9 – July 16, 2020)
Hue (July 2 – July 9, 2020)
AER Memories of Old (June 25 – July 2, 2020)
Stranger Things 3: The Game (June 25 – July 2, 2020)
Pathway (June 18 – June 25, 2020)
Samurai Shodown Neo Geo Collection (June 11 – June 18, 2020)
Ark: Survival Evolved (June 11 – June 18, 2020)
Overcooked! (June 4 – June 11, 2020)
Borderlands: The Handsome Collection (May 28 – June 4, 2020)
Civilization 6 (May 21 – May 28, 2020)
GTA 5 (May 14 – May 21, 2020)
Death Coming (May 7 – May 14, 2020)
Amnesia: The Dark Descent (April 30 – May 7, 2020)
Crashlands (April 30 – May 7, 2020)
For the King (April 23 – April 30, 2020)
Just Cause 4 (April 16 – April 23, 2020)
Wheels of Aurelia (April 16 – April 23, 2020)
Close to the Sun (April 9 – 16, 2020)
Sherlock Holmes: Crimes and Punishments (April 9 -14, 2020)
Drawful 2 (April 2 – April 9, 2020)
Gone Home (April 2 – April 9, 2020)
Hob (April 2 – April 9, 2020)
Figment (March 26 – April 1, 2020)
Tormentor X Punisher (March 26 – April 1, 2020)
World War Z (March 26 – April 1, 2020)
Stanley Parable (March 20 – 26, 2020)
Watch Dogs (March 20 – 26, 2020)
A Short Hike (March 13-19, 2020)
Anodyne 2: Return to Dust (March 13-19, 2020)
Mutazione (March 13-19, 2020)
GoNNER (March 5-12, 2020)
Offworld Trading Company (March 5-12, 2020)
Inner Space (February 27-March 5, 2020)
Faeria (February 20-27, 2020)
Assassin's Creed: Syndicate (February 20-27, 2020)
Kingdom Come: Deliverance (February 13-20, 2020)
Aztez (February 13-20, 2020)
Carcassonne (February 6-13, 2020)
Ticket to Ride (February 6-13, 2020)
Pandemic (February 6-13, 2020)
Farming Simulator 19 (January 30-February 6, 2020)
The Bridge (January 23-30, 2020)
Horace (January 16-23, 2020)
Sundered Eldritch Edition (January 9-16, 2020)
Steep, Darksiders I Warmastered Edition, and Darksiders II Deathinitive Edition (January 1-9, 2020)
Yooka-Laylee and the Impossible Lair (December 31, 2019-January 1, 2020)
Hello Neighbor (December 30-31, 2019)
The Talos Principle (December 29-30, 2019)
Shadow Tactics: Blades of the Shogun (December 28-29, 2019)
Hyper Light Drifter (December 27-28, 2019)
Faster Than Light (December 26-27, 2019)
Totally Accurate Battle Simulator (December 25-26, 2019)
Celeste (December 24-25, 2019)
Ape Out (December 23-24, 2019)
Little Inferno (December 22-23, 2019)
Superhot (December 21-22, 2019)
TowerFall Ascension (December 20-21, 2019)
Into The Breach (December 19-20, 2019)
The Escapists and The Wolf Among Us (December 12-19, 2019)
Jotun: Valhalla Edition (December 6-12, 2019)
Rayman Legends (November 29-December 6, 2019)
Bad North (November 21-29, 2019)
The Messenger (November 14-21, 2019)
Nuclear Throne and Ruiner (November 7-14, 2019)
SOMA and Costume Quest (October 31-November 7, 2019)
Layers of Fear and Q.U.B.E. 2 (October 24-31, 2019)
Observer and Alan Wake's American Nightmare (October 17-24, 2019)
Surviving Mars and DLCs (Space Race and Resupply Pack) (October 10-17, 2019)
Minit (October 3-10, 2019)
Everything and Metro 2033: Redux (September 26-October 3, 2019)
Batman Arkham Collection (three games) and Lego Batman Trilogy (September 19-26, 2019)
Conarium (September 12-19, 2019)
The End is Nigh and Abzu (September 5-12, 2019)
Celeste and Inside (August 29-September 5, 2019)
Fez (August 22-29, 2019)
Hyper Light Drifter and Mutant Year Zero: Road to Eden (August 15-22, 2019)
GNOG (August 8-15, 2019)
For Honor and Alan Wake (August 2-9, 2019)
Moonlighter and This War of Mine (July 25-August 2, 2019)
LIMBO (July 17-25, 2019)
Torchlight (July 11-18, 2019)
Overcooked! (July 4-11, 2019)
Last Day of June (June 27-July 4, 2019)
Rebel Galaxy (June 20-27, 2019)
Enter The Gungeon (June 13-20, 2019)
Kingdom: New Lands (June 6-13, 2019)
City of Brass (May 30-June 6, 2019)
RiME (May 23-30, 2019)
Stories Untold (May 16-30, 2019)
World of Goo (May 2-16, 2019)
Transistor (April 18-May 2, 2019)
The Witness (April 4-18, 2019)
Oxenfree (March 21-April 4, 2019)
Slime Rancher (March 7-21, 2019)
Thimbleweed Park (February 21-March 7, 2019)
Axiom Verge (February 7-21, 2019)
Jackbox Party Pack (January 24-February 7, 2019)
What Remains of Edith Finch (January 11-24, 2019)
Super Meat Boy (December 28, 2018-January 10, 2019)
Subnautica (December 12-27, 2018)