Health
Dr Mansukh Mandaviya launches National Policy on Research & Development and Innovation in Pharma-MedTech Sector in India, ET HealthWorld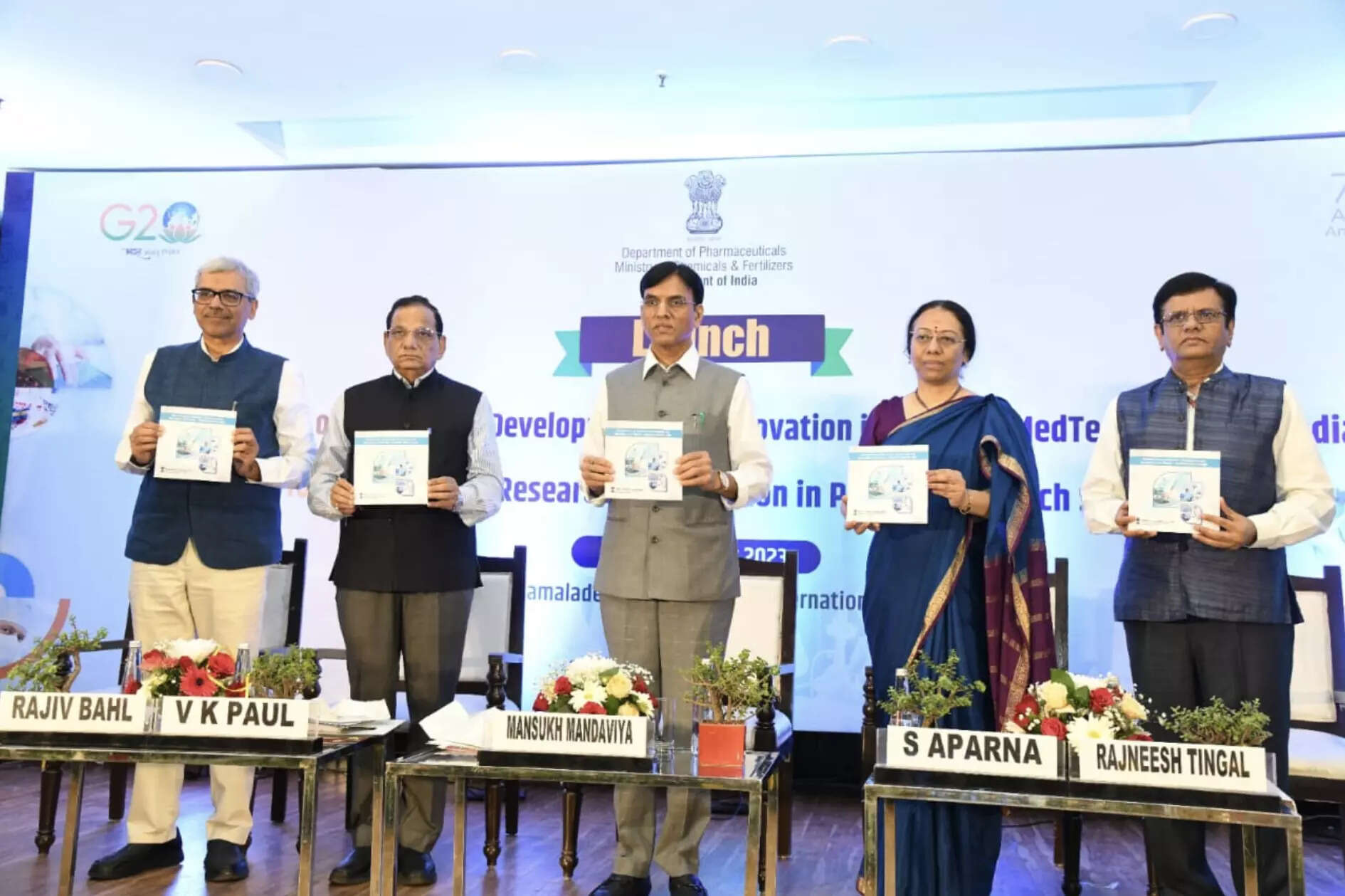 New Delhi: Today is a historic day, an inflection point in the journey of 'Atmanirbharta' in the pharma & medical devices sector. We need to transform Indian Pharma & MedTech sectors from a cost-based to a value-based & innovation-based industry shared Dr Mansukh Mandaviya, Union Minister of Chemicals and Fertilizers and Minister of Health & Family Welfare, Government of India at the launch of National Policy on Research and Development and Innovation in Pharma-MedTech Sector in India and Scheme for promotion of Research and Innovation in Pharma MedTech Sector (PRIP).Dr VK Paul, Member, NITI Aayog, S Aparna, Secretary (Pharma), Ministry of Chemicals and Fertilizers and Dr Rajiv Bahl, Director General, ICMR were also present at the event. Accentuating the benefits of the scheme, Dr Mandaviya noted the scheme will focus on transforming India into a high-volume, high-value player in the global market of pharmaceuticals, meeting the quality, accessibility, and affordability goals. He stated, "The policy will help to create an ecosystem of skills and capacities including the academia and the private sectors, and give impetus to new talent among the youth through start-ups." This is a transformative stage in the Indian drugs and Med-Tech sector, he stressed where synergies are being created between various government institutions and agencies such as Pharma Dept, ICMR, DST, DBT, NIPER etc.Reiterating the slogan of 'Jai Jawan, Jai Kisan, Jai Vigyan and Jai Anusandhan', he elaborated that India prioritises growth and innovation in brain power and manpower, wherein COVID is an example where we stood the testimony of the time. We need to do mass production of our pharmaceutical products and medical devices. For this, we have made three bulk drug parks in Himachal Pradesh, Vizag and Gujarat and four medical device parks in Himachal Pradesh, Uttar Pradesh, Madhya Pradesh and Tamil Nadu, which will help in strengthening this sector.
Emphasising the importance of the scheme Dr Mandaviya said, "India can only achieve self-reliance in pharmaceuticals and medical devices by strengthening its research and development infrastructure that would drive the expansion of access to life-saving medicines and drugs and help India become a global pharmaceuticals and medical exports hub." We need to make policies, new products and new research according to the needs of our country and the world, in consultation with industries and academia. We should become so independent that we should not be dependent on anyone for our critical needs."
Dr Paul said that after learning lessons from the past, India is leading the world. These clusters of reforms will transform the Pharma Med-Tech sector. We also need to focus on collaboration between academia, public and private institutions. This scheme and these initiatives will help in preparing us for future challenges and ensuring national biosecurity.
Benefits of the scheme-
1. Development of research infrastructure- The scheme would help in building a world-class research atmosphere at NIPERs and other institutes and help in creating talent pool of qualified trained students.
2. This scheme will promote industry-academia linkages by promoting collaboration between private sector and govt institutes.
3. Focus on certain priority areas which will help India's pharma industry leapfrog and radically strengthen its position in the world market as innovation accounts for 2/3rd of global pharmaceutical opportunities.
4. The scheme would help in launching of commercially viable products which will accelerate the growth of Indian pharmaceutical sector by increased revenue and creating employment opportunities.
5. The scheme would help in the development of affordable, accessible solution for primary area of health concern thus reducing healthcare burden.