Hollie Doyle is expected to spend the rest of January out of action after breaking her elbow and rupturing a cruciate ligament in an all-weather fall at Wolverhampton on Monday night.
The six-time group 1 winner was thrown to the ground when her mount, The Perfect Crown, trained by Archie Watson, plunged with two long feathers for a run and was badly injured in the claimant of seven. Longhair.
She missed four trips, two of which were winners, at Kempton on Tuesday and has been booked to go this weekend in Kempton on Thursday, Newcastle on Friday and Wolverhampton on Saturday.
"Unfortunately, I broke my elbow and the ligaments around it." Doyle said. "It could have been worse because it was a weird fall but hopefully I'll be back in a few weeks."
At Wolverhampton, Doyle managed to walk to the ambulance and from there into the weight room, clutching her lower arm but missing her other two mounts.
She went to Swindon Hospital on her way home and had some X-rays of her elbow, which were then evaluated by the BHA's chief medical officer, Jerry Hill. She saw a specialist appointed by the BHA on Tuesday and has since gone to Oaksey House in Lambourn for physical therapy.
Regarding the circumstances of the fall, Doyle said: "I was going over the horse's head when it broke both front legs, it was a strange accident."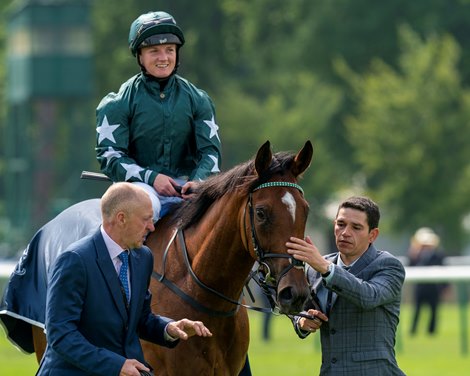 Nashwa and Hollie Doyle win the Prix de Diane at Chantilly
Doyle recorded the second-best domestic return of the 151 winners last year and finished second in the equestrian championship behind William Buick. Her greatest success is Nashwa during the Prix de Diane (G1), known as the French Oaks, at Chantilly in June.
She has returned from a successful stint in Japan in December and her most recent winner has come. Girls who want to have fun at Chelmsford on Saturday, bringing her total this year to nine winners.