Sports
Croatia, Netherlands reach Nations League final, France survive despite defeat by Denmark | Football news
Croatia and the Netherlands completed their warm-up for the World Cup in style by making it through to the Nations League finals, while hosts France continued their lousy form.
Croatia top group A1 with 3-1 win in Shirt to lower their opponents to the second place of the Nations League, while undefeated Dutch failed visit Belgium 1-0 and won Group A4 with 16 points, 6 points more than the second team in the group.
Defend the Nations League and World Cup champions France lost 2-0 in Denmark but avoided relegation because of Austria's defeat.
The matches mark the final preparations for the World Cup teams before the competition kicks off in Qatar on November 20. The French and Danes will meet again in Qatar alongside Tunisia and Australia also in their group.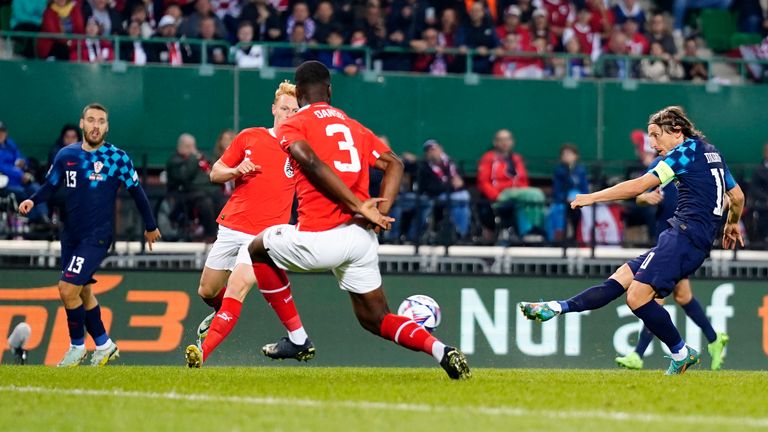 This could be the last international tournament for 37-year-old Croatian midfielder Luka Modric, and he's playing in fine form. The Croats took the lead after six minutes in Vienna when their veteran captain was left in the box and tore the home net.
Austria equalized three minutes later thanks to a fleeting header from centre-back Christoph Baumgartner, but second-half goals from striker Marko Livaja and centre-back Dejan Lovren sealed a memorable victory for Croatia, the group stage. The World Cup includes Belgium, Canada and Morocco.
Denmark finished in second place with 12 points, one point behind Croatia, after beating a poor and injury-deprived French side 2-0 at home.
Striker Kasper Dolberg gave Denmark the lead in the 34th minute and midfielder Andreas Skov Olsen made it 2-0 shortly after as France's inexperienced defense failed to cope with a corner and third-choice goalkeeper Alphonse Areola faced.
France woke up in the second half but star striker Kylian Mbappe created a one-on-one chance against goalkeeper Kaspel Schmeichel and had two other taming attempts in a row thwarted.
Les Bleus ranked third, one point ahead of the Austrians, but coach Didier Deschamps' army won only one of six games and scored a mere five goals – the least of the table.
Belgium needed to win by three goals against the Netherlands and lost 0-1, with Liverpool defender Virgil van Dijk headed the only goal after 73 minutes.