Fashion
Breuninger introduces "Buy gifts
Virtual Christmas shopping with Hadnet Tesfai and Leonie Hanne
Stuttgart, December 1, 2021 Just in time for the Christmas season, Breuninger is showcasing its finest jewelry creations in a special edition of its digital direct-shopping series. "Buy Gifts" is a virtual tour showcasing luxury jewelry pieces from high-quality jewelry brands BVLGARI, Chopard, TAMARA COMOLLI, TIFFANY & Co. and Wempe, all of which were made available this year during market integration on breuninger.com.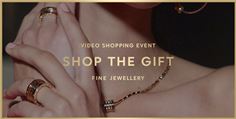 Buy gifts – High end jewelry
Inspirational and informative: Tonight at 7pm on Wednesday 1st December, the exclusive Christmas edition "Buy Gifts" will feature precious pieces from top jewelry brands in the venerable Staatsgalerie Stuttgart museum. The video shopping event will be hosted by popular TV, radio and podcast host Hadnet Tesfai alongside fashion icon and influencer Leonie Hanne.
Against a dramatic backdrop of old masters' artworks and classic modernist highlights, the Staatsgalerie Stuttgart sets the perfect stage for the brands' current collections. BVLGARI, Chopard, TAMARA COMOLLI, TIFFANY & Co. and Wempe, as well as personal styling tips from the moderator duo.
Whether in solid gold and platinum, diamonds or pearls: the luxury models of these jewelry brands offer strikingly elegant craftsmanship along with innovative designs and are all available in premium segment of the Breuninger online brand portfolio. The continuous expansion of the range of high-quality luxury jewelry pieces is the result of active developments in the market model of the Breuninger online store.
The most recent new arrival for Fall/Winter 2021 is the Hamburg-based Wempe family company.
Breuninger customers can now enjoy around 150 unique pieces of jewelry from the internationally successful company specializing in high-end watches and jewelry. At the heart of the Wempe line of products curated on breuninger.com are the Wempe Casuals and Wempe Classics collections. In particular, Breuninger supplies Wempe jewelry from the By Kim brand, founded by Kim-Eva Wempe in 2000. The owner-led team creates jewelry for confident women. since then.
All the styles featured in the virtual shopping tour can be purchased at breuninger.com immediately after the event, or of course during the event itself. Viewers can also communicate directly with fashion experts from Breuninger using the chat feature.
Breuninger "Buy Gifts"
Wednesday, December 1, 2021, 7:00pm
Links to the program: Buy gifts – High end jewelry
E. Breuninger GmbH & Co.
The fashion and lifestyle company Breuninger was founded by Eduard Breuninger in 1881 and is now one of the leading multi-channel department stores in Europe. In its more than 140 years of history, Breuninger has set high standards in fashion, beauty and lifestyle with an exclusive selection of international designer brands and emerging brands. The online store www.breuninger.com launched in 2008 is one of the most successful online stores in the luxury segment and also for customers in Austria and Switzerland. In addition to impeccable style and a sense of trend, Breuninger is deeply customer-oriented: Offers such as Special Services, in-home boutiques, Click & Collect and online booking, ordering services in-store and shuttle services ensure an exceptional shopping experience, whether online or in person. In Germany and Luxembourg, Breuninger now operates 13 department stores with about 6,000 employees.