Auto Express
Audi Q8 e-Tron with new sports brand logo; SUV coming soon in India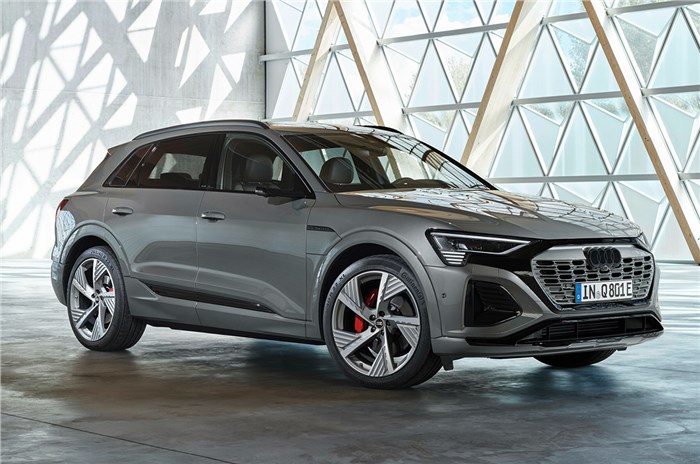 The new logo is a response to the brand's increased digitization and its push into more expensive markets.
Audi unveiled its new logo, and it ditched the three-dimensional chrome look for the 'rings' for a more discreet monochromatic identity. The new Audi logo will debut on Q8 e-Tron EV SUVbasically an upgrade e-tron; The model will come to India soon.
New Audi logo with 2D monochrome look
Audi Q6 e-Tron will be the first all-new model with a new logo
"The new logo reflects the brand's push into more expensive markets with the aim of becoming a simpler identity," said Audi brand strategist Frederik Kalisch.
Audi designer André Georgi explains: "Today's chrome rings represent high quality. The material alone conveys that message. But we believe we have found the 'new chrome'. The clarity of the new black and white rings makes our corporate identity unmistakable. The thin black border around the rings creates a uniform, high-quality look, regardless of the vehicle's paint color or grille colour. "
Kalisch added that the move to two-dimensional logos is also a response to increasing digitization, that "three-dimensionality on two-dimensional screens [such as a phone screen] will not meet our technical and aesthetic requirements". "Besides distracting from the design of our cars, too obvious telltale signs may not be good for our modern, progressive customers," says Kalisch.
Audi has yet to confirm whether the rest of its lineup will receive the new badge update, although the Audi Q6 e-tron is expected to be the brand's first all-new model to wear. it.
The Q6, scheduled to be revealed in 2024, will also debut a new Premium Platform Electric (PPE) platform, shared with Audi's sister brand Porsche.
Also see:
Audi Q5 Special Edition launched at Rs 67.05 lakh