News
At G20, 12-hr drama over mysterious Chinese bags | India News
NEW DELHI: On Thursday, as the city waited anxiously to see if India would be able to pull off a consensus at the G20 summit, a quiet but tense drama was unfolding in one of the five-star hotels, leaving intelligence agencies in a fix.
It started when the unusual dimensions of the bags of a Chinese team member caught the attention of security officers at their hotel, Taj Palace.While the team had been instructed to facilitate passage of 'diplomatic baggage', the size of the bags was too odd to evade the attention of eyes trained to be wary. However, keeping diplomatic protocols in mind, the security personnel allowed the bags in.
Once in the room, a staff member reported some 'suspicious equipment' in the bags and soon a message went out to the superiors who, after quick consultations, asked the team to put the bags through the scanner. What followed was a tense standoff, as the Chinese would not agree to get the bags and, more crucially, its contents, checked.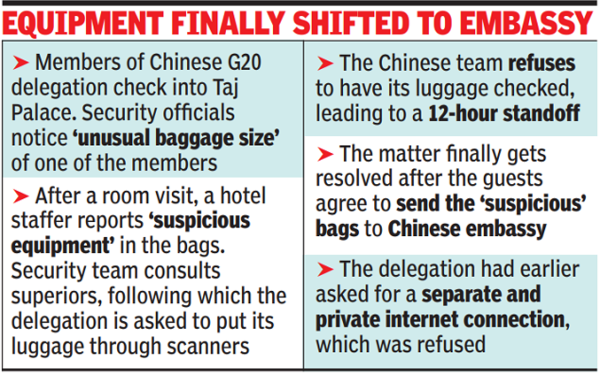 Contents of Chinese suitcases a mystery
The security personnel were anyway intrigued on getting to know that the Chinese delegation has sought a separate and 'private' internet connection, which the hotel declined. Sources at the hotel said the 12-hour-long drama was resolved only after Chinese security agreed to remove the equipment from the hotel and have it sent to their embassy.
Incidentally, the Brazilian president, the next host of the G20 summit, was also staying in the same hotel.
Sources, who were part of the security at Taj Palace, confirmed that Chinese security personnel resisted the request to get the equipment checked but the Indian security team stood its ground.
"A three-member security team had to stand guard outside the room for around 12 hours before a Chinese security official reverted, saying they would have it sent to the embassy," a source said.
Regarding the equipment, top officials said it couldn't be said with certainty if these were 'surveillance set-up' as they didn't get a chance to examine the devices.
An intelligence official's assessment conveyed to his seniors said such equipment was generally used to intercept as well as jam secure communication channels. However, the content of the suitcases remains a mystery.
Chinese President Xi Jinping skipped the G20 summit and sent Premier Li Qiang instead. Li, whose arrival was announced at the last minute, did not travel on one of the usual 'special aircraft' meant for senior leaders and arrived on a chartered flight to the Indian agencies' surprise.