News
Afghanistan: 500,000 jobs lost since Taliban takeover |
In a warning that the economy has been "crippled" since authorities de facto took control last August, ILO says that there have been major losses in terms of jobs and working hours.
Women have been particularly hard hit.
By mid-year, it is predicted that the number of job losses will increase to nearly 700,000 – with the most severe predicting 900,000 – due to the crisis in Afghanistan and "limitations on women's participation". at work".
Gender Gap
Women's employment is already very low by global standards, but the ILO says it estimates it fell 16% in the third quarter of 2021 and could fall between 21% and 28% by mid-2022.
"The situation in Afghanistan is critical and immediate support is needed for stabilization and recovery," said Ramin Behzad, Senior Coordinator of the International Labor Organization (ILO) on Afghanistan. "While the priority is to meet immediate humanitarian needs, long-term and inclusive recovery will depend on people and communities having access to jobs, livelihoods and basic services." .
The ILO says hundreds of thousands of job losses have been seen in several key sectors that have been "devastated" since the takeover.
These include agriculture and the civil service, where workers are laid off or unpaid. In the construction sector, the industry's 538,000 workers – 99% of whom are men – have also suffered as a result of stalled major infrastructure projects.
Dismissal force
The Taliban takeover has also cost "hundreds of thousands" of Afghan security forces jobs, the ILO said, noting that teachers and health care workers have been deeply affected by the economy. lack of cash, amid reduced international donor support.
As the crisis continues, the ILO explain that the Taliban's capture of Kabul on 15 August threatens the progress achieved over the past two decades.
The United Nations agency said the domestic market had been "widely disrupted", while economic activity had shrunk, which had driven up production costs.
At the same time, as Afghanistan's reported $9.5 billion in assets has been frozen, "foreign aid, trade and investment … have been severely affected", the ILO continued, pointing to the situation. cash shortages and restrictions on withdrawals from banks, causing misery for businesses, workers and households.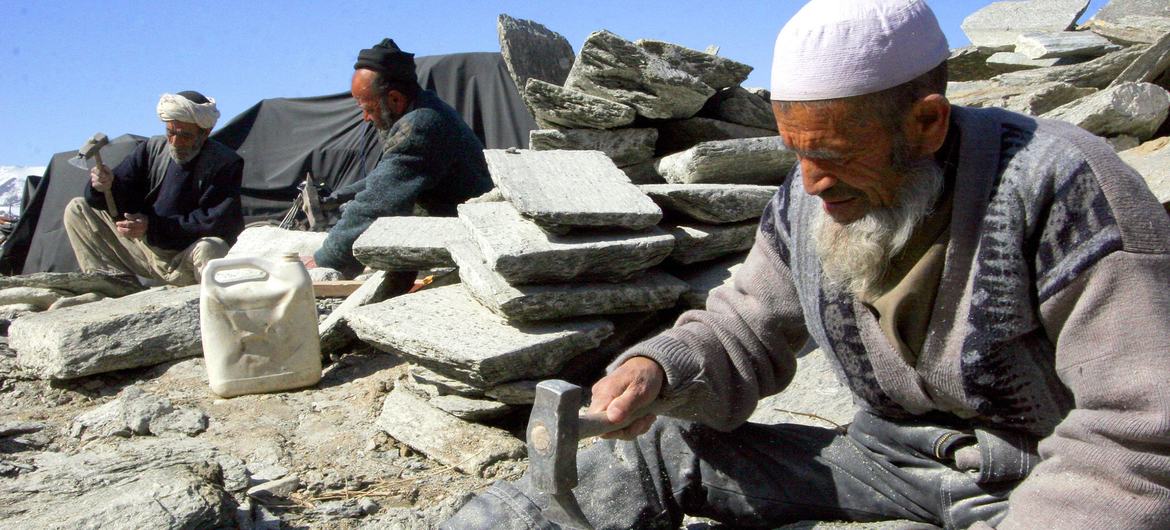 UNAMA / Freshta Dunia
A group of Afghan men use hand tools to process ice at a site in Kabul.
Children pay the price
Underemployment also threatens to exacerbate levels of child labor in Afghanistan, where only 40% of children aged 5 to 17 attend school.
In absolute numbers, the ILO notes that more than 770,000 boys and about 300,000 girls are involved in child labor.
The worst problem is that in rural areas – where 9.9%, or 839,000 children – are much more likely to have child labor than in urban areas (2.9% or 80,000).
To support the people of Afghanistan this year, the top priorities of the United Nations are providing life-saving assistance, maintaining essential services, and sustaining the social and system-level investments that are needed. necessary to meet basic human needs.
To support this strategy, the ILO has committed to working with employers and trade unions to promote decent work and decent work.
The organization focuses on four main areas: emergency employment services, employment-intensive investment, business promotion and skills development, while respecting labor rights, gender equality, and social dialogue. society, social protection, abolition of child labor and integration of people with disabilities.