News
A life takes a U-turn: From busted tyres to halls of justice
PRAYAGRAJ: No busted tyre he's repaired in his young
life
ever took a U-turn sharper than his life has. Ahad Ahmad (26) occasionally helped his dad repair tyres, the tiny business operating out of a shack – soon he will dispense
justice
from judicial chambers and is waiting for the day he can move his mom and dad to his comfortable, official living quarters.
Ahad's father, Shehzad Ahmad (50), who owns a tyre repair shop, and his mother Afsana Begum (47), who stitches clothes for women in their neighbourhood, live in Barai Harakh village of Prayagraj's Sringverpur block. They are proud parents of a son who defied the challenges of a hard life, became a lawyer first and then cleared the provincial civil services (judicial) final exam. Ahad, likely to start his year-long training in December, will become a civil judge (junior division).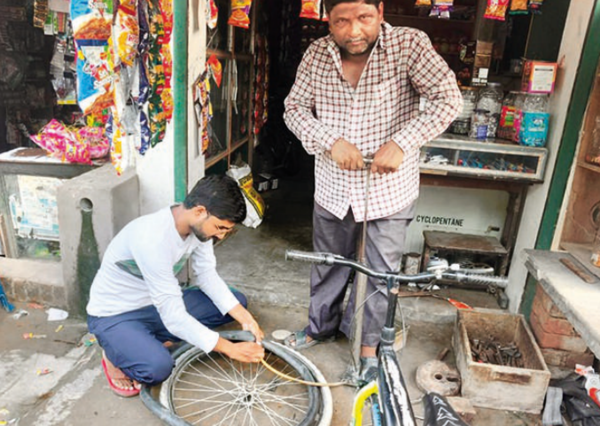 Ahad said repairing busted tyres at father's shop helped him declutter his mind during his gruelling schedule to prepare for examination
The Ahmads' house is as modest as their' determination is extraordinary. They put their three sons through school and college, and the three young men are a living advertisement of the life-changing impact of education.
The eldest son, Samad (30) is a software engineer. The youngest, Wajahat (24) is a manager at a private bank. Ahad, the middle son, completed his integrated law course from Allahabad University in 2019. He began his career as a junior lawyer to an advocate at the Allahabad high court.
His ambition, though, was to move from the bar to the bench. "My preparations for the judges' exam began during the lockdown. I took help from free online coaching classes as our financial condition did not allow me to join a coaching institute," he says. He ranked 157 in an exam for 303 posts. His mother sums up the hardships the family overcame: "My husband's earnings were barely enough to feed us, but we wanted to educate our children. So, I took up sewing many years ago. Both of us worked very hard and our efforts have paid off." "My brothers and I are a product of our faith in the power of education," Ahad says.
But how did he manage to fit in fixing busted tyres in his gruelling exam prep schedule, TOI asked him. "Helping my father repair tyres decluttered my mind", the judge-to-be says, "it helped me". It's hard to argue with that verdict.
Ahad Ahmad (26), who occasionally helped his dad repair tyres from a shack in a Prayagraj village, will become a civil judge after training.